MLC Chair's Initiative | 2021 | Agriculture Conservation: Water Quality Program in Minnesota
What's good for water quality can be good for farmers' bottom lines
---
---
When Brad Redlin talks with farmers about getting involved in Minnesota's Agricultural Water Quality Certification Program, part of the pitch has always been the chance to protect the environment and get some regulatory certainty in return.
But now he has a third way to sell the program: It's a way to improve your bottom line.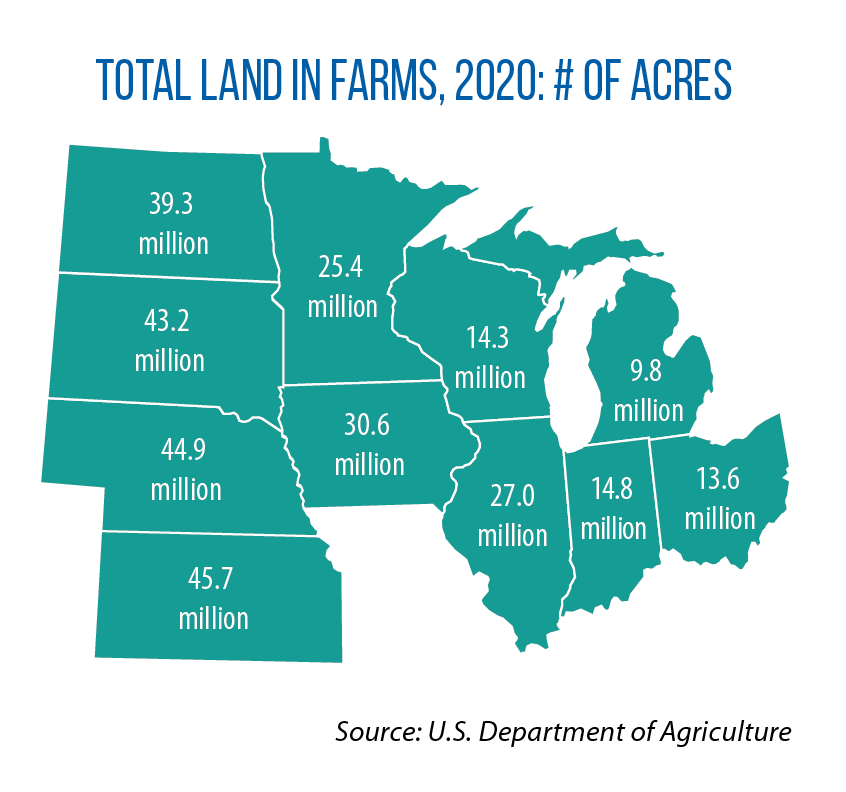 For the last two years, the state has conducted studies comparing the net profits of farmers certified in the program vs. those who were not. Last year, the profits of certified farmers were 18 percent higher, an average of $40,000 per operation; in 2019, they were 20 percent higher, an average of $19,000 per farm.
"Yes, we can tell our growers about things like phosphorus reductions," says Redlin, who manages the program for the Minnesota Department of Agriculture. "But equally important is the idea of being able to tell them what it means for their finances."
The voluntary program began as a pilot initiative in 2014; a year later, the Legislature recommended that it be expanded statewide. As of March 2021, 1,038 Minnesota farms totaling more than 734,000 acres had been certified as effectively mitigating risks to water quality. More than 2,000 new conservation practices have been put in place on operations of all types and sizes.
One sign of the program's success: Gov. Tim Walz has made it a priority to reach 1 million enrolled acres by next year.
And the state regularly analyzes the impact of the program, with researchers finding that:
216 million pounds of soil have been kept on Minnesota fields annually; and
76.2 million pounds of sediment and 47,878 pounds of phosphorus are being prevented from entering Minnesota's waters every year.
Along with protecting water quality, and improving their bottom lines, the state's certified farmers are helping withdraw greenhouse-gas emissions from the atmosphere.
"We're out there to improve water quality, but everything has co-benefits," Redlin says. "If some new perennial vegetation gets planted in response to the water quality challenge, you just created some wildlife habitat and you sequestered carbon as well."
The Minnesota Department of Agriculture serves as the lead state agency for the Agricultural Water Quality Certification Program, but it involves a collaboration among many entities, inside and outside of state government. Conservation specialists from the state's local soil and water conservation districts help farmers develop certification plans; the U.S. Department of Agriculture provides funding assistance, and the state has a formal partnership with the member-owned cooperative Land O'Lakes to promote the program.
Grants of up to $5,000, at a cost-share of 75 percent, are offered to producers seeking certification. Once a field is assessed and a site-specific plan is developed, any number of new conservation practices may be implemented. Among the most common: the use of cover crops, adoption of a nutrient-management plan, improvements in tile drainage and irrigation water management, and the construction of grassed waterways.
More important than any single practice, Redlin says, is the idea of "performance maximization."
"What we do when we work with a grower is look at every parcel on that farm, every point of management of it," he says. "How many crops are in your rotation? What about tillage? What fertilizers and protection chemicals are you using? What's the drainage system?"
He believes this holistic, individualized approach explains why certified farmers are seeing higher profit levels.
"It's about maximizing investment in inputs vs. what you're going to pull off that land," Redlin adds.
The certification period lasts 10 years, during which time at least one review/audit of the farm's operation must be conducted. For that decade-long period, a certified farmer is automatically deemed in compliance with any new state agricultural water quality laws or rules.
That regulatory certainty also likely extends to federal regulations because of involvement in the program by the Minnesota Pollution Control Agency, the entity that oversees the U.S. Clean Water Act.
South Dakota Senate Majority Leader Gary Cammack has chosen agriculture conservation as the focus of his Midwestern Legislative Conference Chair's Initiative for 2021. A series of articles will be written in 2021 in support of this initiative.