Power up: How the Midwest is planning and preparing for rise of electric vehicles
California-based Tesla may grab most of the attention paid to electric cars, but the Midwest is positioning itself to be a leader in the electric vehicle (EV) realm.
In 2021, state legislators have passed or are still considering bills to boost EV manufacturing, institute fees for the owners of these vehicles to share in road maintenance (since they don't pay any gas taxes), and encourage adoption of EV fleets and infrastructure.
Since January 2011, EV sales nationwide have increased 364 percent nationwide; in the Midwest they've jumped anywhere from 235 percent in Kansas to 430 percent in North Dakota (see map).
Even so, EVs still comprise a small share of the overall automotive market. An IHS Markit study released in February reports that EVs made up just 0.8 percent of new-vehicle registrations in the Midwest in 2020 (1.5 percent in the Chicago market) and will be just 3.5 percent of new-vehicle registrations in the United States this year. But they'll be at least 10 percent of new registrations by 2025, the report says.
That means more EVs must be built, and some will come from new plants in the Midwest. Rivian Motors will begin producing electric pickup trucks later this year in a former Nissan plant in Normal, Ill., while the start-up Lordstown Motors bought an ex-General Motors plant in its namesake Ohio city in 2020 and plans to join Rivian in the market for electric pickup trucks. Lion Electric, a Canadian company that makes electric school buses and medium- to heavy-duty trucks, announced in early May that it plans to build its U.S. factory in Joliet, Ill.
Additionally, GM plans to offer only EVs by 2035, and Ford said that it will invest $29 billion in building EVs (including taking a $500 million stake in Rivian).
Indiana: Law focuses on making plans for future of auto manufacturing
While auto plants can be retooled to build EVs, those cars use fewer parts — they don't need transmissions or piston engines, for example — which means ancillary factories must find a way to adapt or die.
That's why Indiana Rep. Michael Karickhoff says he filed HB 1168, creating the Indiana Electric Vehicle Product Commission. The goal of this measure, signed into law in April, is to preserve as much of Indiana's automotive manufacturing sector as possible by determining how and what it needs to transition from internal combustion to electric. The 10-member panel has been charged with:
• evaluating the state's existing EV facilities and production capability, inventory of skilled and non-skilled EV industry workers, and opportunities and needs for training within the industry;
• identifying what traditional auto manufacturing does well and determining how that can be leveraged to increase EV production, research and development;
• studying past successes of retooling and transforming manufacturing facilities; and
• determining whether to create training centers that promote careers in the EV industry or to transform extant centers for the traditional automotive industry.
"People are accepting of the reality of what's coming, and manufacturing is a big deal here," Karickhoff says.
"How we deploy our resources to fit with what industry needs is what the commission will hopefully show us. What I hope comes from this is some meaningful plans and direction."
Minnesota: Tax electricity as a fuel?
All Midwestern states have annual registration fee surcharges for EVs. These fees are designed to capture some of what a vehicle owner would pay in gas taxes with an internal combustion vehicle.
Currently, those fees range between $50 and $200. Saskatchewan will begin charging an annual "road use" fee of $150 (Canadian dollars) for EVs in October.
North Dakota legislators considered a bill this year (HB 1464) that would have raised the three-year-old EV "road use" fee (currently $20 to $120) by $15 to $20 and authorized a study during the legislature's 2022 interim session on the impacts of EVs on transportation funding. The bill died in the Senate.
A Minnesota bill (SF 1086) would raise the state's EV surcharge from $75 to $229 and create new levels for plug-in hybrids ($114.50), electric motorcycles ($46) and plug-in hybrid motorcycles ($23). Future changes to those surcharges would be linked to, and be proportional with, changes to the gasoline excise tax.
"This is the only tool in our toolbox right now, [but] I don't think that's where we need to go," says Minnesota Sen. Jeff Howe, the bill's author, noting that the surcharge doesn't collect any revenue from non-Minnesota drivers using the state's roads.
His hope is that state policy adjusts to the new role of electricity in powering vehicles.
"I want to make it fair, and the only way to make it fair is to treat [electricity] as a fuel," he says.
Howe filed SF 1602 to tax the electricity used to charge EVs at a rate of 5.01 cents per kilowatt hour when delivered from a utility to a charging station on public or private property. Utilities would collect the tax and turn it over to the state on a monthly basis.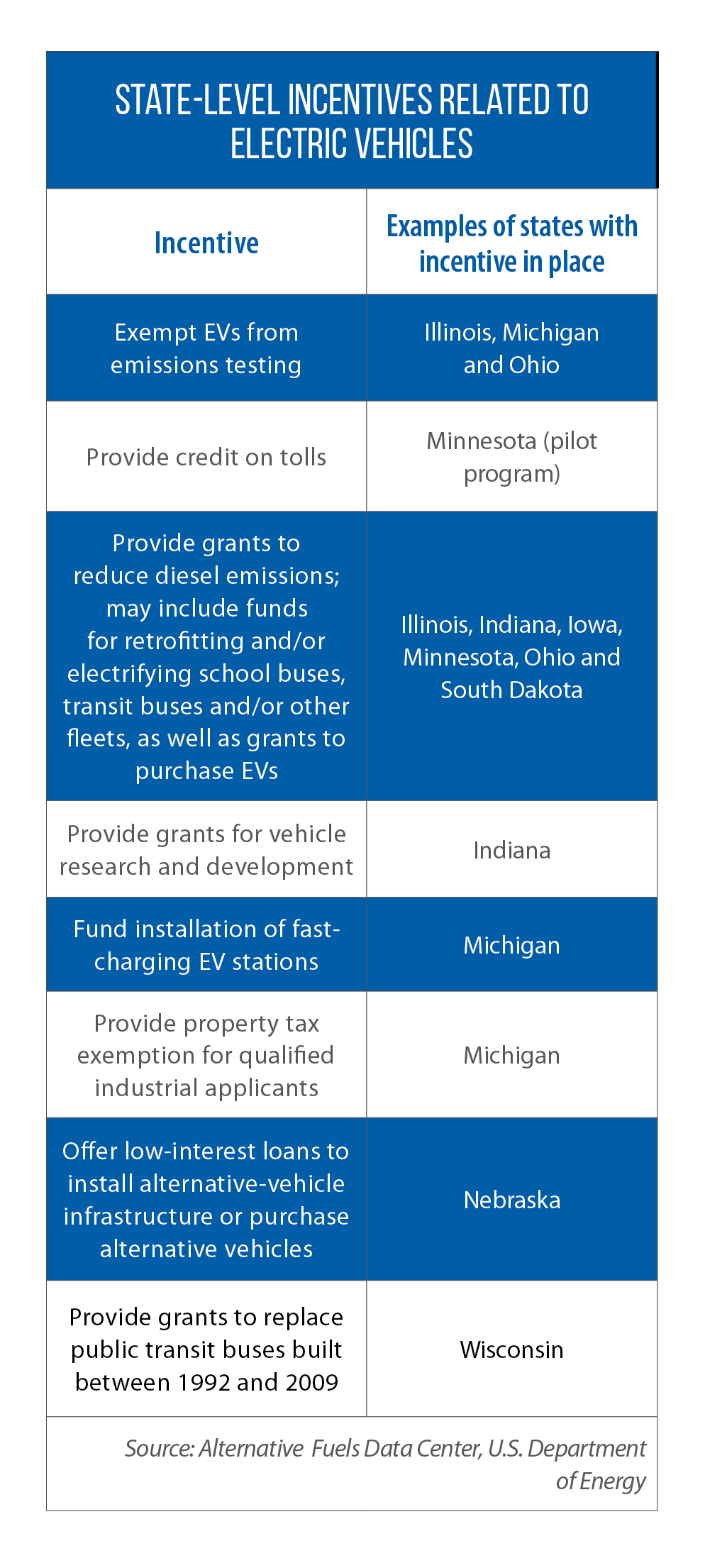 Which comes first: the Vehicles or the charging stations?
For widespread adoption of EVs, there also must be widespread installation of recharging stations.
In the Midwest, Wisconsin Gov. Tony Evers' proposed 2021-23 biennial budget sets aside $10.7 million from the state's share of the Volkswagen settlement to both reinstate an EV charging station grant program and replace aging state-owned vehicles with electric ones. It also authorizes $5 million in bonding authority to develop an EV charging infrastructure. Legislators began going over his budget in April.
Illinois Gov. J.B. Pritzker announced in late April that he will amend the state's plan for its share of the settlement to direct the remaining $88.9 million toward EVs (school and transit buses) and light-duty charging infrastructure instead of buying newer diesel vehicles.
This year, the Illinois General Assembly is considering HB 3125, which would require utilities with 500,000 or more customers to file a "beneficial electrification plan" with the Illinois Commerce Commission by May 31, 2022, detailing how they would develop and implement "time-of-use" rates for EV charging.
It also would revive language from a 2020 bill (HB 4284) to require that a percentage of parking spaces in new or renovated residential and commercial buildings be designated, and ready, for EVs. Finally, HB 3125 would create rebates to help low-income residents buy electric vehicles.
Among other bills in the Midwest this year calling for financial incentives for charging-station installations:
• LB 346 in Nebraska would create a tax credit for people and qualified businesses that install new, metered-for-fee public access EV charging stations in 2021 and 2022; and
• HB 2145 in Kansas, which became law, exempts electricity used to charge EVs from the state's definition of a "public utility" for regulatory purposes. (Kansas also exempts compressed natural gas from the public utility designation.)