Question of the Month | May 2021 | The census and who to count
Do all states use total-population numbers when redistricting, or do some exclude certain populations?
---
---
Over the past decade, the question of "who to count" for purposes of apportionment and redistricting has been the subject of a U.S. Supreme Court case, back-and-forth opinions among two presidents, and activity in state legislatures.
Currently, all states use total-population figures from the U.S. census as the basis for drawing congressional and state legislative districts. This practice is rooted in the language of the U.S. Constitution, existing federal law, and some states' own constitutions and statutes.
The "total population" count (which includes minors, noncitizens and prisoners) is used to apportion the 435 U.S. House seats among the 50 states; this same data is then typically used by states for intrastate apportionment and redistricting. There are some exceptions, however. As noted in the U.S. Supreme Court's 2016 Evenwel v. Abbott decision, "the constitutions and statutes of 10 states … authorize the removal of certain groups from the total-population apportionment base."
At the time, one of those states was Kansas, which required an adjustment of census numbers to exclude nonresident military personnel and college students. In addition, if these individuals were from Kansas, the state had to ensure they would be counted at their permanent residences. In 2019, Kansas voters approved a legislative-initiated amendment removing this constitutional language. Washington's Constitution still excludes nonresident military personnel; Hawaii specifies that only "permanent residents" be counted; and New Hampshire authorizes its legislature to make "suitable adjustments … on account of nonresidents temporarily residing in this state."
Additionally, California, Delaware, Maryland and New York stipulate that nonresidents of the state being housed in their prisons not be part of the population count for redistricting.
A separate, but related, question for states is this: How should resident prisoners be counted — at their place of confinement or at their last address prior to incarceration?
According to the Prison Policy Initiative, the U.S. Census Bureau counts incarcerated people as residents of the towns where they are confined; most states then use this information for drawing state legislative and U.S. congressional districts.
However, with the passage in February of HB 3653, Illinois joined nine other states in ending this practice. Starting in 2030, Illinois residents in state prisons must be counted based on their last address prior to confinement.
Nebraska is one of three U.S. states with constitutional language that seeks to block the counting of non-U.S. citizens: "The basis of apportionment [for state legislative districts] shall be the population excluding aliens," its Constitution says in wording that dates back to 1920. In reality, though, the exclusion does not occur: Official U.S. census does not ask about citizenship status, and certain types of block-level data on citizenship are not available to states.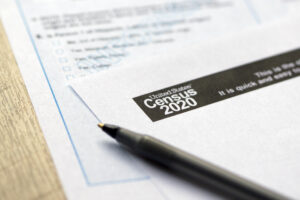 Still, a Nebraska legislative proposal from 2018 (it did not pass) sought to put that state's "alien exclusion" language into practice. First, LB 1115 called for all of Nebraska's state-level political districts, not just legislative districts, to be drawn based on the "total population … less the noncitizen population."
Second, LB 1115 identified how Nebraska could implement such an exclusion even if citizenship status was not part of the official census. It called for the state to use the U.S. Census Bureau's estimates of noncitizens.
The Trump administration sought to add the citizenship question and to exclude unauthorized immigrants from the census. These efforts failed, and in early 2021, President Joe Biden issued an executive order revoking his predecessor's actions. The Evenwel case from five years ago challenged Texas' use of total-population numbers for redistricting. The plaintiffs argued that the drawing of state legislative districts should be based on the number of eligible voters, rather than total population. In an unanimous decision, the court ruled in favor of Texas. Left undecided was whether states could choose to base redistricting on the voter-eligible population.
Question of the Month highlights an inquiry sent to the CSG Midwest Information Help Line, an information-request service for legislators and other state and provincial officials from the region.