North Dakota's new vision for Legacy Fund: Invest in infrastructure, help entrepreneurs access capital
---
---
Eleven years ago, North Dakota voters approved a legislative-initiated plan to create a Legacy Fund.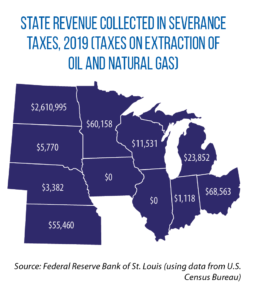 Today, the estimated value of that fund has grown to well over $8 billion, and legislators believe they found ways this year to make the use of it more impactful and further-reaching.
"[It] will be a way to help fund some of our homegrown industries," Rep. Mike Nathe says of one of three Legacy Fund-related bills passed this year.
"We've invested all over the world. This is bringing the money back home."
Under that 2010 constitutional amendment, 30 percent of revenues from North Dakota's tax on oil and natural gas production must be deposited into the fund.
"[It] was created to save money for future generations so that when the oil does subside and go away, we are still benefiting," says Nathe, a member of the House Appropriations Committee.
But he envisions an even greater legacy after this year's passage of HB 1425.
To date, only about 1 percent of investments from the Legacy Fund has stayed in North Dakota.
That's likely to change under the new law, which requires the State Investment Board to "give preference to qualified investment firms and financial
institutions with a presence [in North Dakota]."
Accompanying this new statutory language are new targets to encourage in-state investments. One goal is that 10 percent of the fund's principal go
toward equity investments within the state. In turn, lawmakers want some of that money going to equity and venture capital funds that invest
specifically in homegrown companies.
"North Dakota has always been at the bottom when it comes to available capital in the country," Nathe explains.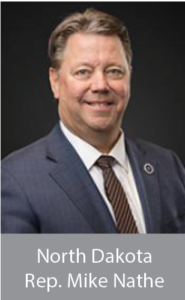 An infusion of more capital, he adds, will foster sustainable, long-term growth in sectors such as agriculture and technology.
Another new target for the Legacy Fund: 10 percent of fixed-income investments staying in North Dakota.
This goal will be reached, in part, by financing local infrastructure projects.
A long, varied list of projects qualify: improving water and sewer systems, fixing roads and bridges, strengthening the electricity grid, and improving
communications systems.
Local governments will get access to low-interest loans for these projects via the Legacy Fund.
And Nathe sees a benefit for the entire state.
"[It] will have positive economic impacts that go beyond your basic return on investment," Nathe says. "We're talking more jobs, higher wages and increased tax revenue."
Legislators also approved two other bills this session related to Legacy Fund earnings this session.
HB 1431 creates the largest infrastructure bonding package in state history. Up to $680 million will be available, with most of it being allocated for two flood-control projects. Money also will be made available to repair bridges and roads and to create a revolving loan fund for local water projects. Lastly, $50 million will go toward the construction of a development center for agricultural products at North Dakota State University.
HB 1380 provides a framework for how earnings from the Legacy Fund will be used in the future: repayment of infrastructure bonds, tax
relief, financing the state employees retirement system, highway and road projects, research and innovation, and workforce development.
Legislators were constitutionally barred from spending money from the fund until 2017. Starting that year, earnings began being transferred to the
general fund, and some money from it has been used to balance the state's budget.
Mostly, though, the Legacy Fund has been growing and growing. Now, the state has a clearer plan on how to invest and use earnings.
"The number of phone calls that I've received about this have been overwhelming," Nathe says. "I'm excited to see how this all plays out in the next
few years."