BILLD graduates serving as policy leaders on transportation
BILLD News | May 2021
---
---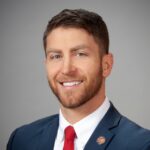 This session, Ohio Rep. Riordan McClain (BILLD class of 2019) was re-appointed vice chair of the House Transportation and Public Safety Committee, a position he also held during the last biennium. In addition, McClain is a member of the Infrastructure and Rural Development Committee and the Ways and Means Committee.
"Rural Ohio has been negatively impacted by the devastation of this past year, and good policy decisions will be vital to our full recovery," McClain said of his committee assignments and legislative focus this session.
He has sponsored a bill that would create a tax credit of 5 cents per gallon on the sale of E15 and higher-blended biofuel.
"Ohio is the eighth-highest corn-producing state and home to seven ethanol refineries that purchase much of our local corn yield for use in ethanol production," McClain said about his sponsorship of HB 165. "However, if you try to purchase high-blend biofuel at the pump, Ohio ranks much lower in consumer availability due to the control of the marketplace."
He says higher-blended biofuel provides many advantages for Ohio — "cheaper, cleaner, renewable, and importantly for us, locally grown and produced."
"We can help level the playing field for our local Ohio growers and refiners with this legislation," McClain adds.
---
Several other BILLD alumni are serving as leaders of transportation-related policy and appropriations committees in their legislatures.
COMMITTEE CHAIRS
• Indiana Sen. Michael Crider, class of 2015
• Iowa Sen. Waylon Brown, class of 2018
• Kansas Sen. Mike Petersen, class of 2007
• Michigan Sen. Wayne Schmidt, class of 2009
• North Dakota Rep. Dan Ruby, class of 2003
COMMITTEE VICE CHAIRS
• Indiana Rep. Shane Lindauer, class of 2019
• Minnesota Sen. John Jasinski, class of 2019
• Ohio Sen. Bill Reineke, class of 2016
COMMITTEE RANKING MEMBERS
• Illinois Rep. Tim Butler, class of 2016
• Iowa Sen. Janet Petersen, class of 2002
• Michigan Sen. Erika Geiss, class of 2015
• Minnesota Sen. D. Scott Dibble, class of 2003