MLC Chair's Initiative | 2021 | Agriculture Conservation: Featured Session at MLC Annual Meeting
State policies can provide bridge that agriculture producers need to adopt conservation polices
---
---
When South Dakota Sen. Gary Cammack wants to know how well his family ranching business is doing, one of his indicators is the condition of the land.
How is the diversity and vitality of our wildlife? How is the health of our soil?
"Those are barometers of profitability," he said in July to fellow lawmakers at this year's Midwestern Legislative Conference Annual Meeting. Land conservation and agricultural sustainability are deeply meaningful to Cammack, who has been a rancher in his home state much longer than he has been a legislator.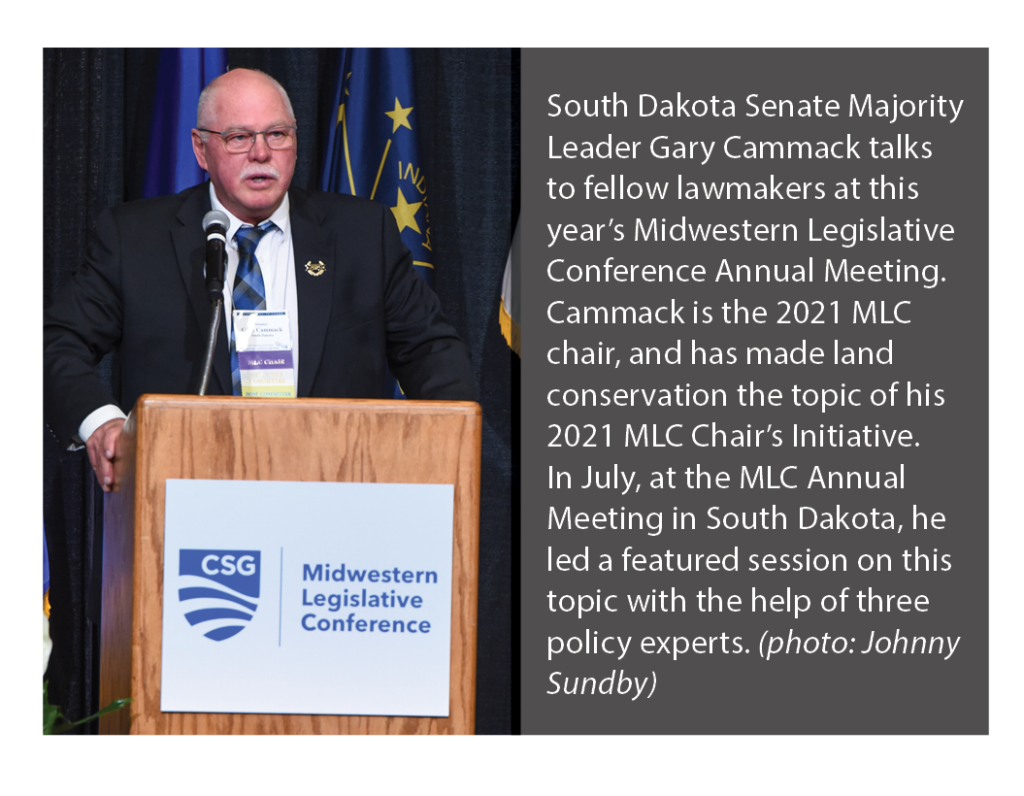 "Give back to the land so it continues to produce for you," Cammack said of one of the lessons learned from his decades of ranching.
Three years ago, Cammack Ranch was awarded the Leopold Conservation Award, a recognition of the family's many successful practices over the past three decades — for example, the use of rotational grazing, the planting of tens of thousands of trees, and decisions that minimized the beef herd's movement near water sources.
This year, under the leadership of Cammack, the MLC has been examining state policies that help the Midwest's farmers and ranchers "give back," and prosper as a result. Three expert speakers joined Cammack for a featured session on this topic at the July meeting. It was held as part of his MLC Chair's Initiative for 2021.
One of the takeaway messages for legislators: If you're interested in broader issues of environmental protection, you need to look for ways of assisting your state's agricultural producers.
"Nearly three quarters of the land in the continental United States is privately owned, and the vast majority of that land is in working farms, ranches and forests," said Kevin McAleese, president and CEO of the Sand County Foundation, which runs the Leopold Award program for conservation-leading private landowners. "So if you care about clean water and open space and wildlife recreation, you need to care about private lands."
New partnerships, investments in Ohio
Lake Erie is one of the crown jewels of Ohio. But pollution runoff has degraded its water quality, led to harmful algal blooms and caused the town of Toledo to temporarily lose its supply of drinking water due to contamination.
To address this environmental problem, changes on Ohio's private, working agricultural lands had to be part of the solution: 85 percent of phosphorus loading into Lake Erie in Ohio comes from farms in the watershed.
As part of a larger initiative known as H2Ohio, the state is now partnering with agricultural producers in high-priority areas to spread the use of conservation practices that reduce pollution runoff.
Dorothy Pelanda, director of the Ohio Department of Agriculture, said this new initiative is unlike any other in the state's history because of the level of funding and the commitment to employing a science-based approach.
Before reaching out to farmers, her department brought together scientists, along with leading agricultural and environmental groups, to develop a plan of action. According to Pelanda, this group explored lessons in water protection from around the world, scrutinizing various practices in agricultural conservation.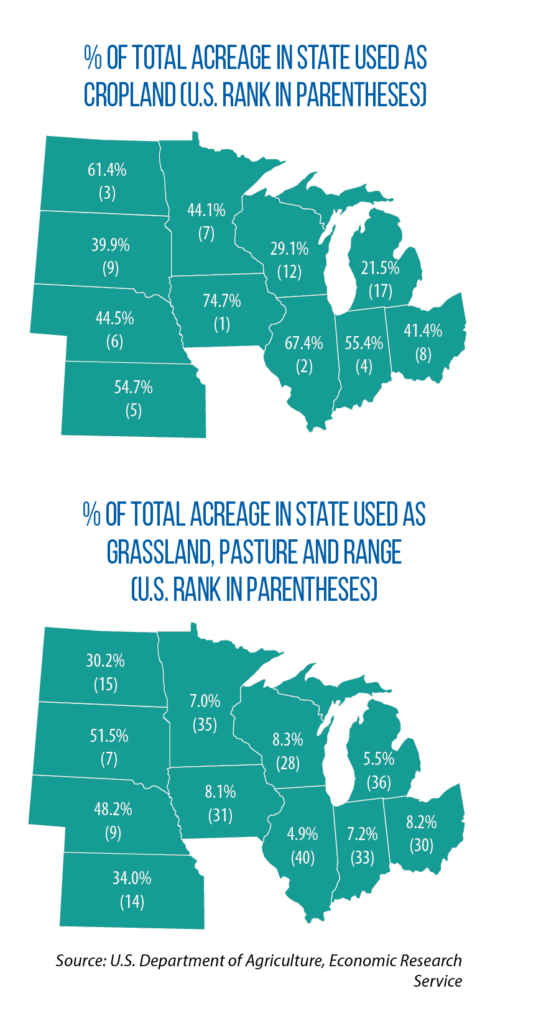 "We said to the governor, what we're going to do is focus on seven practices that the best science and data say will retain nutrients and water on the land," she said.
Their proposal to Gov. Mike DeWine: Pay farmers for the development of a nutrient management plan, as well as implementation of one or more of those evidence-based practices, such as planting cover crops, installing new drainage systems, or changing how fertilizers are applied.
In the first year of H2Ohio, DeWine and the legislature made $50 million in incentives available for farmers to adopt these practices. Just as important as the state's commitment, Pelanda said, was securing buy-in from agriculture producers in the high-priority areas.
"I remember our first meeting in Perry County when we set up 300 chairs, and we had over 900 people show up," she said. "From there, the number of producers showing up at the meetings was close to 1,000.
"It was a real testament to commitment to voluntary conservation."
More than 1 million acres of land were enrolled in the program in its first year.
"We know that these [practices] work, but we need to get more acreage involved," Pelanda said. That will take a long-term investment from the legislature, as well as participation by a much larger number of farmers.
'Bridge between rural, urban'
In Minnesota, studies have shown that the net profits of agricultural operations participating in a voluntary, state-run water quality certification program are higher than those not in the program. These findings show that conservation practices can help farmers' bottom lines by improving land management and maximizing efficiencies (better use of fertilizers, equipment and fuel, for example).
Upfront costs often are an obstacle, though. H2Ohio recognizes that problem by paying farmers (with multi-year contracts) for their conservation commitments.
Likewise, McAleese highlighted the potential for states to broker new partnerships between municipal governments and surrounding agricultural producers.
A city's wastewater treatment plant is a point source of pollution; farm operations are nonpoint sources. The former must comply with permitting regulations under the U.S. Clean Water Act, and this has traditionally meant spending money on facility improvements. But these dollars might be better spent on addressing nonpoint sources of pollution, by having municipal governments make payments to farmers for new conservation practices.
"This is a bridge between the rural and urban communities that is desperately needed, and it lets people take shared ownership in watersheds," McAleese said.
If done right, these whole-watershed partnerships offer the opportunity to reduce flood risks, increase recreational opportunities, and enhance fish and wildlife habitat. "Those are things you just don't get from a simple plant upgrade," McAleese said.
In Wisconsin, the Department of Natural Resources already has this kind of adaptive-management program in place. (The state also has a separate, water-quality trading program.)
According to McAleese, local initiatives also are underway in Illinois and Iowa.
He said another option for states is to assist agriculture producers themselves in leading local conservation programs.
"A lot of research, and common sense, suggests that farmers learn best from farmers," McAleese said.
In Wisconsin, the state's five-year-old Producer-Led Watershed Protection Program provides grants to groups of farmers who work together and lead local efforts to control nonpoint source pollution in a single watershed.
Overseen by the Department of Agriculture, Trade & Consumer Protection, the program provided a total of $750,000 to 27 different farmer-led groups in 2020.
"It's got a limited bureaucracy, it's got simple reporting, and it's flexible and able to adapt to local needs and interests," McAleese said.
Shrinking farms' footprints
Rod Snyder, president of Field to Market: The Alliance for Shared Agriculture, shared with legislators eight indicators that his organization uses to measure sustainability and conservation in U.S. commodity crop production.
They include comparisons over time of energy, land and water use; impacts on water quality; biodiversity; levels of greenhouse gas emissions; and soil health.
Analyses of farm operations show a "shrinking footprint in terms of environmental impact per unit of production," he said. That is because of changes in agricultural practices that led to improvements in conservation.
Yet much more is going to be asked of farmers in the future.
"In the next few decades, global population is going to be reaching nearly 10 billion people," Snyder said. "We're going to have the same amount of land and water in 2050 that we have today, and we have to produce a lot more food."
Consumers already have taken a greater interest in how their food is being produced, and particularly in the area of climate change, companies are publicly making new commitments around sustainability.
The result will be more market-based pressures on farmers to reduce their climate footprints.
"We all know that for farmers, over the last few years, the margins [of profitability] have been incredibly thin," Snyder said. "We can't expect them to make changes in practices that they can't afford to implement. So how can the supply chain as well as state and federal governments help close that gap and make it financially feasible?"
South Dakota Senate Majority Leader Gary Cammack has chosen agriculture conservation as the focus of his Midwestern Legislative Conference Chair's Initiative for 2021.