A long-term vision for passenger rail: Greatly expand service, enhance interstate planning
---
---
The Midwest Interstate Passenger Rail Commission (MIPRC) and the Federal Railroad Administration have unveiled a long-term vision of what an improved regional passenger rail network could look like by 2050.
Building on current state-supported services and using Chicago as its hub, the Midwest Regional Rail Plan proposes multiple daily round trips between the region's major metropolitan areas and beyond. It also proposes an expanded governance role for MIPRC (which receives secretariat services from CSG Midwest) as the regional entity to guide planning for individual passenger rail corridors.
"While America's interstate highway system and commercial aviation industry are vital and indispensable, rail can and does play a key role in our multi-modal transportation system," FRA deputy administrator Amit Bose said in an October press conference announcing the plan.
"Nowhere is that more evident than Chicago, the nation's rail hub."
New routes, more connections
While the Midwest Regional Rail Plan sets nothing in stone, it proposes a system of fast, frequent passenger service built from an interstate, rather than individual corridor, view.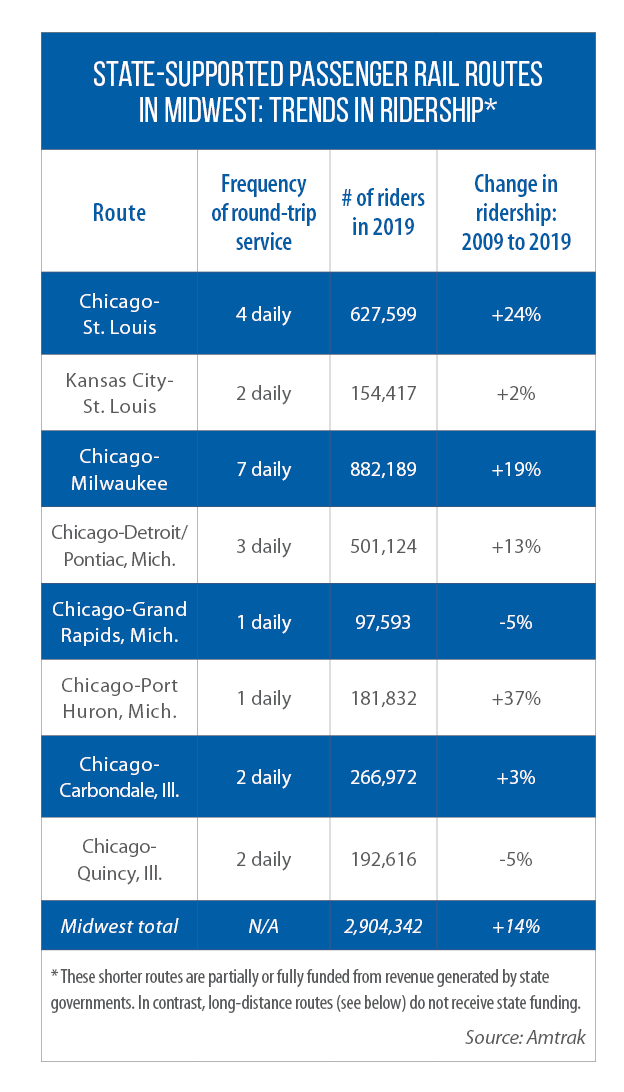 The Chicago-Milwaukee-Madison-Twin Cities corridor, for example, would have 24 daily round trips. Under the plan, other interstate corridors with greatly expanded service, as either core express (24 round trips a day) or regional express (up to 16 daily round trips) routes, would include:
• Existing state-supported routes such as Chicago-Detroit, Chicago-St. Louis and St. Louis-Kansas City. Currently, only a few daily round trips are offered on each of these routes (see table).
• New routes from 1) Chicago to Columbus, Ohio, via either Fort Wayne, Ind., or Indianapolis and Dayton, Ohio; 2) Chicago to Louisville, Ky., and Nashville, Tenn., via Indianapolis; and 3) Chicago to Cincinnati via Indianapolis.
• New regional routes from 1) Fort Wayne, Ind., to Toledo and Cleveland in Ohio and Pittsburgh, and 2) from Indianapolis to Cincinnati.
"I'm personally excited to see Indianapolis positioned to become a hub on two, and perhaps three, major regional corridors," says Indiana Rep. Sharon Negele, MIPRC's financial officer. "I'm also pleased to see the plan confirm that new Chicago-to-Fort Wayne service is not only a viable option, but considered to be a key addition to the regional network."
Under the FRA plan, an "emerging corridor" is projected from Chicago to Omaha, Neb., via Des Moines, Iowa. (Illinois already is working on building this corridor from Chicago to Moline, Ill.)
Other routes for potential future expansions include existing state-supported services in Illinois and Michigan; planned new services such as Minnesota's Northern Lights Express; and an extension of the Heartland Flyer service north from Oklahoma City to the Kansas towns of Wichita and Newton.
Emphasis on regional planning
Formed as an interstate compact, MIPRC currently counts Illinois, Indiana, Kansas, Michigan, Minnesota, Missouri, North Dakota and Wisconsin as member states. (Iowa, Nebraska, Ohio and South Dakota also are eligible to join or rejoin the compact.)
Each member state has four commissioners: one from each legislative chamber, a governor's designee and a gubernatorial appointee from the private sector. (See page 10 for more information on the commission.)
MIPRC commissioners hailed release of the new Midwest Regional Rail Plan, saying it shows the FRA moving in the same direction as Amtrak and states on how to improve service.
"A multistate, collaborative approach to passenger rail development serves our citizens, transportation systems, economies and, ultimately, each state, best," says Bob Guy, an Illinois governor's designee to MIPRC and the group's current chair.
Illinois Rep. Mike Halpin, a MIPRC commissioner, says the new plan is good for the whole region, and for his constituents who live near and along the state's border with Iowa.
"The benefits to higher education, tourism and economic development in the Quad Cities … the possibilities are endless," he says. "It's something that a lot of elected officials have recognized for more than two decades."
MIPRC: advocacy and governance
The FRA plan affirms MIPRC's current role, noting that the interstate commission "has served and will continue to serve the [Midwest] as an effective advocacy and governance organization to advance the recommendations of the [regional rail plan]."
While also proposing an "elevated" governance responsibility for MIPRC, the FRA leaves unanswered the question of exactly what that role should be. It stresses, too, that "predictable funding streams" will be necessary to build out the plan's proposed corridors.
On the funding side, passenger rail in the Midwest will get a boost with passage of the U.S. Infrastructure Investments and Jobs Act, which designates money for identifying and planning passenger rail corridors.
Interstate commissions such as MIPRC are eligible grant recipients.