Seeking better birth outcomes, Illinois joins states covering doula services through Medicaid
---
---
Illinois this year became the third Midwestern state to offer doula services as part of its Medicaid coverage for pregnant women, a move that comes as more research emerges tying the availability of this type of care to healthier birth outcomes.
Doulas are trained professionals who provide physical, emotional and informational support to women before, during and just after childbirth.
With this year's passage of HB 158, Illinois now allows weekly prenatal doula services, during delivery and up to 12 months postpartum. These services also can be embedded in existing evidence-based home visiting programs.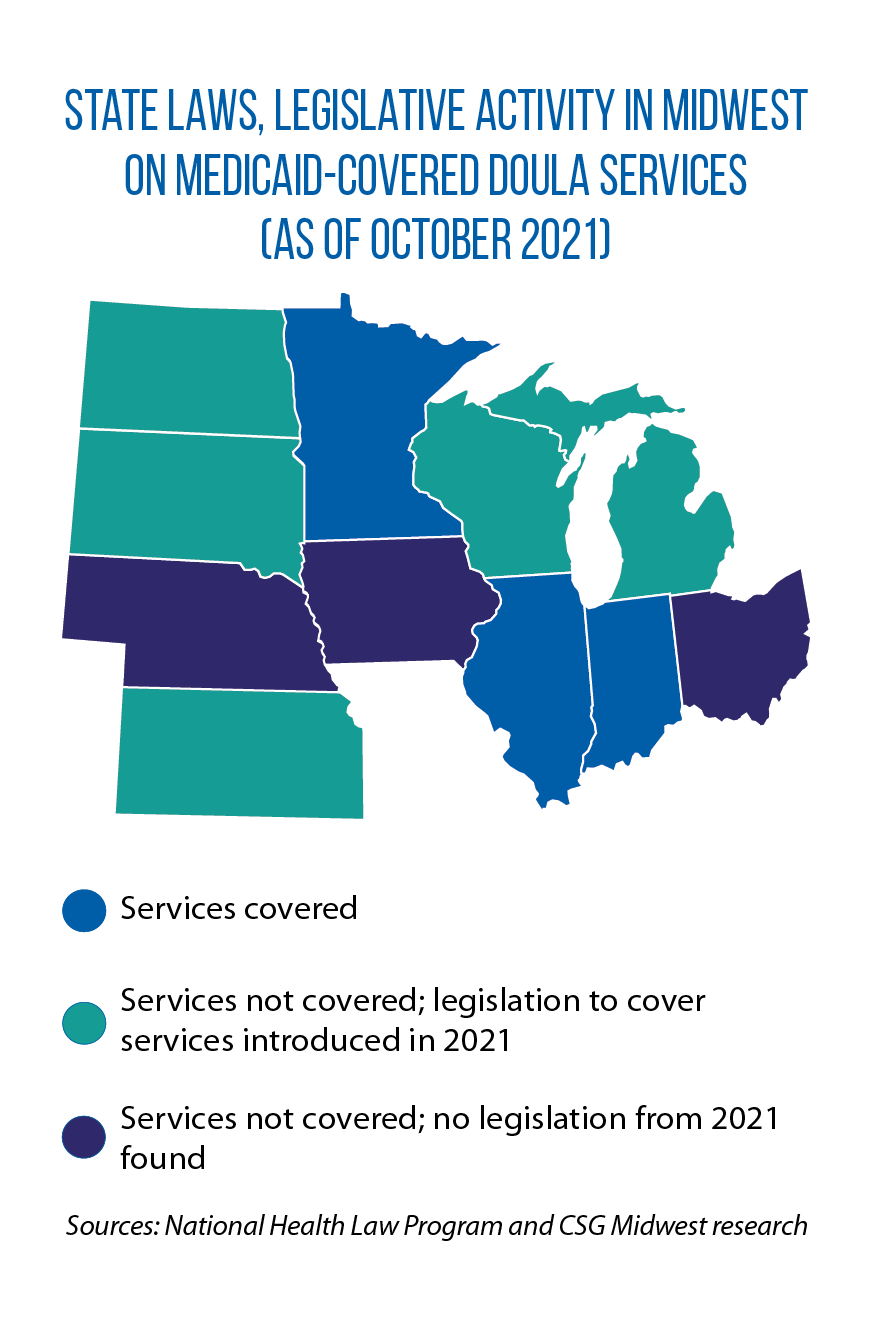 "We feel this is going to save lives and [lead to] better quality services," says Illinois Sen. Mattie Hunter, who sponsored HB 158 in the Illinois Senate.
It will also save money over time, she adds, because babies who get a healthier start won't need as many health services as they grow into children and adults.
According to the National Academy for State Health Policy, the potential benefits of doula services include lower rates of pre-term births and cesarean sections; higher Apgar scores for newborns (a test of five measures to evaluate an infant's health); and a more positive self-reported birth experience by mothers.
A paper published in the April 2013 issue of the American Journal of Public Health noted that doula-supported births result in fewer cesarean sections and, as a result, can reduce Medicaid costs.
Indiana and Minnesota already cover doula services in their standard Medicaid coverage for pregnant women.
Indiana uses a block grant (under the federal Social Security Act) to fund its own Protecting Indiana's Newborns grant program. This program, in turn, supports a Speak Life doula initiative to serve women on Medicaid.
In Minnesota, doulas must take state-approved training and work under the supervision of a Medicaid-enrolled provider. This assistance has been an extended Medicaid service since 2013.
Officials from the Minnesota Department of Human Services say that in 2015, 52 women used doulas; by 2020, that number had grown to 466 women.
As part of this year's omnibus health bill (HF 33), Minnesota legislators tightened up the doula certification process while also requiring the state's health commissioner to make training "more culturally responsive to groups with the most significant disparities in maternal and infant morbidity and mortality."
The new Minnesota law also calls for promoting more racial, ethnic and cultural diversity in the doula workforce, and making services more available to groups "with the most significant disparities in birth outcomes."
Until last year, Nebraska also allowed Medicaid coverage of doula service, albeit in an indirect way: the state requires its contracted managed care organizations to offer value-added services, but they can choose which ones to offer.
One MCO offered doula services, but only to pregnant women under age 21 who were in the state's foster care system. Coverage was dropped in June 2020 because too few women used it.
A bill to add doula coverage to Nebraska's Medicaid plan (LB 416) was introduced in the Unicameral Legislature's 2021 session but failed to advance.
A similar bill in Iowa, SF 35, also failed to advance this year.
In his original 2021-'23 biennial budget, Wisconsin Gov. Tony Evers proposed $1 million for Medicaid coverage of doula services, but legislators removed this provision.
In Ohio, HB 142 would authorize a four-year Medicaid doula pilot program. As of early November, this bill was in committee.