BILLD graduates leading on higher education
BILLD News | December 2021
---
---
REGIONAL LEADERSHIP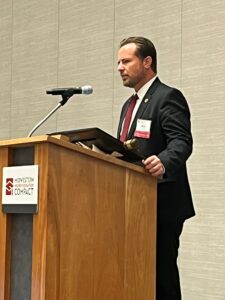 Ohio Rep. Rick Carfagna (BILLD Class of 2019) was elected chair of the Midwestern Higher Education Compact during the organization's annual meeting in November.
MHEC brings together Midwestern states to develop and support best practices, collaborative efforts and cost-sharing opportunities. Through these efforts it works to ensure strong, equitable postsecondary educational opportunities and outcomes.
In addition to Rep. Carfagna, several BILLD alumni serve as MHEC commissioners or alternate commissioners.
Rep. Jack Jordan, Indiana (class of 2017)
Former Sen. Teresa Lubbers, Indiana (class of 1998)
Former Sen. Allen Schmidt, Kansas (class of 2012)
Sen. Lynne Walz, Nebraska (class of 2019)
Rep. Brandy Pyle, North Dakota (class of 2017)
Rep. Erin Healy, South Dakota (class of 2019)
Sen. Reynold Nesiba, South Dakota (class of 2018)
Rep. Marli Wiese, South Dakota (class of 2019)
STATE-LEVEL LEADERSHIP
In several Midwestern states, legislatures have committees dedicated specifically to higher education policy and/or finance. Here is a list of BILLD graduates who served on these committees in 2021.
ILLINOIS
Rep. Carol Ammons (class of 2018)
Rep. Kelly Burke (class of 2013)
Sen. Dale Fowler (class of 2018)
Rep. Elizabeth Hernandez (class of 2010)
Sen. Laura Murphy (class of 2019)
Sen. Chapin Rose (class of 2003)
Rep. Justin Slaughter (class of 2021)
KANSAS
Rep. Valdenia Winn (class of 2002)
MINNESOTA
Rep. Sondra Erickson (class of 2000)
Sen. John Jasinski (class of 2019)
Rep. Ron Kresha (class of 2014)
NORTH DAKOTA
Sen. JoNell Bakke (class of 2009)
Rep. Karla Rose Hanson (class of 2018)
Rep. Zach Ista (class of 2021)
Sen. Dave Oehlke (class of 2007)
Rep. Brandy Pyle (class of 2017)
Sen. Jim Roers (class of 2021)
Rep. Cynthia Schreiber-Beck (class of 2015)
OHIO
Rep. Rick Carfagna (class of 2019)
Rep. Stephanie Howse (class of 2016)
Sen. Rob McColley (class of 2015)
Sen. Bill Reineke (class of 2016)