More than $1 billion in additional federal funding coming to protect Great Lakes
---
---
A big boost of federal funding is coming over the next five years to help Great Lakes states and communities protect the largest freshwater system in the world.
The recently enacted Infrastructure Investment and Jobs Act includes an additional $1 billion for the Great Lakes Restoration Initiative, the 11-year-old program that funds projects related to five priority areas: toxic substances and Areas of Concern; invasive species; nonpoint source pollution impacts on near-shore health; habitats and species; and foundations for future restoration actions (see pie chart for the funding breakdown).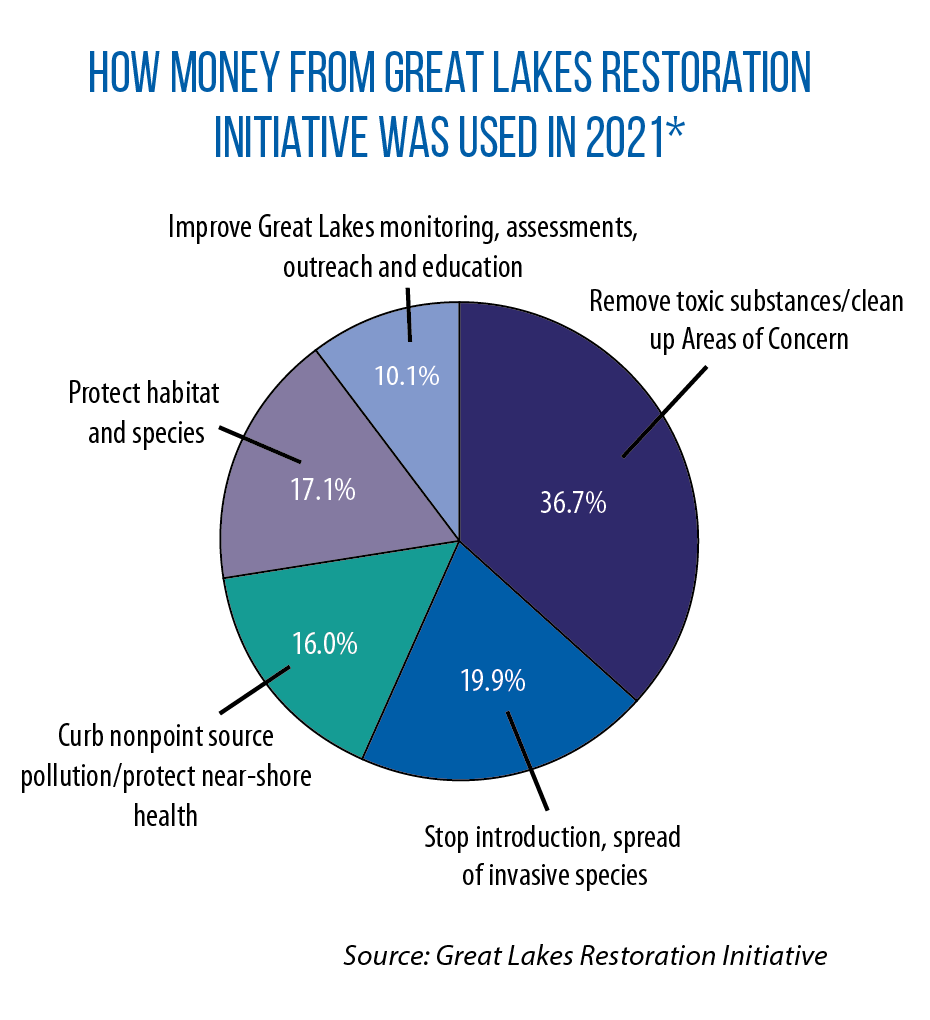 The inclusion of this money in the larger infrastructure package caps a historic year in federal Great Lakes policy and funding. In early 2021, federal legislation was signed into law reauthorizing the GLRI through fiscal year 2026 with gradual increases in funding — from $375 million in 2022 to $475 million in 2026. A total of $3.8 billion went to the initiative between 2010 and 2021, including $330 million in the most recently completed fiscal year. The U.S. Environmental Protection Agency cities several accomplishments since the GLRI's inception:
the delisting of five Areas of Concern — toxic "hot spots" in different parts of the Great Lakes basin — and acceleration of cleanup work in other AOCs (a sixth AOC was delisted prior to the GLRI);
the start of projects to control invasive species on more than 178,000 acres in the Great Lakes region;
a projected reduction of more than 1.5 million pounds of phosphorus runoff; and
the protection, restoration or enhancement of more than 440,000 acres of coastal wetlands and other habitat.