The number of women in U.S. state legislatures is on the rise, including in most Midwestern states
---
---
A record number of women will be serving in U.S. state legislatures in 2023, holding close to one-third of the seats in capitals across the country, according to the Center for American Women and Politics at Rutgers University.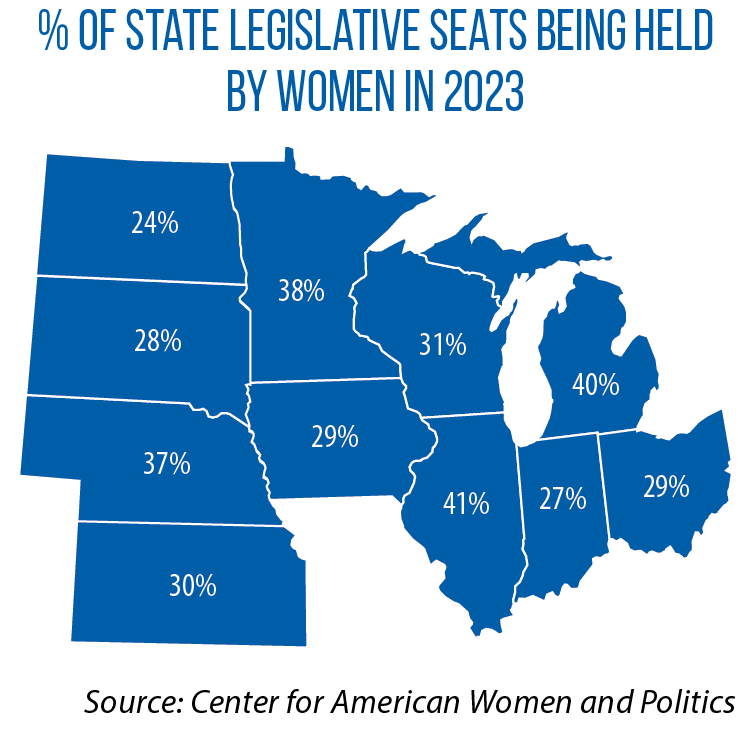 In the Midwest, Illinois will have the highest percentage of state legislative seats held by women, at 41 percent. Three other states in the region eclipse the national rate of 32.6 percent: Michigan, Minnesota and Nebraska (see map).
In terms of representation in state legislatures, the greatest gains for women during the 2022 election cycle occurred in Indiana, Michigan, Minnesota, Nebraska and North Dakota. Between 2022 and 2023, the number of female legislators will fall in two Midwestern states: Ohio (-2) and South Dakota (-1).
Across the country this year, a record number of women were major-party nominees for state legislature (3,615), the center notes. Two states, Colorado and Nevada, now have majority-women legislatures, and 12 of the nation's 50 U.S. governors (24 percent) are women, including Iowa Gov. Kim Reynolds, Kansas Gov. Laura Kelly, Michigan Gov. Gretchen Whitmer and South Dakota Gov. Kristi Noem. (All four of them were re-elected to office in 2022.)
In the U.S. Congress, women now hold a record-high 27.9 percent of the seats.