Illinois establishing new license for midwives, with goals of closing service gaps and limiting legal exposure
---
---
Later this year, Illinois will become the sixth Midwestern state to license midwives and allow them to provide birthing services without being advanced-practice nurses.
HB 3401, signed in December, sets qualifications for a new certified professional midwife license, defines the scope of midwifery practice and requires midwives to consult with physicians or certified nurse midwives for problems during birth.
It also creates the Illinois Midwifery Board — five of whose members must be licensed certified professional midwives — in the Department of Financial and Professional Regulation to oversee licensing.
The new law is a personal victory of sorts for the bill's sponsor, Illinois Rep. Robyn Gabel, who says its passage was something she pursued since 2011, when she was elected to the General Assembly.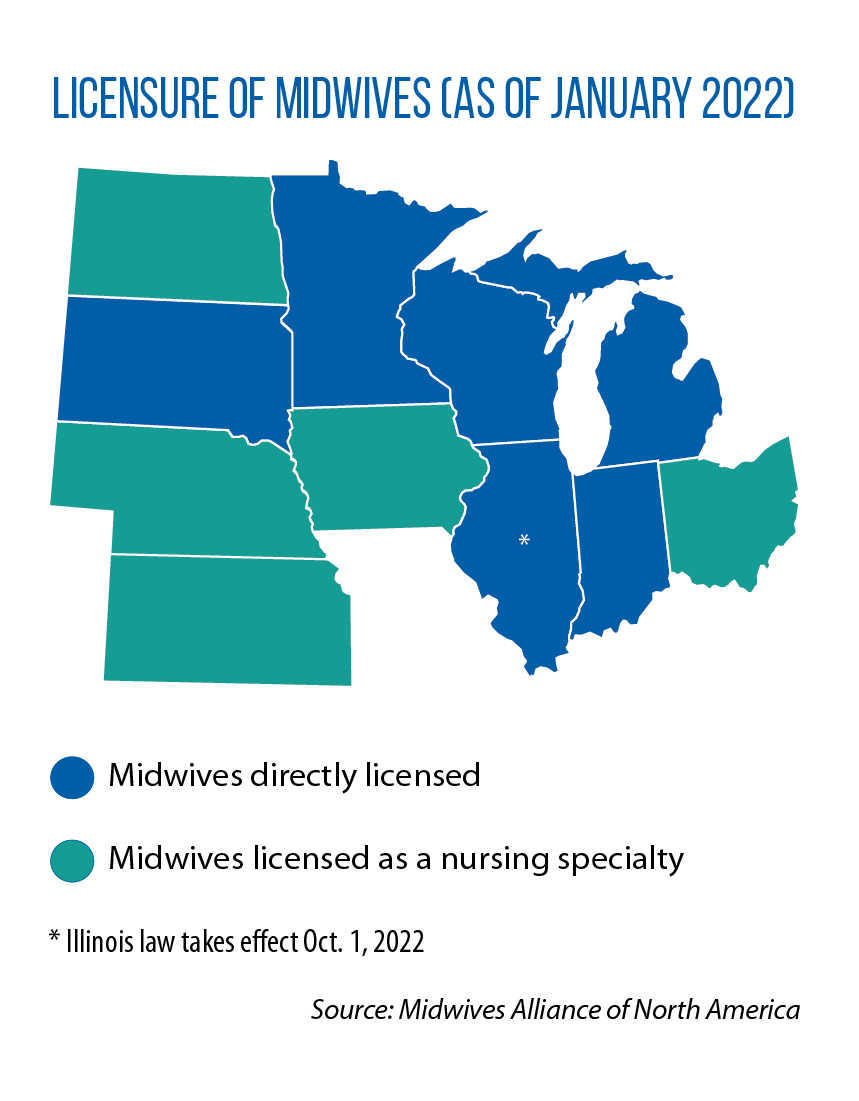 For pregnant women who prefer home births, she believes the new law will provide a gap in medical services. For midwives without a license, Gabel adds, there was a potential of major legal exposure if something went wrong.
"Our feeling was women were going to use midwives for home births, so we want them to be licensed so they can have the training we want them to have," she says.
Licensure will also allow midwives to transfer mother and baby to a hospital without legal problems in case medical problems arise, she adds.
The new law does not provide Medicaid coverage of midwife services, but Gabel says she will introduce a bill to provide such coverage in the 2022 session.
Unlike doulas — who also provide physical and emotional support before, during and after birth — midwives can deliver babies, provide medical advice, and make referrals to hospitals if there are complications during a home birth.
Midwifery dates from ancient times but lost legal ground in the 18th and 19th centuries as birthing shifted from mainly home settings to hospitals. In the United States, the profession regained respect starting in the late 20th century.
Under the new Illinois law, license holders must be graduates of post-secondary programs accredited by the Midwife Education Accreditation Council, certified by the North American Registry of Midwives (NARM), and hold an active CPR certification.
Indiana, Michigan, Minnesota, South Dakota and Wisconsin also directly license midwives who are NARM-certified. Michigan requires midwives to be trained to recognize human trafficking before their first license renewal.
Iowa, Kansas, Nebraska, North Dakota and Ohio allow certified nurse-midwives to practice as advanced-practice nurses.
In Canada, midwives are regulated by the provinces. According to the Canadian Association of Midwives, Ontario and Alberta began regulating them in 1994, followed by Manitoba in 2000 and Saskatchewan in 2008.