MLC Chair's Initiative | 2022 | State Water Policy
With new law and federal funds, Illinois set to lead on lead-pipe removal
---
---
No city in America has more lead service lines than Rep. Lamont Robinson Jr.'s hometown of Chicago. And his home state has an estimated 12 percent of the nation's total.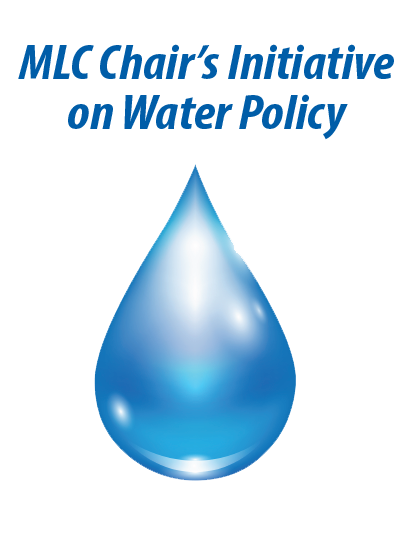 Now, though, Illinois may be poised to lead the nation in another way — getting rid of the lines that put people at risk of having their drinking water contaminated with lead.
"We have been kicking the can for several years, particularly since the '70s, on lead pipes and paint," Robinson says. "Since then, we've had Flint, we've had other communities with issues as it relates to clean water.
"I felt it was time to put this issue to bed."
The result: his sponsorship of HB 3739, a measure signed into law last year that makes Illinois one of the first U.S. states with a plan, timeline and statutory requirements for local water utilities to replace all of their lead service lines.
The exact deadlines for full replacement vary based on the number of lead pipes that need to be replaced in a given service area; every utility, however, will need to remove a certain percentage of lines every year. Priority will be given to projects in preschools, day care centers and other facilities where high lead levels are of particular concern.
Negotiated with involvement by water utilities, municipalities and advocates, the Illinois law also prioritizes rural and minority communities — areas that Robinson says tend to have the biggest problems with lead service lines and/or lack the resources to implement response strategies such as the use of filters or bottled water.
For Illinois and other Midwestern states, one continuing obstacle to replacing lead service lines is the cost. The Brookings Institution has estimated the price tag for a nationwide replacement at anywhere between $28 billion and $47 billion.
Over the next five years, though, much more assistance will be coming to states: a total of $15 billion under the Infrastructure Investment and Jobs Act of 2021 (see map for the Midwest). That $15 billion is on top of congressional appropriations already available through the Drinking Water State Revolving Fund.
These recent federal actions should help kick-start Illinois' plans to remove lead service lines, Robinson says, but will not get the state to the finish line.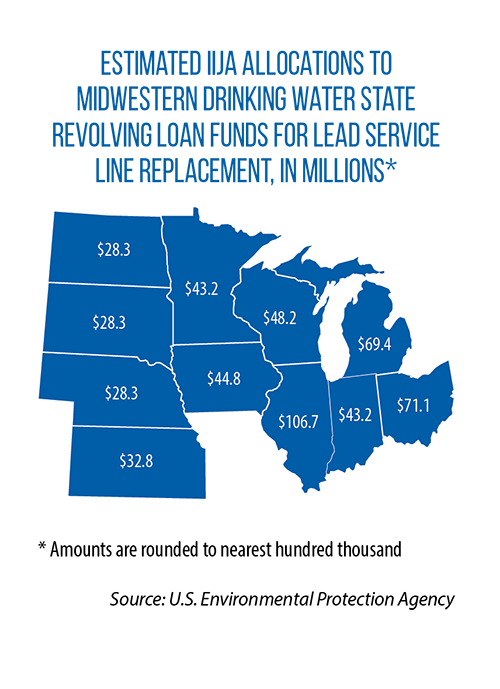 "The will is there for us to find money in the state of Illinois to get rid of lead pipes," Robinson says.
Finding a way is part of HB 3739. It creates a Lead Service Line Replacement Fund, and directs a new state advisory board to identify "dedicated, long-term revenue options" for lawmakers to consider.
Robinson views the removal of lead service lines as part of a broader strategy to improve long-term outcomes in children and to reduce violence — an idea backed by research showing that early childhood exposure to lead creates behavioral problems, from aggression to crime, in teenage and young adult years.
Illinois is now one of two states in the Midwest with a requirement that all lead service lines be replaced.
In 2018, spurred by the Flint water crisis, Michigan adopted a new Lead & Copper Rule that mandated the removal of these lines by 2041.
In late 2021, the Michigan Senate passed legislation (SB 565) allocating $1 billion for the state's lead service line removal program. This expenditure is part of a larger, $3.3 billion plan that uses newly available federal dollars to invest in the state's water infrastructure.
In the Midwest, related legislative action in early 2022 included:
• Bills in Minnesota (HF 2650/SF 2531) to appropriate $30 million a year (through 2032) for cities to remove the privately owned portion of lead service lines. Projects in disadvantaged communities would be prioritized.
• The South Dakota Legislature's allocation of $1.5 million for a statewide inventory of lead service lines (SB 64).
• Approval by the Indiana House of a new requirement (HB 1313) for health care providers to screen children between 9 months and 5 years old for lead poisoning.
Kansas Sen. Carolyn McGinn has chosen water policy as the focus of her Midwestern Legislative Conference Chair's Initiative for 2022. A series of articles will appear in Stateline Midwest this year in support of this initiative.