First two disputes under new trade agreement center on core Midwest industries: dairy and autos
---
---
For the first time under the 20-month-old United States-Mexico-Canada Agreement (USMCA), a three-person panel issued a decision on a trade dispute among participating countries.
The decision, announced in early January, revolved around Canada's administration of tariff rate quotas (TRQs) on dairy products. Under a TRQ, a predetermined amount of imports is allowed into a country at a low or zero-tariff rate; once that limit is reached, additional imports face higher tariffs.
Canada maintains TRQs on a variety of dairy products — from milk and cream, to industrial cheeses and yogurt — under the USMCA.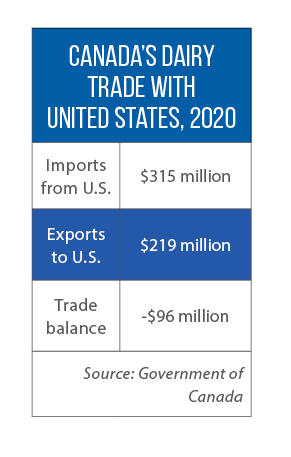 The problem, U.S. trade officials and dairy groups said, was that a large share of the lower-tariff quotas were being designated for Canadian processors. According to the International Dairy Foods Association, this kind of TRQ allocation was "restricting the ability of exporters to sell directly to [Canadian] distributors or retailers."
The three-person panel ruled that Canada was in violation of the agreement, leaving the country with one of two options: comply with the decision, or risk U.S. trade retaliation.
U.S. Trade Representative Katherine Tai said the decision "will help eliminate unjustified trade restrictions on American dairy products."
Canadian officials, meanwhile, cited the ruling's endorsement of the country's system of supply management in the dairy industry: controls on production and imports along with the use of pricing mechanisms.
Others said the decision marks a victory for the continent as a whole — because there finally appears to be a functional mechanism in place to handle inter-governmental disputes.
"We didn't promise dispute-free trade in the USMCA, we just promised a vehicle through which to resolve disputes instead of [a country] unilaterally taking action," says Dan Ujczo, senior counsel with Thompson Hine's International Trade and Transportation practice groups. He represented various companies involved in negotiations over the three-nation deal.
Under the USMCA, if two countries are unable to resolve a trade dispute, the complaining country can request the formation of a dispute panel.
The North American Free Trade Agreement (NAFTA) had a dispute-panel process as well, but there were no deadlines to appoint members. The result: A country on the receiving end of a complaint could effectively avoid a decision by refusing to appoint panelists. In the entire history of NAFTA, only three disputes were settled through the panel process.
In contrast, under the USMCA, if one or both countries refuse to make selections, panelists are drawn randomly from a roster of 30 predetermined individuals.
"It gives us a place to resolve our disputes, so we don't have trade policy by tweet," Ujczo says. "But I also think people have to brace for the reality that we didn't fix everything in USMCA. Countries are going to use this dispute mechanism, so we are going to see disputes."
The next one will impact another big industry in the Midwest: auto manufacturing.
Under NAFTA, 62.5 percent of a car had to be North American-made in order to qualify for tariff-free status. It's now 75 percent under the USMCA.
Typically, foreign-made components or parts have qualified if they were used or modified in North American assembly. Now, though, the United States says that 75 percent of the components that go into "core parts" (such as an engine or transmission) need to be North American-made. Canada and Mexico say this is inconsistent with the agreement, which was negotiated with automakers and parts suppliers.
"The new interpretation changes how we've been doing things for 30 years," says Ujczo, who also works with auto manufacturers. "We need to get this resolved now… because we are planning models for five, seven years out right now, and we need to know what the rules of the game are."