Elections performance index: Midwestern states led improvements from 2016 to 2020
---
---
Iowa, Michigan, Minnesota, Nebraska, North Dakota and Wisconsin have among the best-administered elections in the nation, according to a national evaluation released in March by the Massachusetts Institute of Technology's Election Data and Science Lab.
The MIT performance index is based on the last seven election cycles and relies on 19 different indicators.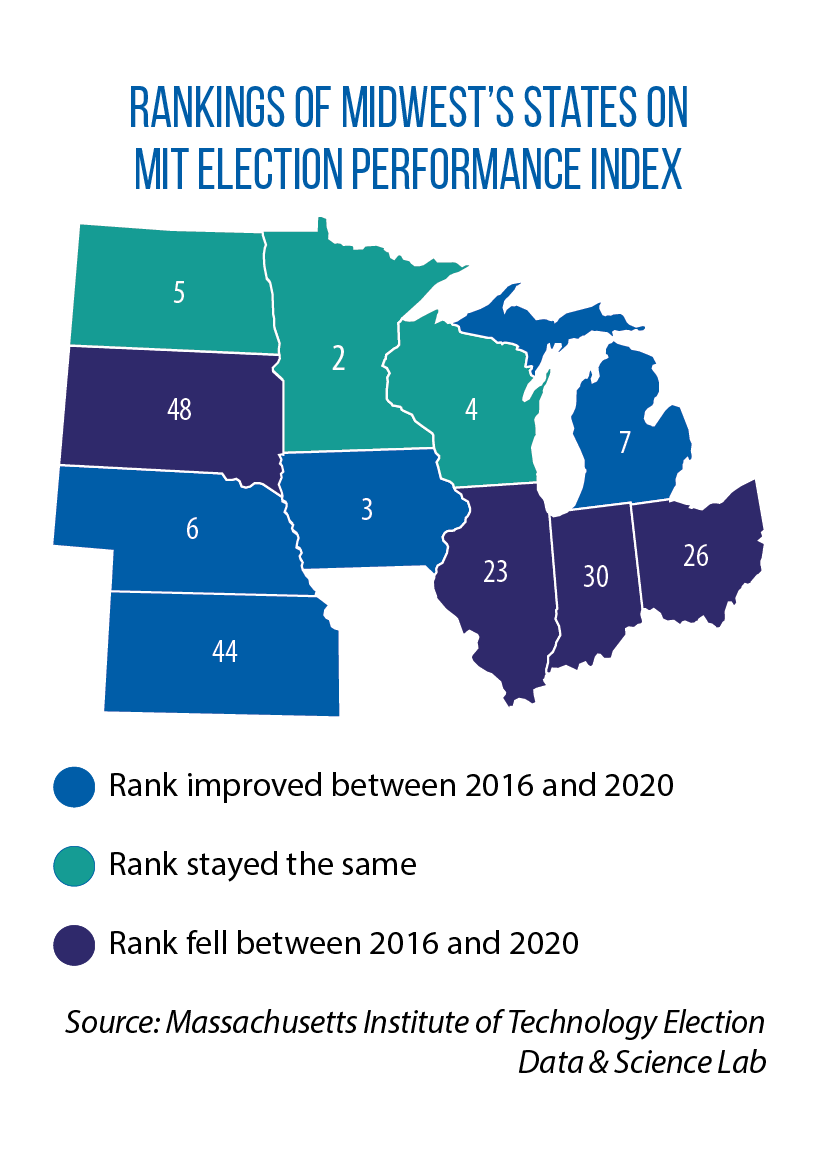 Minnesota ranks second in the nation due to factors such as high rates of voter registration (92 percent in 2020) and voter turnout (80 percent in 2020), a statutory requirement on post-election audits, limited problems with voter registration and absentee ballots, and relatively short waiting times for in-person voters.
Iowa, which ranked third in the nation, also scored higher than the national average on most of these same performance indicators. And compared to other states, Iowa has a smaller percentage of mail and absentee ballots not being returned for counting, a smaller share of unreturned military and overseas ballots, and fewer mail and absentee ballots being rejected.
Despite the unique, pandemic-related circumstances of 2020, the data for the most recent U.S. election cycle show that states improved their administration of elections, according to the MIT researchers.
Forty-five states' index scores improved from 2016; four Midwestern states moved up in the Elections Performance Index's ranking of states: Iowa, Kansas, Michigan and Nebraska.
South Dakota ranks lowest among the 11 Midwestern states in the MIT evaluation. Among the reasons: the unavailability of online voter registration, a lack of state participation in the Electronic Registration Information Center, and no requirements for post-election audits.