Help at home for selling abroad: Wisconsin and Saskatchewan have bolstered export assistance for their agriculture and food producers
---
---
This year, as the world scrambles to replace some of the corn, wheat and vegetable oils normally supplied by Russia and Ukraine, states in the Midwest and neighboring provinces are expected to export record amounts of agricultural products — $70 billion and $42 billion, respectively.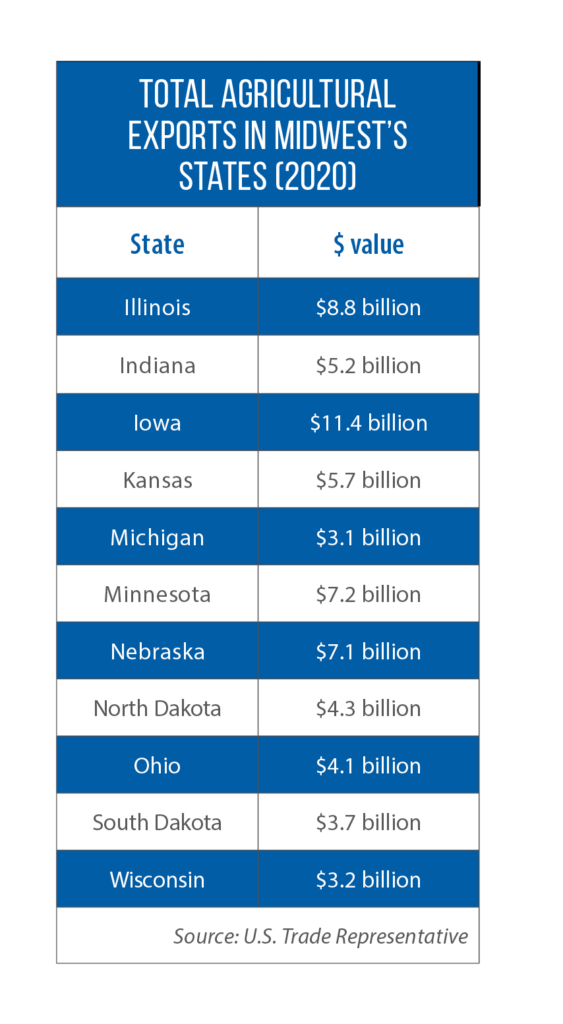 Commodity prices are high and global demand is robust for the region's agricultural products. Market conditions, of course, are bound to shift, but one con
The economic case for providing such help: In 2020, U.S. agriculture exports supported more than one million jobs, according to the U.S. Department of Agriculture. This activity already is concentrated in the Midwest, and export-led assistance for farmers is now getting even greater attention in places such as Wisconsin and Saskatchewan.
Wisconsin has new goals, plan for boosting exports
Ninety-five percent of the world's population lives outside of North America; that is lot of people to feed and potential customers for the Midwest's agriculture and food sector. Already, on average, 23 percent of U.S. farm products are exported.
This economic activity accounts for about 36 percent of U.S. farm income. In this region, most states rank in the top 10 of U.S. states in terms of the value of their agricultural export markets; Iowa, Illinois and Minnesota all were in the top five as of 2020 (see map).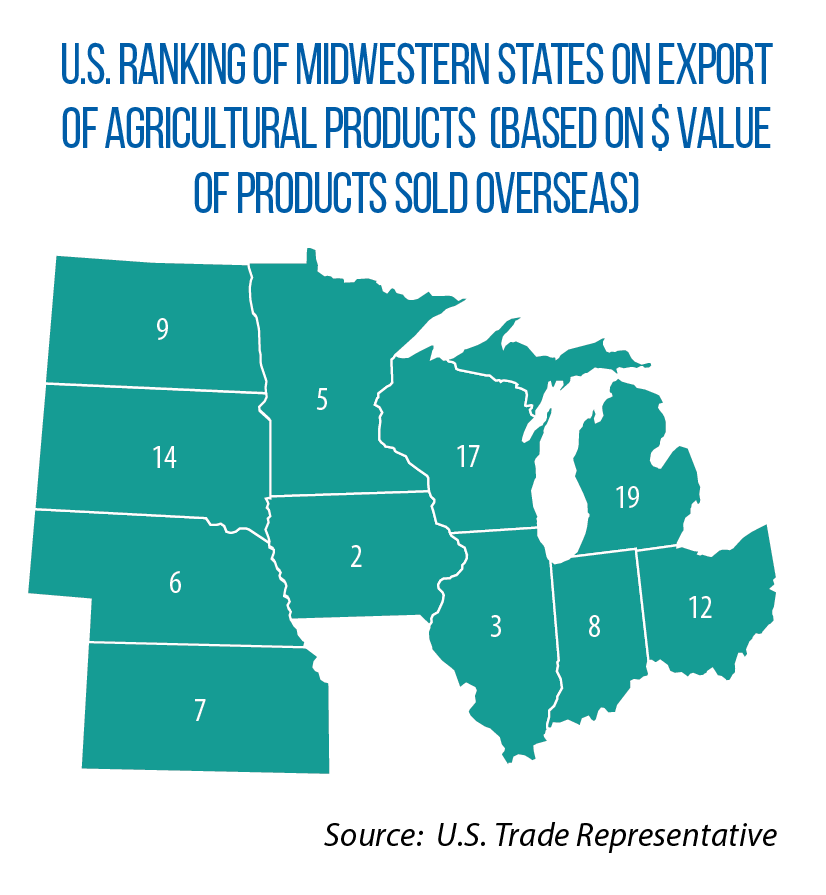 Wisconsin is looking to move up in those rankings, and it has a new law (AB 314, passed in late 2021) to get there. Earlier this year, state funds were released to begin implementing the Wisconsin Initiative for Agricultural Exports.
Under this initiative, two state entities — the Economic Development Corporation and the Department of Agriculture, Trade and Consumer Protection — are designing programs to increase the export of Wisconsin's dairy, meat and crops.
The new law sets a specific goal: over the next five years, increase the export of each of these types of agricultural products by 25 percent. Legislators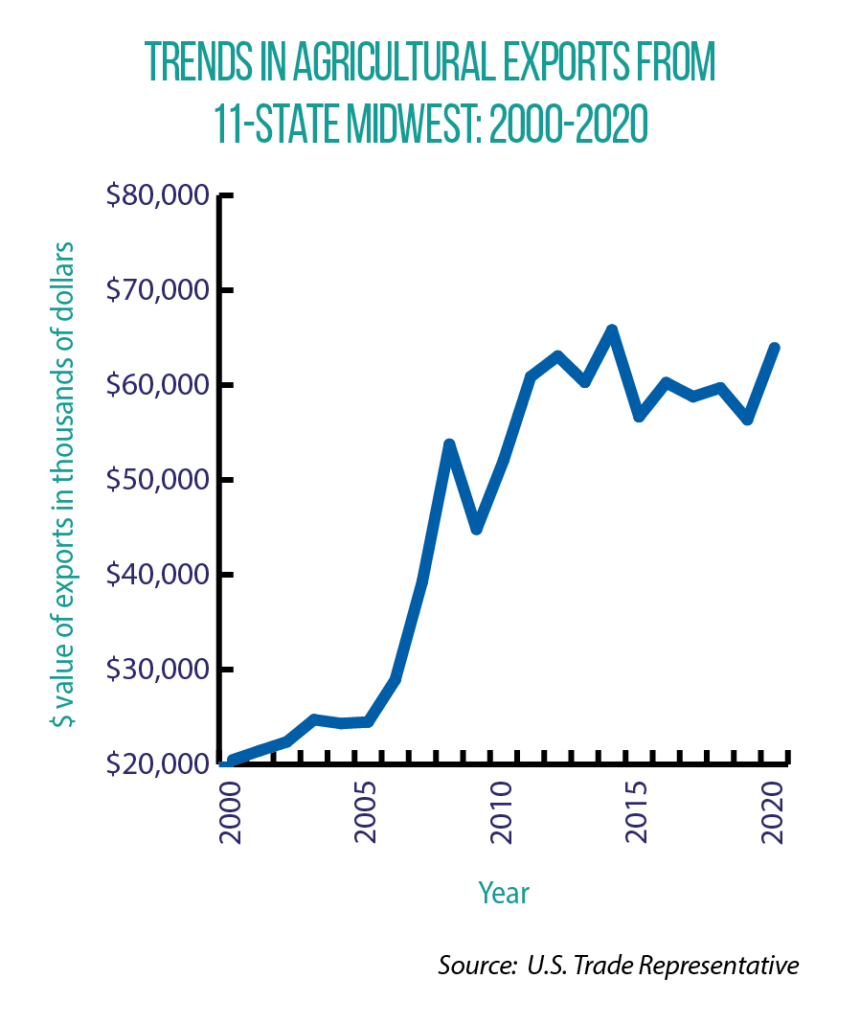 did not dictate the implementation of specific types of programs or supports. Instead, they allocated $2.5 million to increase dairy exports, and $1.25 million each for meat and crop products.
Every year, the Wisconsin Legislature will get a report on the progress being made toward reaching the 25 percent goal. Sen. Joan Ballweg, a chief sponsor of AB 314 along with Rep. Tony Kurtz, says a newly formed Agricultural Export Advisory Council is working with state agencies to develop new programs and supports for farmers.
That council is a governing body that includes participation from representatives of every agricultural industry.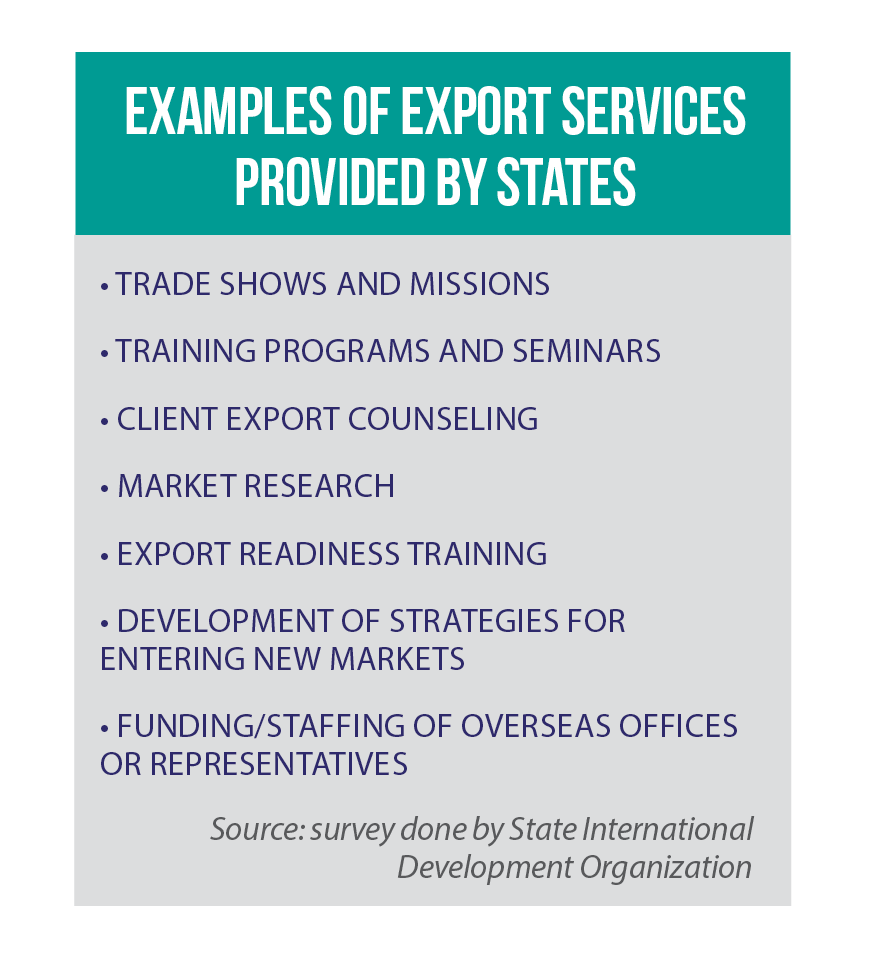 "As the leading exporter of such diverse items as cranberries and bovine semen, as well as a major exporter of dairy products, Wisconsin's diverse export portfolio required involvement from an equally diverse set of industry advisors," Ballweg says. "The council members have been so excited by the program that their involvement has gone beyond the mandated semiannual meetings."
Some of the new state funding will support hands-on training for Wisconsin producers and agribusinesses interested in exporting products. And at least 15 percent of the money will be awarded as grants to exporters.
Saskatchewan has eight overseas trade offices
Compared to their U.S. counterparts, Canada's agriculture producers are even more dependent on trade. Approximately half of everything Canada produces is exported, with more than 90 percent of farmers dependent on exports. Half of the country's jobs in agriculture are dependent on exports.
In Saskatchewan, producers export 70 percent of their soybeans and pork as well as 90 percent of their canola.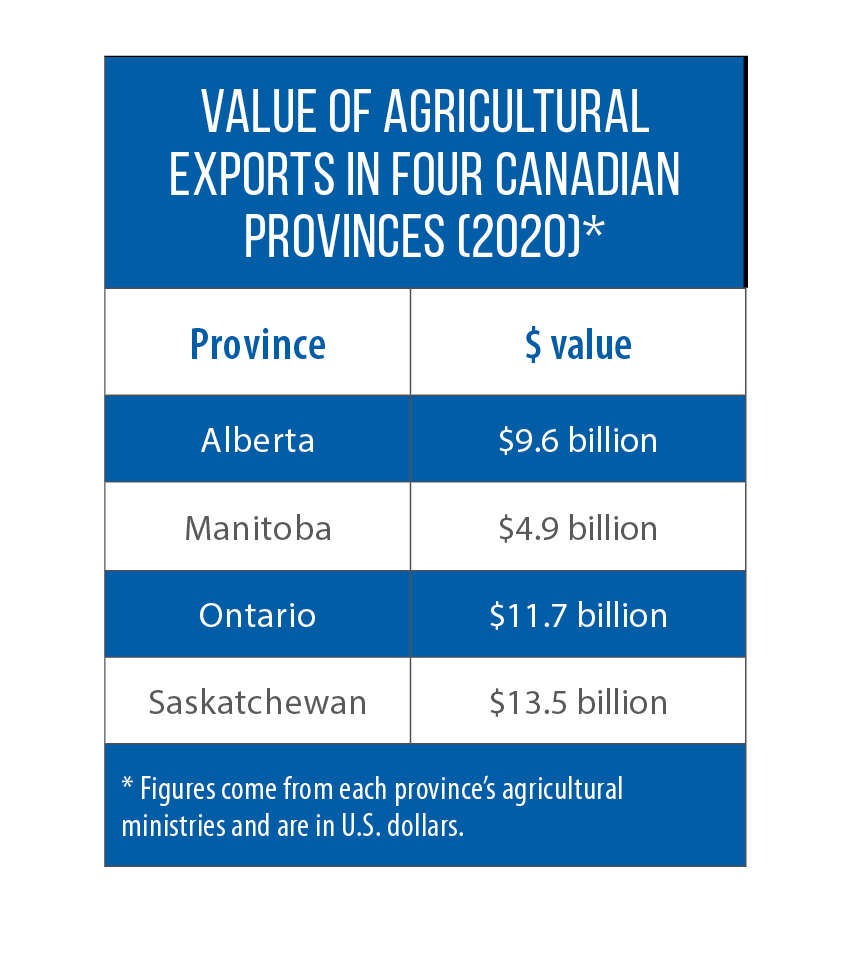 Three years ago, when Saskatchewan Premier Scott Moe laid out his decade-long vision for the province, much of it centered on building overseas markets — increase the value of exports by 50 percent; grow the province's number of international markets; boost sales of agri-food exports to $20 billion a year; and expand the capacity of the province's export assistance.
This year, the Saskatchewan Legislative Assembly provided a $3.1 million increase to provide full-year funding for the province's eight international trade offices — in China, India, Japan, Mexico, Singapore, United Arab Emirates, United Kingdom and Vietnam. (Many states also have international trade offices of their own.)
"With our dependence on exports, we felt that it would be advantageous to have dedicated trade offices that promote Saskatchewan products and attract investment," says Steven Bonk, a member of the province's Legislative Assembly who, in the private sector, has worked as an advisor on international trade and market access.
These offices provide farmers and other exporters with individual consulting on market research, required documentation and participation in trade shows. In addition, the province provides $3.2 million for a joint venture with private businesses known as the Saskatchewan Trade Export Partnership.
One benefit of STEP: expanding the reach of export services to international markets where the province does not have a trade office.