Just in time for football, sports gambling goes live in Kansas; Ohio to begin betting on Jan. 1
---
---
Legalized sports betting spread to an eighth Midwestern state in September, when four casinos in Kansas began accepting online and in-person bets. The state has a unique regulatory structure on gambling due to constitutional language that makes most forms of gambling illegal. One of the exceptions: casino-style wagering owned and regulated by the state.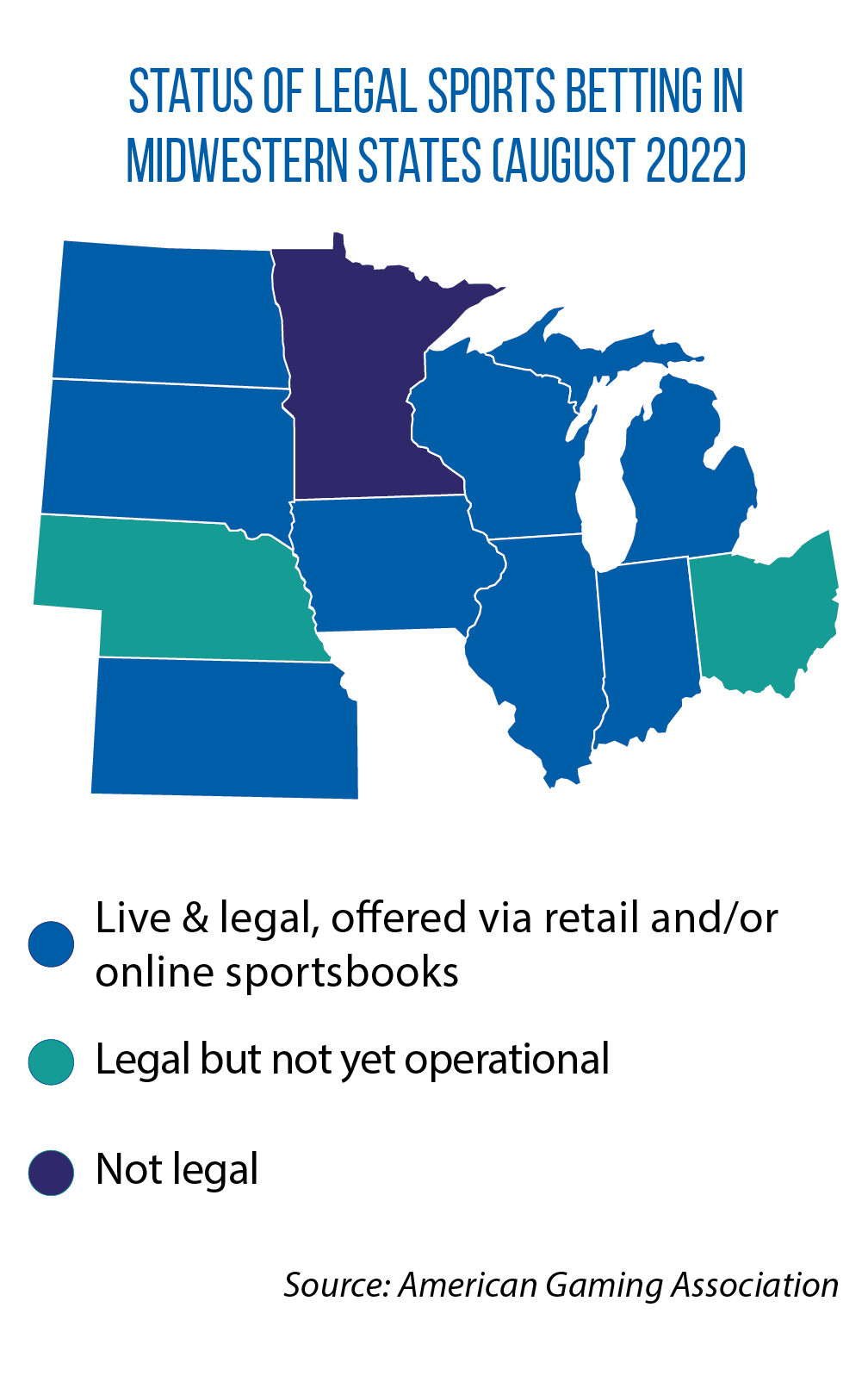 Four state-owned commercial casinos operate via a partnership with private companies, and this year's SB 84 authorized each casino (operated by the Kansas Lottery) to engage up to three online platforms or apps in addition to taking in-person bets. The new law also permits sports betting in restaurants and venues operated by nonprofit fraternal or veterans' organizations, as well as allows new compacts to be negotiated with tribal nations to offer sports betting at tribal casinos.
Another unique aspect of sports gambling in Kansas is where the money will go. Much of the state revenue is earmarked for two funds, one to investigate and prosecute white-collar crimes and a second to attract professional sports teams (for example, to help with the construction of a new stadium).
All Midwestern states except Minnesota have legalized online and/or in-person sports betting. Nebraska and Ohio each legalized it in 2021, with LB 561 and HB 29, respectively, but sportsbooks are not yet operational in those states. The Ohio Casino Control Commission in August announced that in-person sports betting will begin on Jan. 1.
Where does the new state revenue go?
Examples include a fund for school-based sports and extracurricular activities in Ohio, property tax relief in Nebraska, infrastructure projects in Illinois, school aid in Michigan, and state general funds in Indiana and Iowa, the American Gaming Association notes.
According to Legal Sports Report, U.S. states have collected more than $1.6 billion in revenue from sports betting since June 2018, the year a U.S. Supreme Court decision gave states the authority to legalize this activity.
Canada began allowing single-game sports betting in August 2021, but leaves regulation to the provinces. Ontario in April became the first province to announce an "open" or competitive sports book market, while Alberta released a "request for proposals" for two retail sportsbooks.
In June, the Saskatchewan Indian Gaming Authority announced a vendor agreement with the British Columbia Lottery Corporation to develop an online gambling site that will include single-event sports betting. The portal is scheduled to be available to provincial residents before the end of the year, the authority said.