Illinois aims to reduce Medicaid 'churn' and improve health outcomes by moving to 12 months of continuous coverage for all adults
---
---
Under one of the first federal laws passed in response to the COVID-19 pandemic, states were offered a deal on Medicaid that every single one opted to take.
Allow covered individuals to stay continuously enrolled in the health insurance program through the course of the public health emergency, U.S. lawmakers said, and we'll boost the federal Medicaid match rate (by 6.2 percentage points).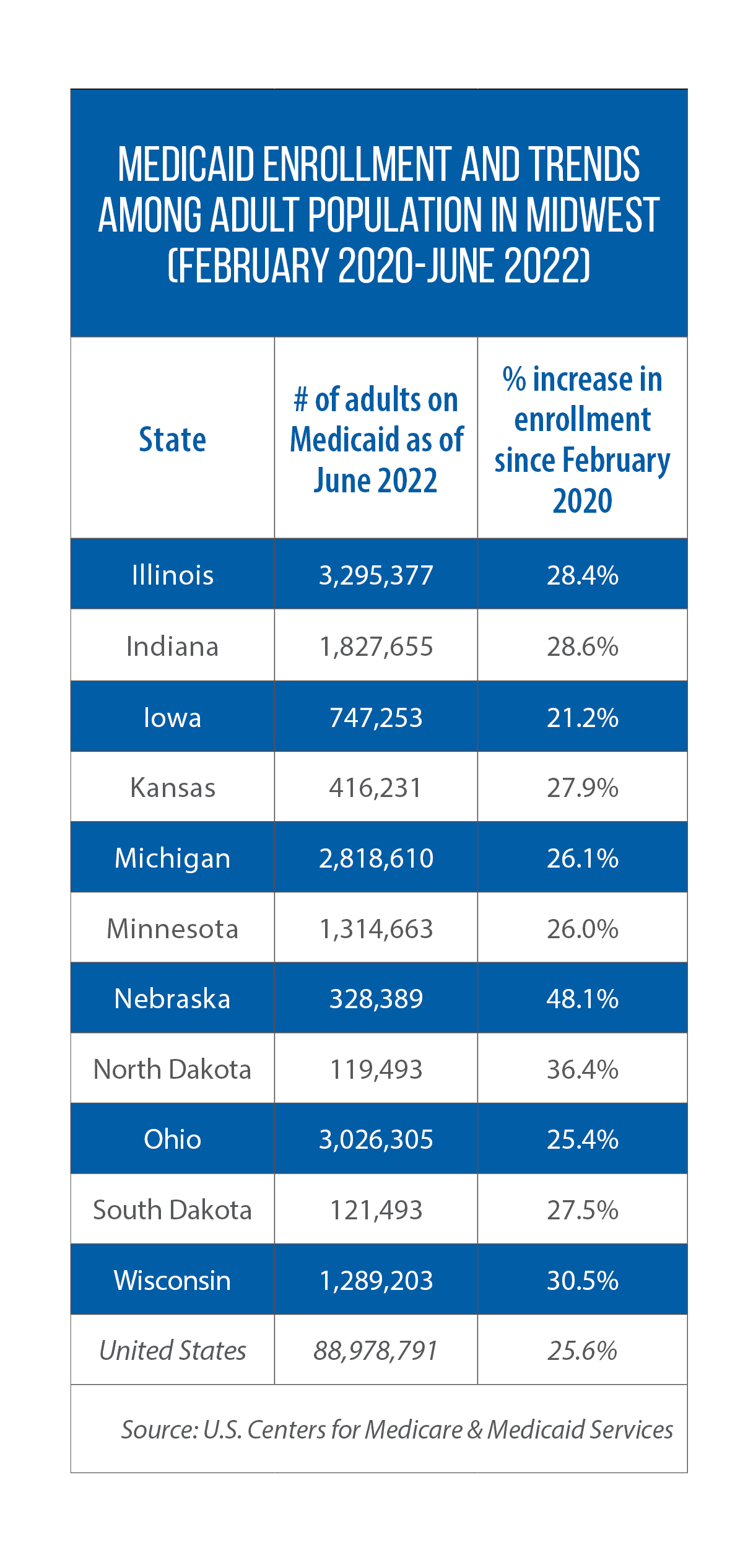 Coming up on three years, the public health emergency remains in place. But when it ends, potentially as soon as Jan. 11, 2023, so will this big, albeit temporary, change in health policy.
The Center for Children and Families at Georgetown University's Health Policy Institute estimates the emergency's end will mean about 80 million people nationwide could have their Medicaid status reviewed as states revert to their pre-pandemic policies on coverage status.
When that happens, the Kaiser Family Foundation says, between 5.3 million and 14.2 million Medicaid recipients could lose coverage due to status changes.
But a handful of U.S. states have taken steps to make 12-month continuous coverage for adults a permanent part of their Medicaid programs.
Illinois is the first, and thus far only, Midwestern state to do so.
Illinois' waiver request
Signed into law in early April, HB 4343 requires the Illinois Department of Healthcare and Family Services to seek the necessary federal waiver.
If this request is granted, 12 months of continuous eligibility will be extended to all Illinois adults on Medicaid — with or without a national public health emergency in place.
Illinois Rep. Mary Flowers' work on the issue predates the pandemic and the subsequent temporary changes in federal policy.
She believes that by guaranteeing 12 months of enrollment, the state will ensure a continuum of care for low-income people, who are less likely to seek care if uninsured.
Without a blanket policy of continuous coverage, an individual can lose his or her Medicaid benefits for many reasons — changes in income or family status, for example, or bureaucratic barriers to renewing one's status, the Kaiser Family Foundation notes.
Currently in Illinois, Flowers says, 12 months of continuous eligibility only applies to adults in the state's Medicaid managed-care program (HealthChoice Illinois). The policy does not extend to other Medicaid enrolled adults.
"It just didn't make sense to me that every eight months there was a redetermination process [for adults not in the HealthChoice program]," says Flowers, a sponsor of this year's HB 4343.
Nor did it make sense that if a mother lost her coverage for whatever reason, her whole family suffered the loss of coverage, too, she adds.
Temporary gaps in care
The process of enrollees losing Medicaid coverage due to short term changes in income and/or other circumstances, and then re-enrolling within a short period of time, is known as "churn."
Nationally, the churn rate is estimated at 10.3 percent of Medicaid enrollees, says Jennifer Tolbert, director of state health reform and associate director for the Kaiser Family Foundation's program on Medicaid.
"One of the advantages of continuing enrollment is you eliminate that churn, those temporary gaps in coverage that create administrative problems and hurdles for the people covered," Tolbert says.
Georgetown's Health Policy Institute noted in a July 2021 report that continuous eligibility can help Medicaid recipients and programs alike: Mitigate the harmful effects of income volatility for low-income families and essential workers, and reduce administrative costs so that states can "dedicate more of the Medicaid dollar to pay for health care."
State policies on children
States already have the option of providing 12 months of continuous coverage to children.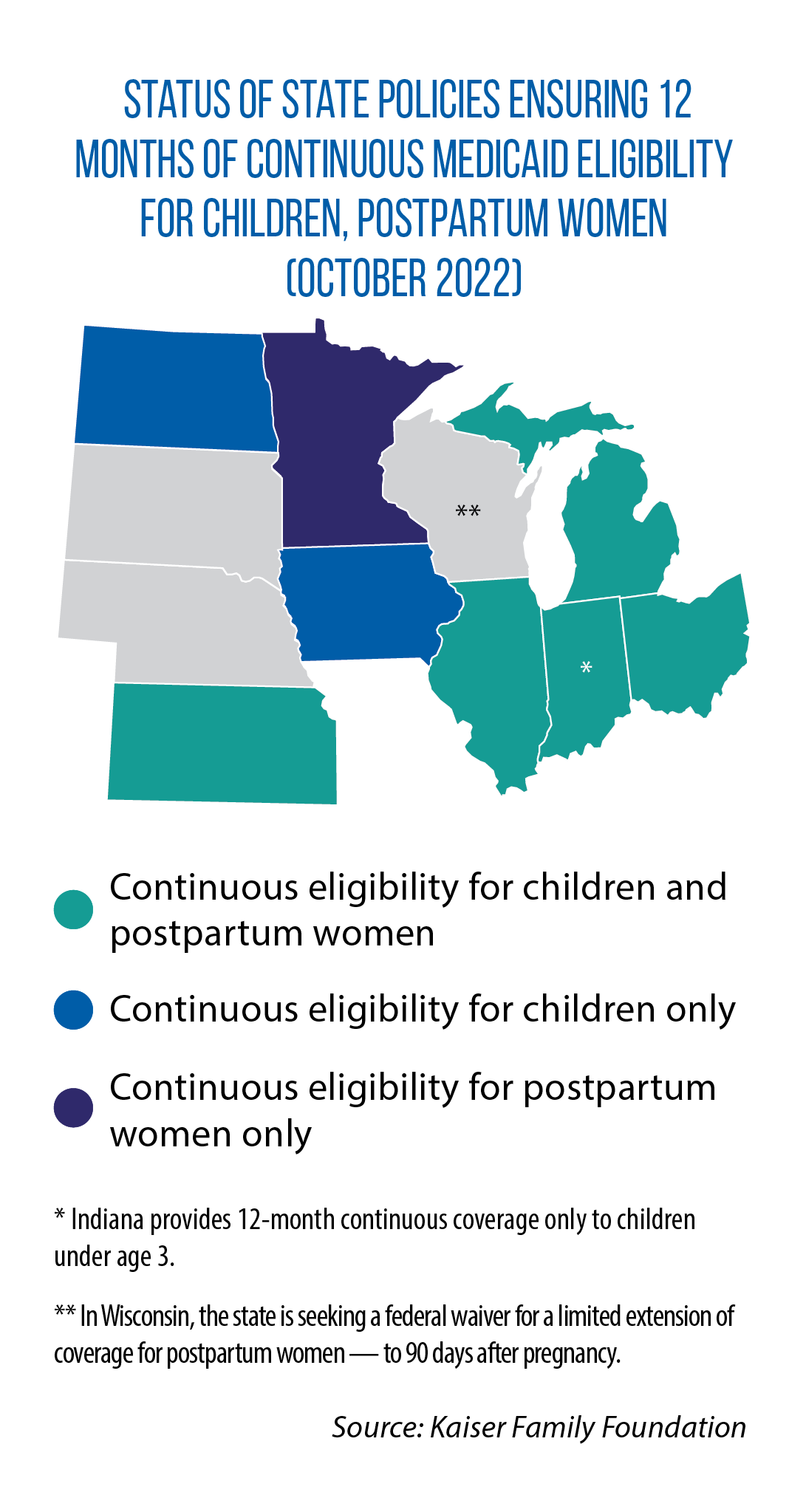 Close to half of the U.S. states do this in their Medicaid and/or their Children's Health Insurance Programs (CHIP).
That list of states includes seven in the Midwest: Illinois, Indiana, Iowa, Kansas, Michigan, North Dakota and Ohio.
Such a change requires states to amend their Medicaid plans, Tolbert says.
The process is different, and more difficult, for extending this continuous-coverage policy to the general adult population. States must apply for and secure a Section 1115 waiver, so named for the part of federal law that permits some experimentation with Medicaid programming. The waiver requires that any increase in costs be offset with savings elsewhere in a state's Medicaid program.
Tolbert says just three states provide 12-month continuing enrollment for adults independent of federal pandemic aid (Montana, New York and Utah) — and only to narrowly targeted groups such as single adults below a certain income level or those with serious, disabling mental illnesses.
Illinois will join them if the U.S. Centers for Medicare & Medicaid approves the state's waiver application (not yet submitted as of late October).
Decisions ahead for states
Under the American Rescue Plan Act, states also can provide 12 months of continuing enrollment for postpartum women. In the Midwest, Illinois, Indiana, Kansas, Michigan, Minnesota and Ohio have done so.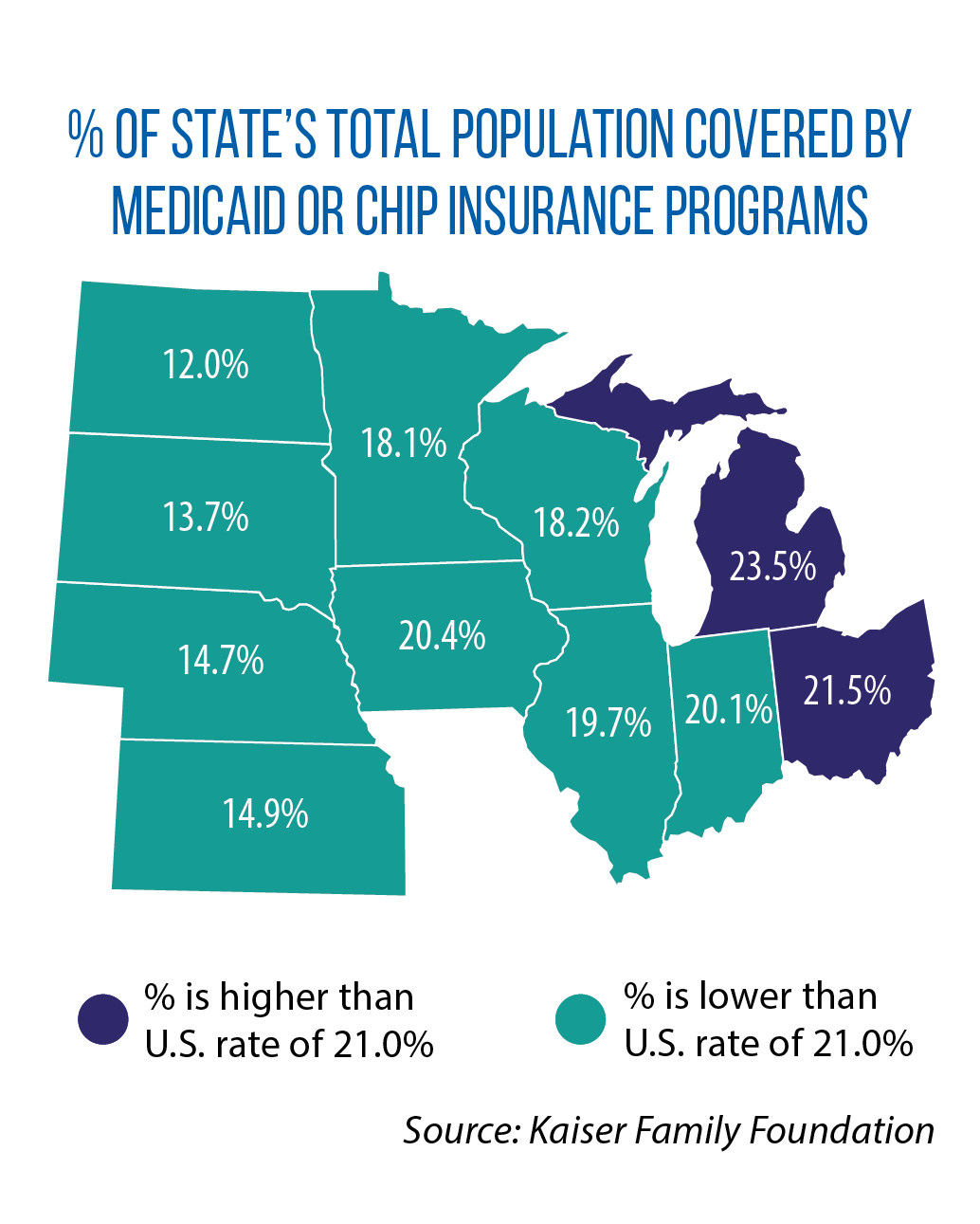 Tolbert says the benefits of 12-month continuous coverage for all adults are worth the effort to seek the waiver.
"One thing we do know is having coverage improves access to care," she says. "People who are uninsured have much higher rates of not getting care. Having continuous enrollment can improve health outcomes.
"We've just had a natural experiment with keeping people on continuous coverage for two years where states haven't been able to disenroll anyone," she adds.
"I think, given this experience, a number of states are now looking at ways to potentially extend [coverage]."
Once the national public health emergency ends, states will begin reviewing the status of their Medicaid enrollees.
A Kaiser Family Foundation survey found that most states plan to take up to a year to make eligibility determinations. Federal guidance calls on all states to complete their renewal process within 14 months.