Illinois adopts first law in Midwest requiring paid leave for workers
---
---
Starting next year, every worker in Illinois will have the chance to accrue at least 40 hours of paid leave annually. Signed into law in January, SB 208 allows individuals to begin earning paid leave on their first day of employment, at a rate of one hour of leave for every 40 hours worked. Illinois became only the third U.S. state (and first in the Midwest) with a law mandating paid time off. The language in SB 208 says workers can use these 40 hours to "maintain their health and well-being, care for their families, or … for any other reason of their choosing."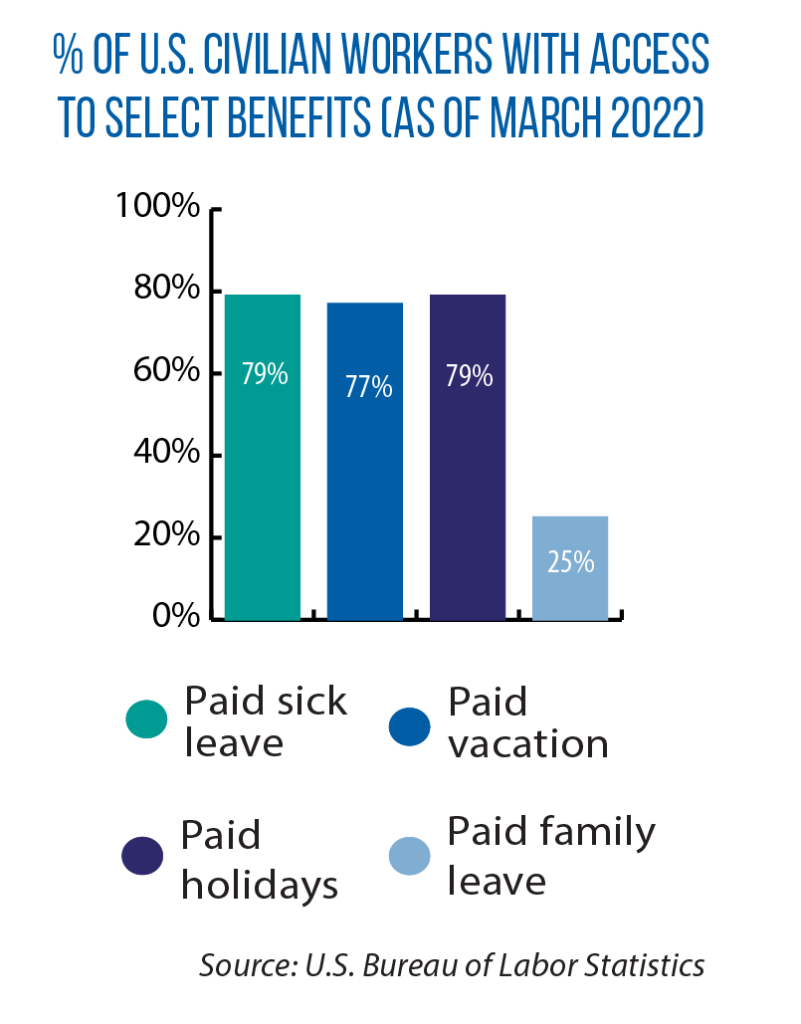 In recent years, a more common state action has been to guarantee access to paid family and medical leave. According to a recent U.S. Congressional Research Service study, 11 states (none in the Midwest) either were running or were working to implement insurance programs that provide cash benefits to eligible employees who take time away from work due to caregiving needs or for qualifying medical reasons.
Under these state-run programs, 12 weeks or more of benefits are made available per year, with benefit amounts ranging from 50 percent to 100 percent of an employee's average weekly earnings. Each program is financed in part or fully through the combined payroll taxes paid by employees; one variance in these state programs is whether employers also must pay into the program via the payroll tax.
Existing laws in Minnesota and Wisconsin ensure certain workers have access to unpaid family and medical leave, and governors in both those states introduced proposals in early 2023 to establish paid-leave programs. Minnesota Gov. Tim Walz and Wisconsin Gov. Tony Evers say one-time state funding is needed to get their respective state-run insurance programs up and running; ongoing revenue would then come from mandatory contributions made by workers and businesses.
South Dakota Gov. Kristi Noem proposed an alternative approach: establish state grants to encourage businesses to offer paid family medical leave. These businesses would then enter the same insurance pool used by the state to offer paid family leave to public employees. This plan (SB 154) did not advance in the Legislature this year.