A binational push is on to find and produce more critical minerals, opening potential opportunities in the Midwest
---
---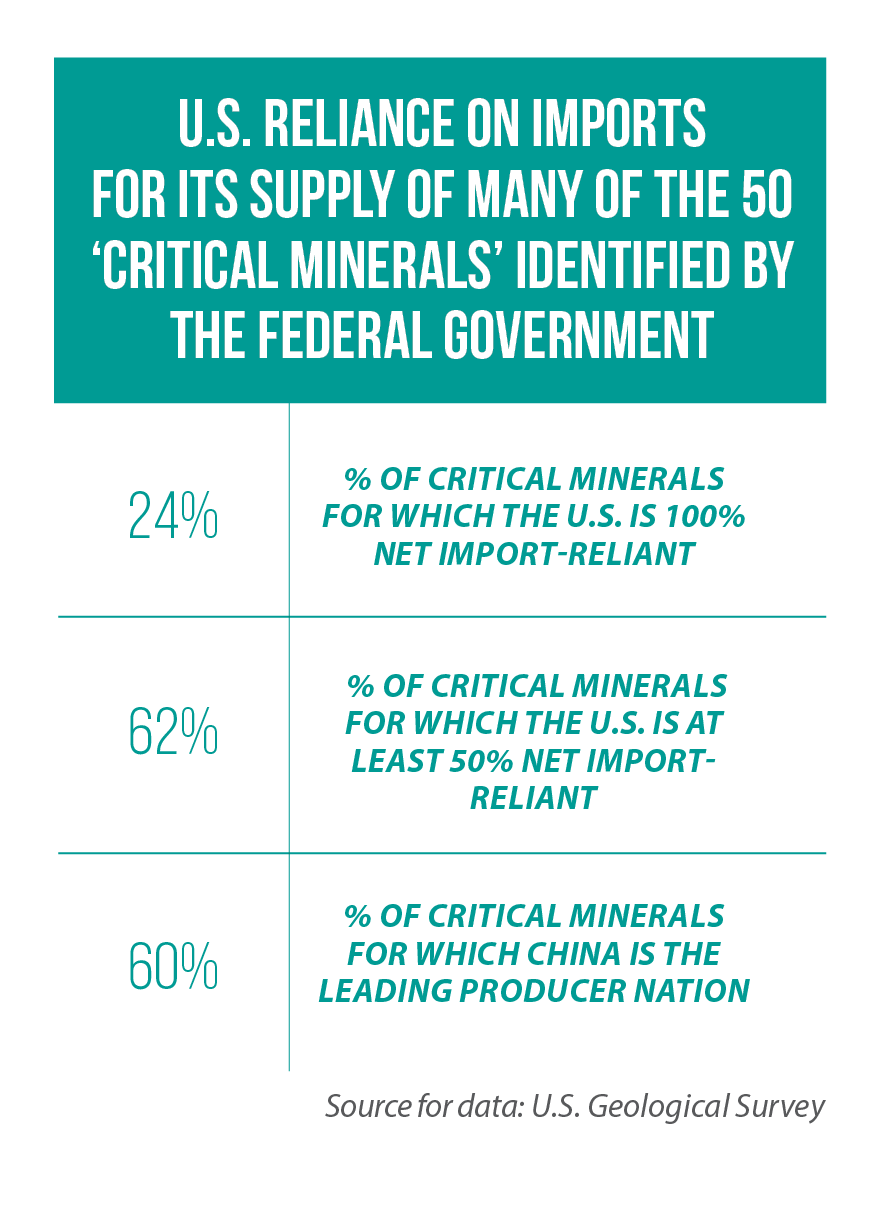 She lives in and represents a part of North Dakota's coal country.
In the future, Rep. Anna Novak hopes her district also becomes known as a place where rare earth elements and critical minerals are extracted and processed, and made into products essential for today's economy.
It's the reason she sponsored this year's HB 1511, a measure signed into law earlier this year to attract companies able to use the state's abundant supply of lignite coal as a "feedstock" to extract some of those metallic elements and minerals.
"What's really exciting about this for me is that the products have to be processed on site. You can't ship it somewhere else. … I have a feeling that not only will the elements be processed on site, but we will be able to produce things like lithium batteries and so forth right here in my district," Novak says.
Under North Dakota law, companies pay a severance tax on each ton of the coal that is mined.
But HB 1511 exempts companies from this tax for the first million tons of coal used as a "feedstock" for mineral extraction. It also includes a sales tax exemption related to facility construction or expansion.
"We have a tremendous business friendly environment in North Dakota, our coal mines are already permitted, and we have the Energy and Environmental Research Center," Novak says.
That center, housed at the University of North Dakota, recently secured a $8 million federal grant to conduct research on extracting rare earth elements from the state's lignite coal and developing technologies related to recovery and manufacturing.
The center also is competing to be the home of an eventual $124 million commercial demonstration facility. The goal of this project, funded by the U.S. Department of Energy, would be to produce up to 1,000 tons of rare earth elements annually — a significant amount considering the United States currently imports between 5,000 and 10,000 tons per year.
It all points to a potential economic opportunity for North Dakota, in an area of national importance. "A critical mineral has both outsized economic and national security implications," says Chris Berry, the president of House Mountain Partners and an expert on supply chains for battery metals.
A Canada-U.S. partnership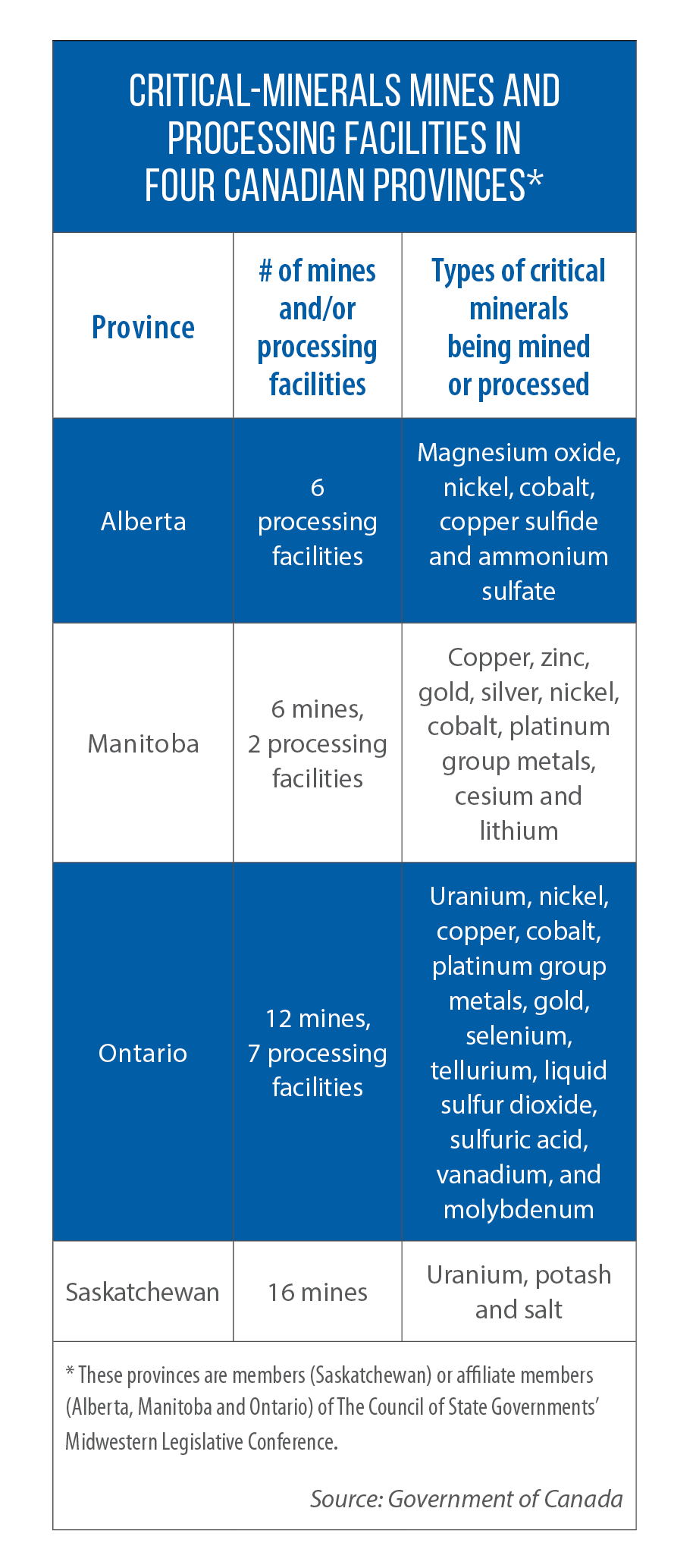 Mineral resources — such as lithium, cobalt, nickel — and rare earth elements are essential components of batteries, electric motors and many other advanced technologies.
They are crucial to making everyday products, electrifying transportation systems, and meeting climate-related goals and obligations for the United States and Canada.
In both countries, there is growing concern about a heavy reliance on imports of these minerals, both as raw materials and refined, as well as on a global supply chain often controlled by China. For example, Berry estimates that China owns or controls 75 to 80 percent of the entire supply chain of rare earth elements, 80 percent of cobalt-refining capacity, and 65 to 70 percent of lithium refining.
So, what is to be done?
The good news is that the United States and Canada do not lack for a supply of critical minerals in the ground.
According to the nonpartisan Wilson Center, the United States has 750,000 metric tons of lithium reserves and Canada has 530,000. Additionally, the U.S. has 53,000 metric tons of cobalt reserves and Canada has 22,000.
However, there currently is a lack of capacity to mine, extract or process these reserves. And while a permitting process is needed to ensure safe and responsible extraction, it can be time consuming; at a site, the time it takes to go from initial greenfield status to mine development can be as long as 15 years.
To build up domestic production and North American supply chains of these minerals and metals, Berry says, policymakers need to place "a full-scale focus on permitting timelines … harmonizing permitting requirements on the state, provincial or federal level across borders."
The two countries have committed to working more closely together, through agreements such as the Canada-U.S. Joint Action Plan on Critical Minerals Collaboration.
Under this plan, the nations have agreed to share information and data, diversify supply chains, promote trade and investment opportunities, and collaborate on research and development.
"Canada is an important supplier of 13 of the 35 minerals that the U.S. has identified as critical to economic and national security," Canadian officials said in announcing the joint action plan in 2019. (The U.S. list has since grown from 35 to 50.) "We have the potential to become a reliable source of [others]."
Federal, state investments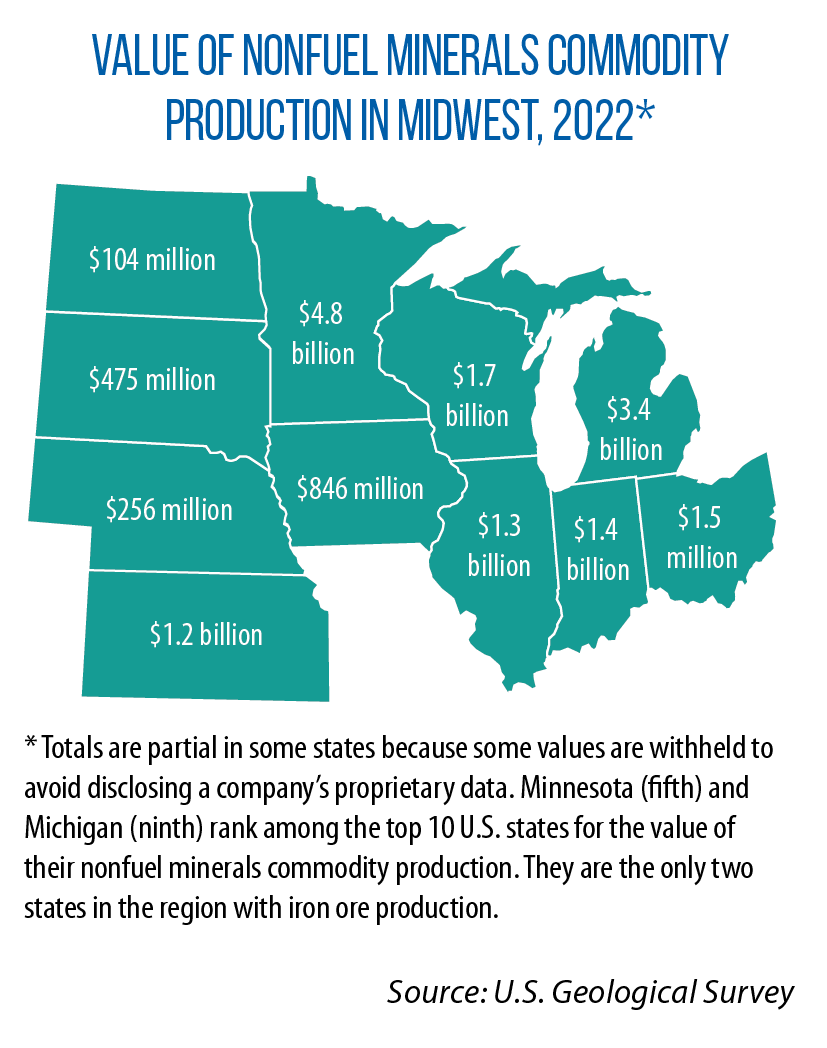 New federal laws, programs and investments also are in place to increase domestic production.
On the U.S. side of the border, the Inflation Reduction Act is providing a tax credit equal to 10 percent of the costs related to the production of critical minerals. This tax credit can be applied twice if the company mines and then refines the minerals.
Efforts are ongoing, too, to locate critical minerals. The Earth Mapping Resources Initiative (a collaboration between the U.S. Geological Survey and state geological surveys, funded by the Bipartisan Infrastructure Law of 2021) is identifying potential sites around the country.
Federal funds are supporting other types of research, too.
The work on lignite-coal extraction at the North Dakota research center is one example; another is the U.S. Department of Energy's support of the Illinois Basin Carbon Ore, Rare Earth and Critical Minerals project. It is exploring the potential extraction of critical minerals from the Illinois Basin's coal resources.
At the state level, North Dakota has the new tax credit for critical-mineral extraction, while a budget bill passed by the Michigan House in May (HB 4249) would allocate $15 million for new public-private research hubs that advance the processes for recycling and reusing critical minerals.
Additionally, Michigan Technological University and the only operating nickel mine in the United States, Eagle Mine, have received an $8.1 million federal grant to develop technologies and processes to supply critical minerals for electric-vehicle batteries.
Private industry in the Midwest also is jumping at the opportunity to develop the region's critical minerals and battery technology industries.
Talon Metals in Minnesota has an agreement with Tesla to provide at least 75,000 metric tons of nickel concentrate over six years from its proposed mine in Tamarack. And in Ontario, Magna International Inc. will invest $470 million to build a new electric vehicle battery factory in Brampton.