For 28th year, BILLD program gives newer lawmakers the chance to develop skills for success in the legislative arena
Five days of learning, leadership development and relationship building marked the experience of legislators taking part in The Council of State Governments' 28th annual Bowhay Institute for Legislative Leadership Development.
The 2023 BILLD program was held in August in Madison, Wis., with participation from a bipartisan, binational group of legislators from across the Midwest.
Read about this year's class »
Serving state and provincial legislators in their first four years of service, BILLD is a signature program of CSG's Midwestern Legislative Conference. Fellows are selected via a competitive application process overseen by the MLC's BILLD Steering Committee.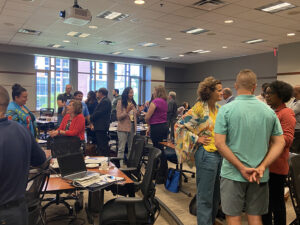 The 2023 program featured:
a roundtable discussion on legislative strategies with Minnesota House Minority Leader Rep. Lisa Demuth (BILLD Class of 2021); Indiana House Minority Leader Phil GiaQuinta (BILLD Class of 2009); and Wisconsin Senate President Pro Tempore Patrick Testin (BILLD Class of 2018);
training on communication, leadership style, time and focus management, bipartisan collaboration, negotiation and conflict resolution;
policy sessions on the Midwest's labor force and economy, cybersecurity and digital modernization in state governments, and U.S.-Canada relations;
featured speakers who provided their expertise on the region's state legislative institutions and how to build excellence in them, the interplay between the legislative and judicial branches, and the enduring legacy of principled political leadership.
Applications for next year's BILLD program will be available later this year or in early 2024.