Leaders of passenger rail explore future improvements to system in the Midwest
The 2023 Annual Meeting of the Midwest Interstate Passenger Rail Commission took place Sept. 18-20 in Chicago and Normal, Illinois.
The meeting began at Chicago Union Station, where commissioners, partners and allies gathered to hear presentations as well as tour the station. They then took a late-afternoon Lincoln Service train to Normal, Illinois, for the remainder of the meeting.
In Chicago, meeting participants were briefed on plans for the station's renovation and track/platform capacity expansion and new equipment for regional service in the Midwest. They also got a preview of improvements made by Illinois to allow for 110-mile-per-hour service in the Chicago-St. Louis corridor.
In Normal, they were welcomed by Mayor (and Amtrak Board nominee) Chris Koos on the morning of Sept. 19 before getting presentations on the commission's activities in 2023, passenger rail updates from member state departments of transportation, and officials from Amtrak and the Federal Railroad Administration.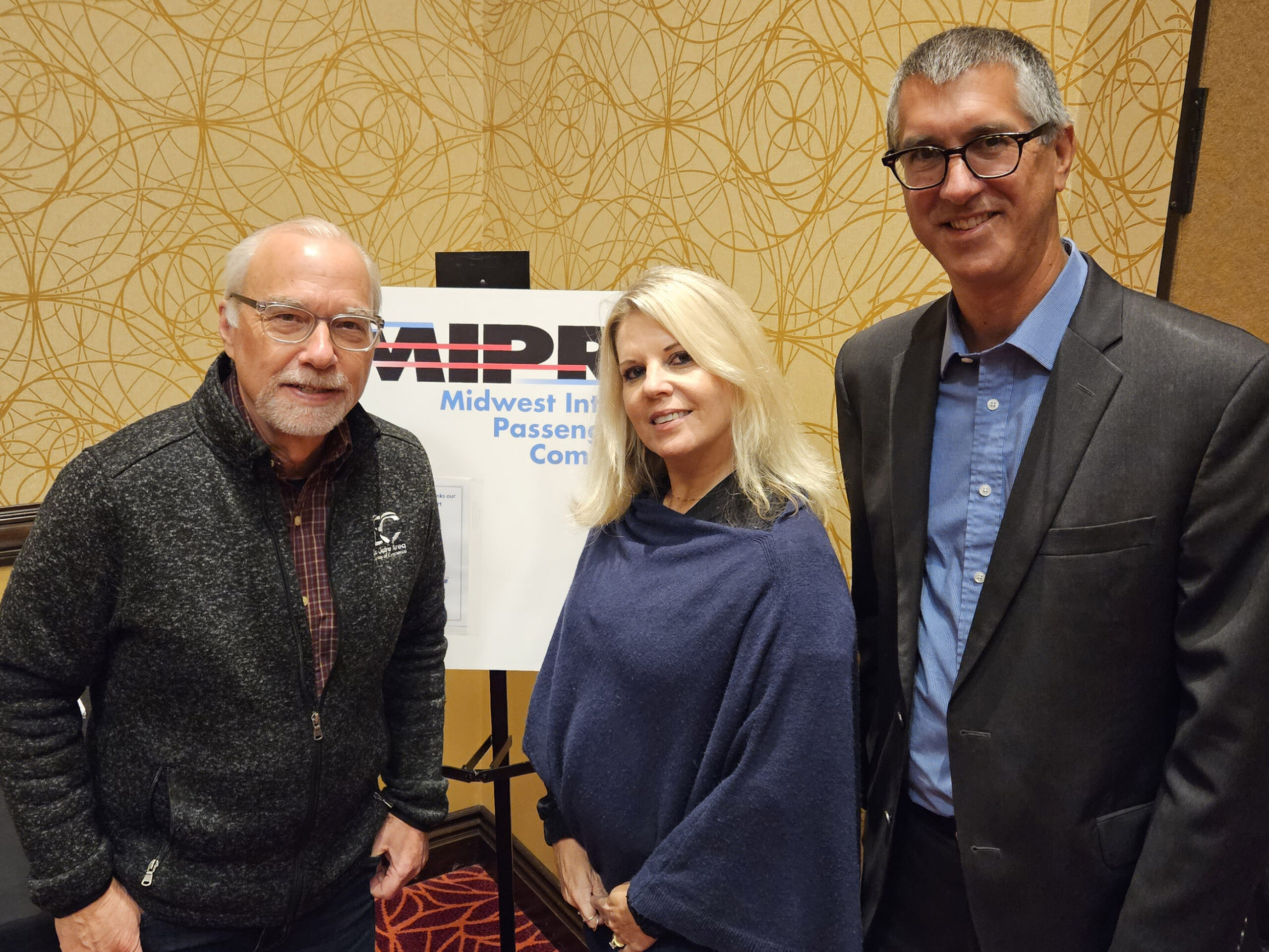 On Sept. 20, MIPRC commissioners preliminarily set the 2024 Annual Meeting for Minnesota (with dates to be determined), gave final approval to the fiscal year 2024 budget and elected (or re-elected) a new slate of officers. They are, from left to right in the picture, Scott Rogers, Beth McCluskey and Peter Anastor.
McCluskey, associate vice president and director of intermodal growth at TYLin International (the Illinois governor's designee to the commission), is the new MIPRC chair. She previously served as chair from 2017-19.
Anastor, director of the Michigan Department of Transportation's Office of Rail (Michigan Gov. Gretchen Whitmer's designee), was re-elected as MIPRC vice chair.
Rogers, vice president of governmental affairs for the Eau Claire Area Chamber of Commerce (Wisconsin's private sector appointee), returns as the MIPRC financial officer.
MIPRC is an eight-state interstate compact organization that promotes, coordinates and supports regional improvements to passenger rail service. Member states are Illinois, Indiana, Kansas, Michigan, Minnesota, North Dakota and Wisconsin. Iowa, Ohio, Nebraska and South Dakota are also eligible to join.
CSG Midwest provides secretariat services to MIPRC.