Call volume has jumped with rollout of 988 lifeline; in many states, long-term funding of new crisis-care system is not yet settled
---
---
The launch of a potentially transformative service to help people in a mental health crisis began with laws and funding from the U.S. Congress. But over the long term, states will determine the scope of the new 988 Suicide & Crisis Lifeline and how it is funded.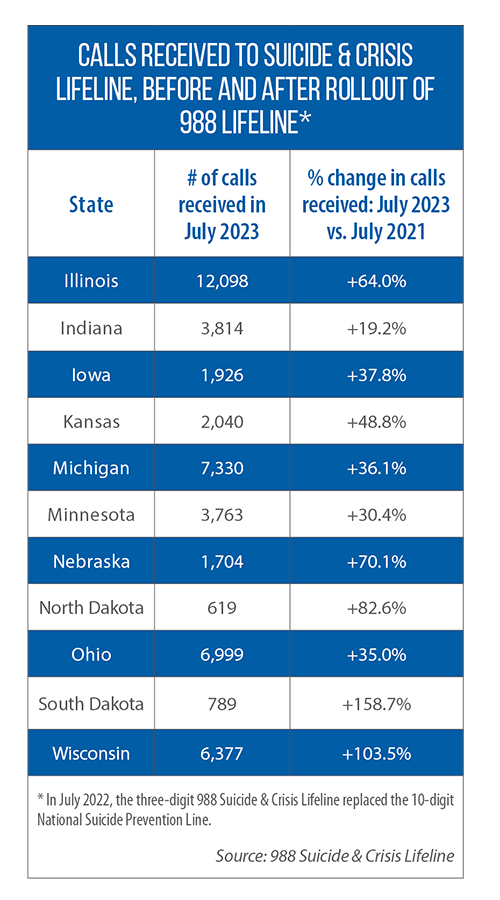 The 988 system began in July 2022, and call volume has been up 40 percent in comparison to what it replaced: the 10-digit National Suicide Prevention Line.
"There has been a huge contact surge, and that's with very little national promotion," says Stephanie Pasternak, director of state affairs for the National Alliance on Mental Illness (NAMI).
The fact that more people in crisis are being reached means more suicides can be prevented and more individuals can be connected to counseling and services. For states, though, the challenge becomes building up an infrastructure and workforce to meet increased demand.
'Vital for people in crisis'
Under a 2020 federal law, states were given the authority to create a dedicated telecommunications fee for 988 services. This money can be used not only to ensure call centers are adequately staffed with trained crisis counselors, but also to fund mobile crisis response teams and stabilization services.
Three years later, eight U.S. states, including Minnesota, have created a dedicated fee structure — a monthly, per-line charge on phone bills along with a retailer-based fee for prepaid wireless services.
"We view 988 as vital for people who are in crisis," Minnesota Sen. Melissa Wiklund says, "and so we wanted to find a way to provide sustainable funding for it, similar to the 911 telecommunications fee.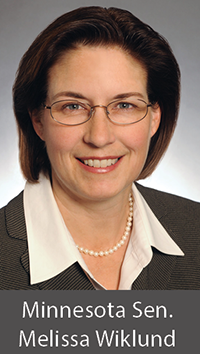 "It's a way to emphasize that having appropriate access to a crisis line is equally important as having access to critical emergencies with physical health impacts."
She and other legislators decided to set the monthly, per-line surcharge on phone bills at a maximum of 25 cents.
It could be lower, though.
The state's health commissioner will recommend the rate based on what is needed to support the lifeline. Minnesota's new law spells out how revenue from the fee can be used: staffing and technology needs, data collection, promotion of 988, and administration and oversight.
Among the eight states with dedicated fee structures, the monthly surcharge on phone bills ranges from 12 cents to 60 cents, according to NAMI. That variation is partially because of differences in how states want the fee to be used.
In Virginia, a 12-cent surcharge will raise about $10 million a year and only go toward establishing and administering a crisis call center. In contrast, the state of Washington expects to collect $47 million in fiscal year 2027 from its 40-cent fee; this money can be used to fund call centers, mobile crisis response teams and stabilization services.
"What we've been seeing is states taking a close look at all the funding sources that they have for mental health services, where there are gaps and where they'd like to expand, and then using the fee to fill those gaps," Pasternak says.
Minnesota's new fee was a part of a much larger 2023 omnibus health budget bill. The section of the legislation on 988 doesn't specifically reference mobile crisis teams or stabilization services. However, other parts of SF 2995 fund an expansion of mental health services, including $17 million in grants over the next two years for mobile crisis teams.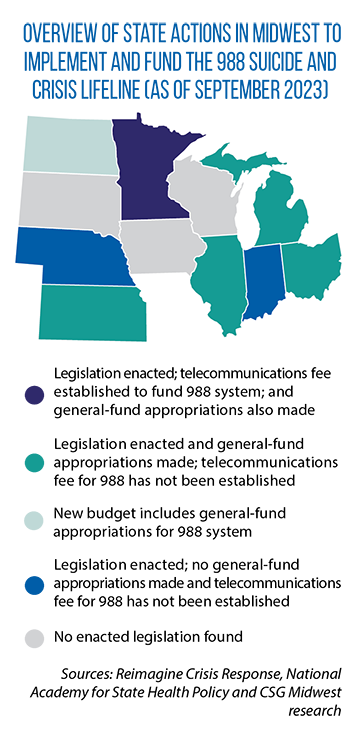 Made up of mental health professionals, these teams provide rapid responses to crisis situations, helping divert individuals from psychiatric hospitalization while connecting them to ongoing care.
Minnesota has included these grants over the past several budget cycles to expand mobile crisis services across the state.
'A good time for states to move'
Most Midwestern state legislatures have passed 988 laws over the past few years (see map). These measures have established new 988 trust funds, set up statewide councils to oversee the system, and/or appropriated general-fund dollars.
This year, for instance, Ohio adopted a two-year budget that includes more than $46 million to support 988-related operations and services. A separate measure in that state, HB 231, would create a 10-cent surcharge on monthly phone bills.
Kansas Rep. Brenda Landwehr says discussions in her state about 988 funding began with the idea of some kind of telecommunications fee, but very few states had adopted such a dedicated funding source at the time.
In 2022, the Legislature instead chose to fund the system, at least over the next few years, via an annual general-fund appropriation of $10 million (SB 19). This money must be used to ensure the "efficient and effective routing of calls," or for the personnel needed for follow-up responses to these calls (including mobile crisis teams and stabilization services).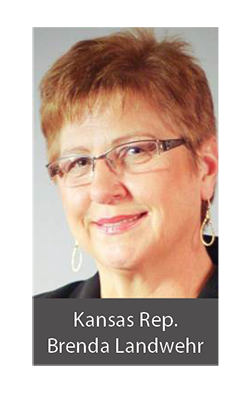 One notable part of this 2022 law, Landwehr says, was to include people with intellectual or developmental disabilities as among the individuals served by the 988 system. Over the long run, her hope with 988 is that Kansas residents are guaranteed adequate, rapid responses to mental health crises — regardless of where they live.
That guarantee gets more difficult in some rural areas of the state, especially due to shortages in the mental-health workforce. "We're strapped just like all other states are … we just do not have enough therapists out there," Landwehr says.
In future sessions, she expects the Kansas Legislature to again consider adopting a telecommunications fee for 988, instead of depending on year-to-year general-fund appropriations.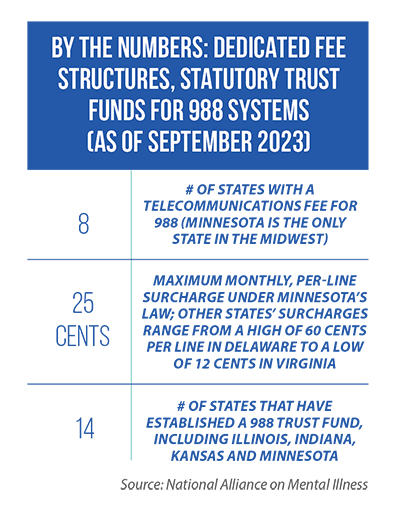 Many other legislatures are likely to do the same.
Early on, Pasternak says, states have been able to rely on federal dollars and grants to support these systems, but fiscal conditions are changing while calls and texts to the new lifeline system are going up.
"The [telecommunications] fee opportunity doesn't expire; states can take advantage of that anytime," she notes. "So it's something that may roll out over time.
"But now is really a good time for states to move. They've got a year's worth of data on their 988 systems, and so they now have a much better idea of what the costs are and about the revenue they need to sustain [988] over the long term."