MLC Annual Meeting
Detroit | July 9 - 12, 2023
Premier event for Midwest's state and provincial legislators attracts more than 500 to Detroit for 2023 MLC Annual Meeting
Thank you to all of the speakers, sponsors and attendees who contributed to the success of the 2023 Midwestern Legislative Conference Annual Meeting. Led by Sen. Roger Victory, chair of the MLC, the Michigan Legislature hosted more than 500 state and provincial legislators, their families and others to Detroit in July.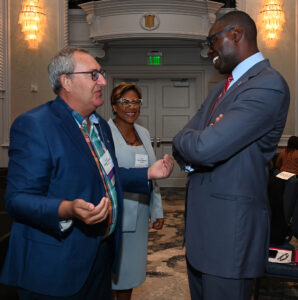 Over the course of four days, participants took part in a wide variety of learning and networking opportunities, all of which were geared toward advancing the work and service of the region's state and provincial legislators. Every year, the MLC Annual Meeting features a mix of expert-led policy sessions, renowned speakers, professional development workshops, and special evening events. The family-friendly event also includes daytime activities for attendees' guests of all ages.
Next year's MLC Annual Meeting will be held July 21-24 in Columbus, Ohio. More details on the meeting will be provided in the months ahead.
---
Stateline Midwest coverage of MLC Annual Meeting sessions