January/February 2020 Question of the Month | Help for veterans
What types of financial assistance do states in the Midwest offer military veterans?
---
---
Answer: From targeted tax relief and monetary compensation, to help finding a job or pursuing a postsecondary degree, Midwestern states have a number of laws and programs in place to assist military veterans. Almost every state in the region, for example, doesn't tax retired military pay. The lone exceptions are Nebraska, which offers a partial income-tax exemption, and Indiana, which currently is phasing in a full exemption between now and 2023 (the result of last year's HB 1010).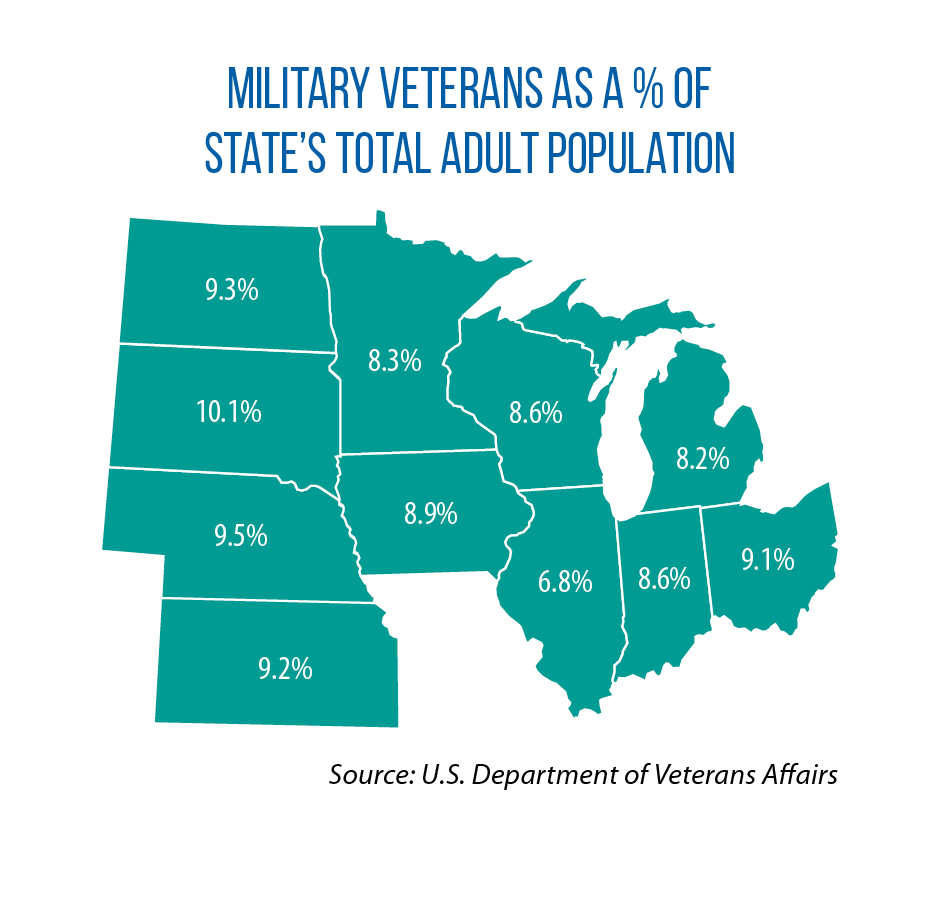 In April 2019, North Dakota Gov. Doug Burgum signed legislation (HB 1053) fully exempting military retirement benefits from state income taxes. Every Midwestern state also provides some type of property tax reduction for veterans. In most cases, the exemption or deduction is only for qualified disabled veterans (and typically un-remarried surviving spouses), but two states — Illinois and Iowa — provide exemptions for most veterans. Eligible service members in Iowa also can qualify for a $5,000 grant when purchasing a home.
Along with this targeted tax relief, monetary compensation is sometimes made available to state residents who are returning veterans. Here are some examples from the Midwest:
a monthly bonus in Illinois ($10 for domestic service, $15 for foreign service) for World War II veterans and prisoners of war and a one-time bonus of $100 for veterans of other wars;
an Injured Veterans Grant Program in Iowa that provides up to $10,000 for individuals seriously injured in combat;
an Ohio program that pays $100 per month for service in Afghanistan and $50 per month for service elsewhere, up to a maximum of $1,500; and
a one-time bonus of $500 in South Dakota.
Seven Midwestern states (Iowa, Michigan, Minnesota, Nebraska, North Dakota, Ohio and Wisconsin) have temporary emergency-aid funds to assist veterans (and often their spouses and dependents) who experience unforeseen financial emergencies. In North Dakota, veterans suffering from post-traumatic stress disorder also can secure a grant to help purchase a service dog.
Another policy option is to offer veterans some kind of preference in the state hiring process — for example, adding points to the grade on a civil service test or guaranteeing an initial interview and/or consideration. Every state in the region offers some type of employment preference. In Indiana, a program known as Next Level Veterans helps service men and women apply for jobs in the public and private sectors; it also provides $5,000 per household for veterans who relocate from another state to accept permanent employment in Indiana. Unemployed or underemployed veterans in Wisconsin may receive a grant of up to $3,000 per year if they have a financial need while going through job training.
At least half of the Midwestern states provide some type of higher-education financial assistance to veterans. Illinois, South Dakota and Wisconsin pay full tuition and certain fees for resident veterans at any state-supported postsecondary institution. Minnesota provides a per-semester stipend for veterans, and North Dakota's Veterans Education Training program offers a free program of study to prepare individuals for a certification program or for a two- or four-year college degree. In Kansas, any veteran is eligible to pay the in-state tuition rate at public colleges and universities.
Question of the Month highlights an inquiry sent to the CSG Midwest Information Help Line, an information-request service for legislators and other state and provincial officials from the region.