Minnesota looks to build on region-leading efforts in energy conservation
---
---
Already a regional leader in energy conservation, Minnesota has a new law that its supporters say will provide more choices to consumers as well as a mix of investments and incentives to reduce energy use and encourage a switch to cleaner power sources.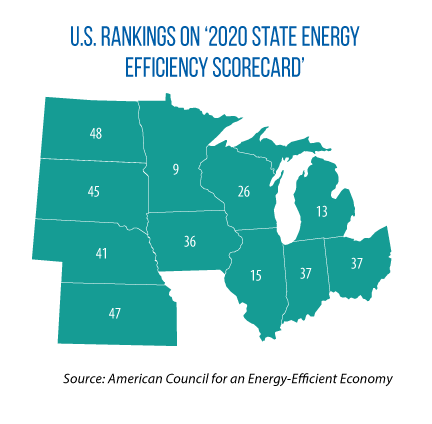 The bipartisan Energy Conservation and Optimization Act (HF 164) was signed into law in May. It builds on the state's existing, ratepayer-funded Conservation Improvement Program, which offers various ways for households and businesses to achieve energy savings — for example, the use of energy audits and rebates to install high-efficiency appliances, lighting, and heating and cooling systems. Among this year's legislative changes, according to MinnPost:
more investments through the Conservation Improvement Program to help low-income households achieve energy savings;
a higher energy-savings goal for Minnesota's investor-owned electric utilities — 1.75 percent of annual retail sales instead of 1.5 percent;
a rise in the statewide energy savings goal, from 1.5 percent to 2.5 percent of annual retail sales of electricity and natural gas;
greater flexibility in how utilities can reach their savings goals, including through improved "load management" and financial incentives for consumers to move away from fossil fuel sources toward the use of low-carbon or carbon-free alternatives.
The American Council for an Energy-Efficient Economy ranked Minnesota ninth among U.S. states in its "2020 State Energy Efficiency Scorecard," which compares and analyzes policies across the country. The council singled out Minnesota's energy policies related to building codes and state-owned buildings. Michigan is the second-highest-ranked state in the Midwest (see map), due in large part to a 2016 law (SB 438) that extended electric and natural gas savings targets and offered additional financial incentives to utilities.