Question of the Month | November 2021 | State laws on strangulation
Do states in the Midwest have statutory language specifying strangulation as a felonious assault?
---
---
Over the past 20 years, most legislatures in this region have passed measures adding this language as part of efforts to better protect victims of domestic abuse.
Four years ago, for instance, SB 112 in Kansas created the crime of aggravated domestic battery, a felony offense for "knowingly impeding the normal breathing or circulation of the blood … of a person with whom the offender is involved or has been involved in a dating relationship or a family or household member."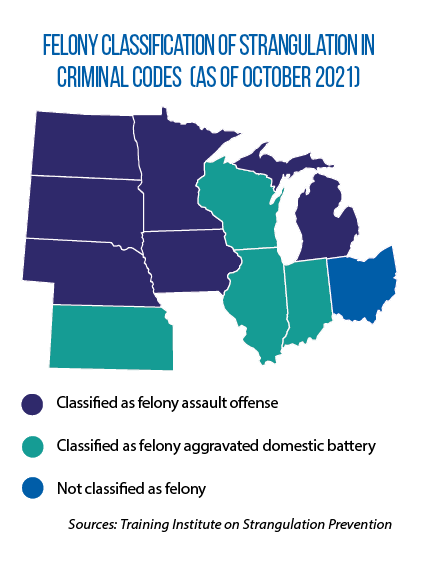 Along with Kansas, Illinois, Indiana, and Wisconsin now classify strangulation as aggravated domestic battery (a felony). It is considered a felony assault in Iowa, Michigan, Minnesota, Nebraska, North Dakota and South Dakota.
Unlike in the rest of the Midwest, the act of strangulation has not been specified as a felony offense under Ohio criminal code. That would change with the passage of either HB 3 or SB 90. Both measures would make purposely impeding someone's breathing or blood circulation at least a third-degree felony offense. HB 3 was passed by the House in late October.
"Because of the seriousness that we see in the statistics from people who have been strangled by their domestic partner, I want to be able to increase jail time for the perpetrator," says Sen. Stephanie Kunze, a sponsor of SB 90.
"I think victims would have a lot more ability to access resources and services and potentially get out of that situation, where if somebody is only in jail for a weekend, they really don't have quite the same opportunity to leave."
Kunze has sponsored similar legislation since 2015, and has noted a rise in the number of states that have added strangulation as a felony since that time.
"When I started, I was looking at my original testimony … I think it was 38 states as of 2015, and now we're into the 40s here in 2021," Kunze says. It's 48, to be exact, according to the Training Institute on Strangulation Prevention, with South Carolina being the only other state without such a law.
The punishment for strangulation sometimes differs depending on factors such as the type of victim assaulted or whether an assailant was a repeat offender.
For example, in North Dakota, strangling a person under age 12 or a peace officer carries a harsher Class B felony charge; in Indiana, it becomes a Level 5 felony charge if the victim was pregnant. In Michigan, the maximum prison sentence for a strangulation conviction is 10 years; in Illinois, subsequent convictions result in a sentence of at least three, but no more than seven, years behind bars.
Strangulation only rises to the level of a felony assault in Iowa if the assailant is a repeat offender (his or her third offense, as the first two instances would be categorized as misdemeanors) or if his or her actions cause bodily injury.
According to the Training Institute on Strangulation Prevention, strangulation does not always result in visible injuries. In other cases, injuries may be deemed too minor to photograph.
A 2008 study by Johns Hopkins University researchers found that a person who has been non-fatally strangled once by his or her domestic partner is 750 percent more likely to later be murdered by that partner.
Question of the Month highlights an inquiry sent to the CSG Midwest Information Help Line, an information-request service for legislators and other state and provincial officials from the region.