Majority of Midwest states now have 'permitless carry' laws in place
---
---
Gun owners in Ohio and Indiana no longer need to obtain a permit in order to conceal a firearm on their person. These two legislative changes in the Midwest, adopted in early 2022, continue a national trend toward "permitless" or "constitutional" carry.
Across the country, 25 U.S. states (including six in the Midwest) now have such measures in place.
"Making lawful people jump through these hoops [in order to secure a concealed-carry permit] doesn't stop the criminals from breaking the law," says Indiana Rep. Ben Smaltz, a chief sponsor of his state's permitless-carry legislation (HB 1296).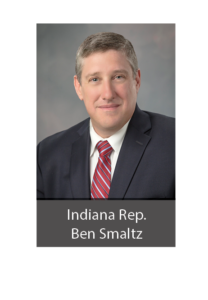 He adds that a person ultimately is responsible for his or her own safety, citing previous U.S. Supreme Court decisions (for example, Castle Rock v. Gonzales of 2005) which found that law enforcement does not have a constitutional duty to protect individuals from harm.
According to Smaltz, views on permitless carry among Indiana law enforcement have been evenly divided over the past five years it's been proposed. This year, though, some of the most vocal, high-profile opposition to HB 1296 came from police testimonials, including Detective Matt Foote of Fort Wayne.
During an eight-hour committee hearing on the bill, Foote told legislators that the state's gun-permit requirement has given officers some peace of mind during traffic stops and other interactions with the public. The reason: the information collected via the permitting system is documented in law-enforcement databases, which officers can then access while on duty.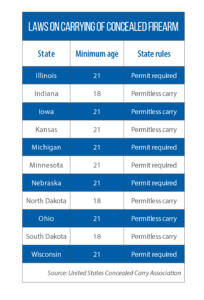 "A valid handgun permit currently is prima-facie evidence that somebody is a proper person [to carry]," Foote said. "If we do not have a database, officers are going to have to conduct their own background investigation."
Foote stressed to lawmakers that the necessity to conduct such searches could extend the length of traffic stops to as long as 45 minutes.
Hamilton County, Ohio, Sheriff Charmaine McGuffey — an opponent of the state's new permitless carry law (SB 215) — says prolonged traffic stops jeopardize officer safety.
"How many times have we seen officers either hit or nearly hit in traffic accidents because the officer is standing at the car he or she has stopped?" McGuffey asked.
According to FBI data, between 2017 and 2021, 16 police officers nationally were accidentally killed while performing a traffic stop, with another 34 officers feloniously killed during traffic-related incidents.
As part of Ohio's new law, a new "duty to inform" provision is in place: when an officer asks a person if he or she is in possession of a firearm, the individual must answer truthfully. The state's previous statutory language required individuals to "promptly inform" police that they were carrying a concealed handgun.
McGuffey believes putting the onus on law enforcement to ask (instead of on the individual being stopped by police) not only adds to officers' already complicated duties, but could result in judges dismissing certain cases due to an officer forgetting to pose the question.
But Ohio Sen. Theresa Gavarone, a co-sponsor of SB 215, says the "promptly inform" standard was too ambiguous. Placing the responsibility on law enforcement takes out any legal guesswork, she says, adding that "sometimes people get stressed [during police interactions] and they forget, not through any bad intentions."
Concealed-carry limits
According to the Giffords Law Center to Prevent Gun Violence, federal and state laws across the country prohibit individuals with felony convictions from possessing firearms. From there, the restrictions can vary from state to state. For instance, Indiana's ban also covers individuals with violent or gun-related misdemeanors, while Ohio law prevents gun access to people with a serious mental condition or an addiction to drugs or alcohol.
Those two states' existing restrictions remain in place. Previously, though, all individuals had to undergo background checks before being legally authorized (via a state permit) to carry a concealed firearm. Now, securing such a permit is no longer required.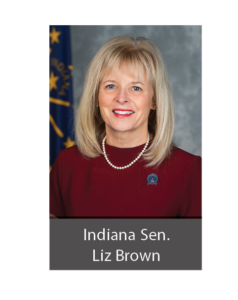 Indiana Sen. Liz Brown is concerned that the change in law will make it easier for domestic abusers and other prohibited permit carriers to escape prosecution for illegally carrying a concealed weapon.
"Now the law says you're only going to get in trouble for [carrying] knowingly or intentionally," says Brown, who views HB 1296 as allowing an ignorance-of-the-law defense.
During debate over HB 1296, she recommended keeping the licensing system but creating a provisional permit until completion of the background check. Her amendment did not receive a vote.
According to Smaltz, prosecutors will still have discretion to determine whether someone knowingly carried a gun illegally.
Safety training for permits
Five Midwestern states still require a concealed-carry permit (see table). Typically, in permit-to-carry states, individuals must take part in firearms safety courses. In Nebraska, for instance, permit holders complete a course approved by state police. (Ohio's requirement, which was eight hours of training, was removed under SB 215; Indiana did not require such training under its permitting system.)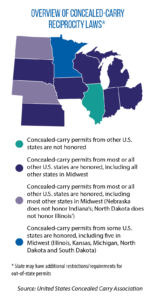 "It's important, one, that people who are concealed-carrying have the highest safety and training standards," says Nebraska Sen. Adam Morfeld, who voted against an unsuccessful permitless-carry bill (LB 773) this year.
"Two, I think it's important that [people] be required to understand all of the laws surrounding concealed carry, because they can end up in some pretty serious trouble."
For example, even if they don't need a permit, gun owners often are barred from carrying firearms inside schools and courthouses. Additionally, each state has its own unique gun reciprocity laws.
One commonality, however, among the 11 Midwestern states is their "shall-issue" status, meaning little to no discretion is given to law enforcement to deny a permit to an individual who meets statutory qualifications. The eight U.S. states that provide more discretion are known as "may-issue" — a status that could change with the U.S. Supreme Court's recent ruling in the case New York State Rifle & Pistol Association v. Bruen (2022).
A combination of data limitations, state-to-state policy differences and research restrictions makes it difficult to determine what casual effects these state-level gun classifications have on public safety. For example, the 2020 RAND Corporation meta-analysis study "The Science of Gun Policy" found shall-issue, concealed-carry policies have an uncertain effect on suicides, homicides, robberies and assaults.
However, the study also found limited research supporting claims that shall-issue, concealed-carry laws may increase violent crime levels, and gun licensing and permitting requirements may decrease suicides.
Rosanna Smart, the study's lead researcher, cautions inconclusive evidence does not mean an effect doesn't exist, but that researchers "don't quite know yet what that effect is likely to be."
Update: On April 25, 2023, Nebraska Gov. Jim Pillen signed into law a permitless-carry bill (LB 77). According to reporting by the Omaha World-Herald, "LB 77 will allow Nebraskans 21 and older to carry concealed weapons without a permit. The bill will apply statewide and invalidate any local ordinances limiting that ability. It will take effect 90 days after the session ends… It would not change who is allowed to purchase firearms in Nebraska, nor would it change where people are allowed to carry concealed weapons… It also will make it a felony, on a third offense, for people to fail to notify a law enforcement official that they were carrying a weapon."