Bail, the ballot and public safety
A statewide vote on changes to the pretrial system is coming in Ohio, and maybe Wisconsin, while the end to cash bail in Illinois is now only a few months away
---
---
In the Midwest's statehouses this year, lawmakers have attempted to respond to rising violent crime rates through myriad strategies (see Regional Roundup).
The issue that received perhaps the most attention, however, has centered around cash bail.
In places such as Ohio and Wisconsin, voters will or may soon have an opportunity to weigh in on possible changes to their respective state constitutions that would require judges to consider public safety ramifications when setting monetary bail amounts.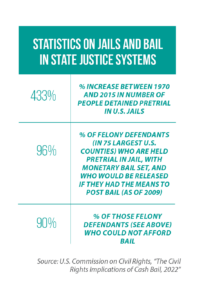 In Illinois, an imminent statewide end to cash bail (the result of legislation passed last year) has sparked a political debate over whether such a move will result in greater equity or increased violence.
Indiana, meanwhile, has a new law limiting who can post bail for defendants.
Considering that a number of changes to pretrial release occurred only in the last few years, and the impact that the COVID-19 pandemic had on the criminal justice system, proving whether bail reform has led to increases or decreases in violent crime is still to be determined.
"When you look across the country, gun violence and murders have risen in blue states, red states, urban areas, rural and suburban areas," Jullian Harris-Calvin of the Vera Institute of Justice said in an interview last year with PBS NewsHour.
"It's going to take a while for us to really assess what exactly led to this, and there's no one factor."
Part of that assessment is likely to be bail policies that can influence who is released, and isn't released, from jail prior to trial.
Consider public safety when monetary bail is set?
Two years ago, Justin DuBose was arrested in Las Vegas for allegedly killing a man in Hamilton County, Ohio, during a robbery. A legal back-and-forth on bail for DuBose ensued. The amount was initially set at $1.5 million; DuBose sought a reduction to $500,000.
The case eventually made its way to the Ohio Supreme Court, and in January 2022, the justices issued a far-reaching decision: Public safety should not be considered when determining monetary bail amounts.
The court also ruled the initial amount was excessive because it didn't consider DuBose's available financial resources.
In Ohio, judges can deny bail altogether for certain offenses (including murder and other violent felonies), and they can impose nonfinancial conditions of release such as electronic monitoring, surrendering a passport or agreeing not to contact witnesses in the case.
But in reviewing existing state laws and rules of criminal procedure, the Ohio Supreme Court concluded that "public safety, although of the utmost importance, is not a factor relevant to the calculation of the bail amount, which is concerned only with ensuring the defendant's future appearance in court."
In response to the ruling, political leaders — including Attorney General Dave Yost — are seeking a constitutional change to explicitly include public safety considerations. Yost believes the Supreme Court's recent ruling takes away too much autonomy from local judges.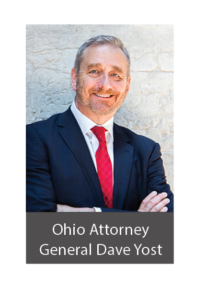 "There is inherently a tension between the rights of the defendant — which ought to be considered and protected — and the rights of the public to be safe from that same defendant," he says.
"We should have judges making those determinations based on the specific circumstances of that defendant, that offense, in that community."
Earlier this year, Ohio lawmakers successfully passed HJR 2, which proposes adding the following constitutional language:
"When determining the amount of bail, the court shall consider public safety, including the seriousness of the offense, and a person's criminal record, the likelihood a person will return to court, and any other factor the general assembly may prescribe."
Ohioans will vote on the proposed amendment in November.
As early as next spring, voters in Wisconsin could vote on a similar constitutional provision. AJR 107, approved by lawmakers in February, explicitly allows judges to consider public safety, the seriousness of the offense and the accused's criminal record when setting monetary bail.
Support for the Wisconsin proposal was bolstered after details emerged about a suspect who allegedly drove his car, intentionally, into a crowd of people during a Christmas parade in Waukesha — killing six.
Five days before the attack, the Milwaukee Journal Sentinel reports, the suspect had been released on $1,000 bail for another violent felony case.
Opposition to Ohio proposal
Opponents of such referenda, however, say increasing cash bail amounts does not protect public safety — when considering a wealthy and violent defendant can purchase his or her freedom.
"It's an arbitrary and artificial sense of 'we're safe because we're charging these high amounts of money for bail'," says Kevin Werner of the Ohio Justice & Policy Center.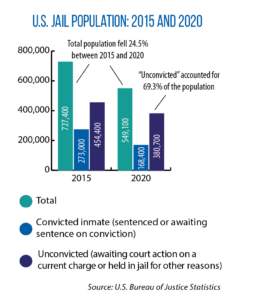 To protect public safety, he points to alternatives to a reliance on cash bail.
For instance, Ohio's system provides for "no bail hearings," in which prosecutors can ask a judge to deny pretrial release.
Additionally, a bill introduced last year (HB 315) would add offenses such as burglary, vehicular assault, and unlawful sexual conduct with a minor to an existing list of offenses in which judges must hold a "no bail" hearing upon the request of a prosecutor.
That same measure, along with SB 182, includes changes to Ohio's cash-bail system designed to stop "wealth-based" detention. Supporters say these measures would give judges more tools to detain individuals who pose a risk to public safety, but also create a fairer pathway to release for low-risk defendants.
Werner's biggest criticism against cash bail is that it separates defendants into two groups, those who can afford to get out and those who can't. It's a distinction that often runs along racial lines.
"What really is going to happen [if the referendum passes] is we're going to see race disparity in the criminal justice system in Ohio explode through the roof," he believes.
Yost says he's interested in exploring automatic bail review for misdemeanor cases so defendants don't have to spend extended periods behind bars.
The end of cash bail in Illinois
Last year, as part of a comprehensive set of changes to the state's criminal justice policies known as the "SAFE-T Act" (HB 3653), Illinois lawmakers committed to end cash bail by Jan. 1, 2023.
During a webinar hosted this year by the Midwestern Legislative Conference Forum on Social Justice, Rep. Justin Slaughter, one of the chief sponsors of the SAFE-T Act, said the goal is to stop wealth-based detention and pivot "to a system that's more so going to look at the actual severity of the offense."
The law's enacting date was recommended by the Illinois Supreme Court Commission on Pretrial Practices, which argued municipalities would need ample time to adjust to a no-cash-bail system.
But Illinois House Republican Leader Jim Durkin believes most municipalities won't be prepared come New Year's Day, and that transitioning away from monetary bail will weaken public safety.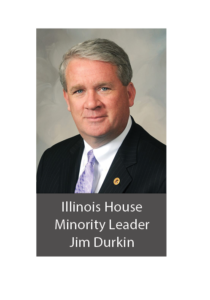 Although the new law still gives judges the discretion to deny bail to individuals who pose a public safety risk, Durkin says the new system will place greater weight on the offense in question — as opposed to a person's previous history of violence or court attendance.
"If [the offense is] not a forcible felony and probation-able, [the defendant] will be given a little notice to appear in court," says Durkin. "I'm not prepared to say that the criminal element in Chicago and street gangs are ones who abide by the honor system."
Durkin is particularly concerned about drug dealers and traffickers not being detained before trial.
"In Chicago, we have some of the worst street gang violence which we're seeing right now, which we haven't seen in decades," he says. "The lifeblood of our street gangs is their ability to peddle drugs in the community, and that's where you have a lot of turf battles."
Also under the SAFE-T Act, if a defendant hasn't appeared in trial for more than 90 days, his or her release must be granted.
Some lawmakers attempted to extend this window to 120 days in order to give prosecutors more time to convict violent offenders, but the proposal (HB 4684) died in committee.
Along with his concerns about public safety, Durkin questions the constitutionality of the SAFE-T Act.
In 2014, Illinois voters adopted a constitutional amendment that included stronger protections for crime victims — referred to as "Marsy's Law." Subsequent legislation was passed (HB 1121 of 2015) ensuring that victims be free from harassment and intimidation throughout the criminal justice process.
Under the SAFE-T Act, Durkin argues, defendants will be allowed to compel victims to testify at pre-detention hearings.
Proponents of the new law, however, point to the strong support that the legislation received from survivor groups.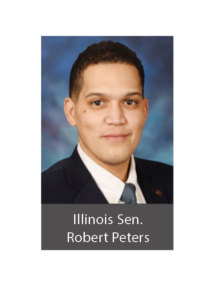 "We actually strengthened, when it comes to domestic violence and sexual assault, to make sure that if someone is accused of it, they have to [prove to the state] that they did not commit that abuse," says Illinois Sen. Robert Peters, another chief sponsor of the measure.
Peters adds that the objective of the new law is to break the status-quo use of the "hammer of incarceration," an approach that has disproportionately affected minority populations.
Regulation of 'charitable bail'
In Indiana, this year's legislative discussions on bail centered on who should be allowed to pay. With the recent passage of HB 1300, Indiana classifies entities that post bail for four or more defendants in a 180-day period as "charitable bail organizations."
Along with being required to register with the Indiana Department of Insurance, these organizations are barred from bailing out defendants who have been charged with a violent offense or who have a history of violence.
Charitable bail groups are also ineligible to receive funding, directly or indirectly, from governmental bodies.
Rep. Peggy Mayfield, a chief sponsor of HB 1300, says one of her primary objectives was to implement regulatory oversight similar to that for traditional for-profit bail bondsmen.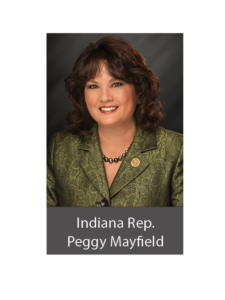 The measure also distinguishes organizations that post bail occasionally — such as a place of worship — and those that do it habitually.
"Say you've got two parishioners from a church who have gotten into trouble, and the Knights of Columbus offers to post their bail," Mayfield explains. "Those aren't the kind of organizations that do it as a business model, and so we didn't want them to be caught in the regulatory framework."
Opponents, however, argue the bill does not create an even playing field, and say the true intent was to punish a single organization, the Bail Project. That organization has operated in the Indianapolis area since 2018, eventually receiving more than $100,000 in funding from a nonprofit group that was allocated money by the Indianapolis City-County Council.
According to the Indianapolis Star, taxpayer dollars that ultimately went to the Bail Project were used for administrative costs (for example, transporting defendants to their court hearings) and not for directly paying bail.
Additional reporting found that since the Bail Project began operations, 37 people had committed homicides in Marion County while out on bail — three of whom were linked to the Bail Project.
Sen. Greg Taylor, an opponent of HB 1300, points out that many of the defendants who reoffend while on pretrial release have been assisted by traditional bondsmen: Over the same time period since 2018, commercial bondsmen in Marion County had assisted 10 pretrial murderers. (In all, a total of 225 murder cases were reported in Marion County.)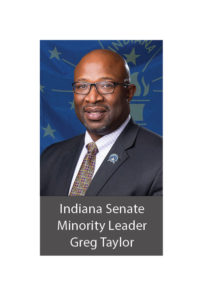 During debate over HB 1300, he offered amendments to restrict for-profit bondsmen from assisting violent offenders and require them to report data on how often clients show up to court.
"All of the information that we have is anecdotal right now because there's no reporting requirement," Taylor says. "A person who gets bailed out from a for-profit bail company, once they show up for court, that bail company's name is removed from [public record]."
The Bail Project has filed suit against Indiana, claiming the new law violates its First Amendment rights.
______________________________
New crime-related measures in Midwest
Between 2020 and 2021, violent crime increased in some of the nation's big cities.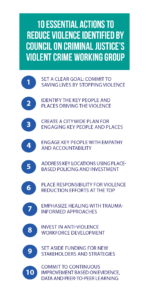 The Council on Criminal Justice has been regularly tracking data and reporting crime trends from cities nationwide (including Chicago, Cincinnati, Detroit, Milwaukee, Minneapolis and Omaha in the Midwest), and its end-of-year report for 2021 showed a 44 percent rise in homicides compared to 2019.
Increases also were reported in the number of aggravated assaults, gun assaults, robberies, motor vehicle thefts and domestic violence cases. (Between 2020 and 2021, the council's findings showed a decline in burglaries, larceny and drug offenses.)
In recent legislative sessions, the response from many state policymakers has been to propose, and often approve, new violence-prevention plans. In states such as Illinois, Minnesota and Wisconsin, too, governors and other leaders have committed millions of dollars from the American Rescue Plan Act for violence intervention initiatives in high-crime areas.
Some of the new laws, investments and proposals from the Midwest are highlighted on this page.
According to Thomas Abt, a senior fellow with the Council on Criminal Justice, effective intervention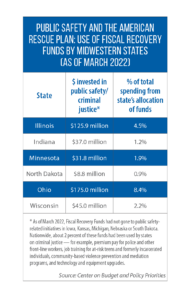 strategies are ones that appropriately involve a range of local partners — including community organizations, law enforcement and other groups.
"Ultimately, it is about having clarity on what your outcomes are," Abt says. "The focus really needs to be on saving lives, and saving lives immediately."
The council, through its Violent Crime Working Group, has developed 10 "essential actions" for policymakers to consider.
Meanwhile, before some of the new state laws took effect, there were some encouraging signs about crime numbers: The council's mid-year report for 2022 documented a decrease in homicides, gun assaults, domestic violence cases, and drug offenses. However, it showed an increase in aggravated assaults, robberies, motor vehicle thefts, burglaries and larceny cases compared to early 2021.
ILLINOIS
Last November, Illinois Gov. J.B. Pritzker signed an executive order that declared gun violence a "public health crisis." He also committed to investing $250 million over the next three years in violence prevention programs.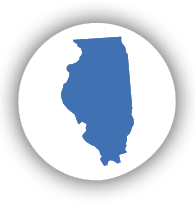 His executive order reflects public safety goals outlined by the Illinois Criminal Justice Information Authority and SB 2017, the Reimagine Public Safety Act passed by Illinois legislators in 2021.
Through this law, new state-funded grants are available for organizations that address violence prevention in specified high-crime areas — geographic locations that reported the highest number of firearm victims, per capita (excluding self-inflicted cases), between 2016 and 2020.
In addition, lawmakers this year passed legislation creating a crime reduction task force (HB 4736) and established new incentives to recruit and retain members of law enforcement — including lowered retirement ages and day care grants and behavioral health services for first responders.
"There's a variety of different approaches we wanted to make sure that we took that weren't rooted in a mechanism of the past that didn't work," says Illinois Sen. Robert Peters, who was a chief sponsor of HB 4736 and also serves as co-chair of The Council of State Governments' Midwestern Legislative Conference Criminal Justice & Public Safety Committee.
INDIANA
This year, Indiana lawmakers passed two significant pieces of legislation to address crime in the Indianapolis area and to monitor offenders on release.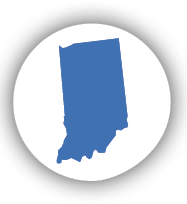 SB 7 establishes the Marion County Violent Crime Reduction Pilot Project. With this law in place, various law enforcement agencies (including city police and security outfits employed by local hospitals, universities and sporting arenas) can establish interoperability agreements. The goal of the project is not only to foster long-term cooperation and dialogue among local law enforcement groups, but also provide them with grants to bolster services in high-crime areas.
"When you talk about violent-crime reduction, everybody immediately thinks about law enforcement responses," says Indiana Sen. Jack Sandlin, a chief sponsor of SB 7 and a former Indianapolis police officer.
"But there are a lot of things that impact violence in a community. It could be lack of education opportunities, lack of job opportunities, hunger."
Another bill, SB 9, will streamline standards for notification when an offender on supervised release disables his or her electronic monitoring system.
MINNESOTA
This year's session in Minnesota included many new legislative proposals for how to invest more in public safety — at a time when crime rates were on the rise and the state had a historically large budget surplus.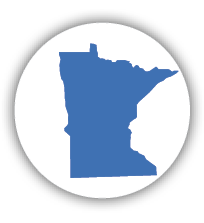 However, a final agreement in the politically divided Legislature proved elusive.
In the Republican-led Senate, lawmakers passed a bill to provide bonus payments to police officers, require public documentation of stayed and dismissed criminal cases, create new criminal penalties for carjacking and retail theft, and establish new mandatory minimum sentences for certain violent crimes.
According to Minnesota Sen. Warren Limmer, the chief sponsor of SF 2673, new criminal deterrences are needed in Minnesota due to prosecutor leniency.
"It's not a time necessarily to develop long-term reforms that we normally do during more passive times," he says.
Provisions in HF 4608, a bill passed by the Democrat-led House, included new state dollars for local community policing, violence interruption programs, and wellness and mental health services for at-risk youths, the Minnesota Legislature's publication Session Daily noted in an analysis of the differences between SF 2673 and HF 4608.
Despite bipartisan support in areas such as officer recruitment/retention and the funding of additional services for youths, a final compromise could not be reached prior to adjournment.
"Given Minnesota's current budget situation, it's not an either-or funding question," Minnesota Sen. Ron Latz says. "We have the resources to do both. We just need the political will to put the funds in those directions."
WISCONSIN
In October 2021, Wisconsin Gov. Tony Evers announced a public safety investment totaling $45
million. The entirety of this funding came from the federal American Rescue Plan Act.
More than half of this money is going to violence prevention: $17 million for statewide initiatives and $8 million for the city of Milwaukee.
The new state investment is being used in part to develop new competitive grants and partnerships among local government, nonprofit, neighborhood and faith groups.
The remaining $20 million is being used to bolster victim services.