Another Midwestern state has a 'sanctuary city' law on the books; Illinois, Indiana and Kansas show how varied the approaches can be
---
---
Lawmakers in Kansas this year passed a bill preempting local jurisdictions from enacting so-called "sanctuary" protections — policies that, in part, restrict cooperation between law enforcement and federal immigration authorities.
HB 2717 became law only a few months after a sanctuary ordinance was adopted by officials in Wyandotte County, one of Kansas' most populated counties.
That ordinance included language instructing police not to ask about the immigration status of individuals seeking help.
It also directed local law enforcement not to respond to calls "for assistance for federal immigration enforcement authorities to enforce immigration law" (unless to mitigate a public safety threat).
For example: a "federal immigration detainer," in which the U.S. Immigration and Customs Enforcement (ICE) asks for information about the impending release of an undocumented person in custody, and requests that the person be held an extra 48 hours after his or her scheduled release from jail or prison in order to give agents time to collect the individual.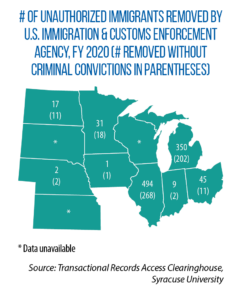 HB 2717 bans local policies preventing law enforcement from fully exchanging information and working with federal immigration authorities.
It also specifies that identification cards issued by municipalities "shall not be used to satisfy any requirement of state law for proof of identity."
That language is a direct response to another part of the Wyandotte County ordinance authorizing the issuance of municipal ID cards for undocumented individuals to use in order to access local services (for example, attending doctor visits or opening bank accounts).
"We can't have a patchwork of laws across the state of Kansas, and we can't have incentives for individuals to risk their lives making the trip to the United States illegally," says Rep. Patrick Penn, who supported HB 2717.
Following Indiana's lead
In written legislative testimony, HB 2717 architect Kansas Attorney General Derek Schmidt wrote, "It seems to me an affront to basic rule-of-law principles for local politics to dictate non-cooperation with federal authorities who are attempting to enforce laws that Congress unquestionably had the constitutional authority (and duty) to enact."
Opponents of such preemption, however, contend sanctuary policies can prevent undocumented residents from exploitation while promoting greater dialogue between community members and police.
In 2012, University of Illinois-Chicago researchers surveyed more than 2,000 Latinos living in and around four major U.S. cities; about 70 percent of undocumented respondents indicated they were less likely to contact police with information about a crime, even if they were a victim, due to concerns about being asked about their immigration status.
During a committee hearing on HB 2717, a man testified about his mother, who had two children kidnapped by an abusive ex-husband and taken to Mexico. Because the mother was undocumented, she was unwilling to contact law enforcement and didn't see her children for two decades.
According to Schmidt's testimony, at least 12 states have enacted statewide bans on local sanctuary policies, including Indiana, whose 2011 bill (SB 590) served as a model for Kansas.
Indiana's law included provisions that prohibited law enforcement from verifying a person's citizenship or immigration status if the person had contacted law enforcement to either report a crime or be a witness to one.
Kansas' law, however, does not include such language.
Illinois' different path
Illinois, meanwhile, has taken a very different approach. Over the last five years, the General Assembly passed multiple bills changing the relationship between local law enforcement and federal immigration agencies, including:
The TRUST Act (SB 31 of 2017), which instructs law enforcement to not honor federal immigration detainers in the absence of a judicial warrant. Local police also cannot stop, search or arrest individuals based solely on their immigration or citizenship status. The bill received bipartisan support between the legislature and governor, and from law enforcement groups.
The VOICES Act (SB 34 of 2018) established new state certification requirements for federal T and U visas, which provide temporary immigration protections for undocumented individuals who are victims of human trafficking or certain other crimes. Victims who obtain these visas agree to assist with prosecutions and investigations of the case.
SB 667, the Illinois Way Forward Act, passed last year. It bars law enforcement from assisting in federal immigration investigations and from transferring undocumented persons to immigration detention centers (the bill outlawed such facilities statewide beginning in 2022) in cases where the only alleged offense is the civil violation of illegal immigration. The law still permits local authorities to inquire about citizenship status when trying to contact foreign consular offices or when vetting individuals for concealed-carry licenses.
"It's not the job of local law enforcement to essentially be ICE," says Illinois Sen. Omar Aquino, who sponsored each of those bills.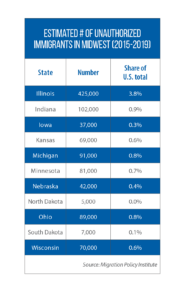 "It's not in their jurisdiction [or] their role to enforce immigration policy, and especially a policy on the federal level, which is one that is certainly outdated and in need of comprehensive immigration reform."
According to Fred Tsao of the Illinois Coalition for Immigrant and Refugee Rights, federal authorities such as ICE's division of Homeland Security Investigations (HSI) may also be interested in deprioritizing arrests of civil violators.
"There's actually a common joke among immigration advocates regarding HSI that ICE wants to be out of ICE," says Tsao, who asserts those authorities would rather put their time and effort toward combatting criminal offenses — including smuggling operations, human trafficking, customs violations and international counterfeiting.
Tsao adds that when a city or state passes sanctuary policies, undocumented individuals do not become immune to federal seizure.
"If ICE were to somehow find out that someone is getting released from a county jail or from a state prison, and they're waiting outside the jail or prison door, nothing is to stop those ICE agents from immediately apprehending that person," Tsao says.
In Kansas, both Schmidt and Gov. Laura Kelly, who signed HB 2717 into law, agreed immigration concerns should be the prerogative of the federal government and not states. (Schmidt and Kelly are opponents in this year's race for governor.)
HB 2717 opponent Rep. Louis Ruiz says local governments should have the authority to deal with immigration and law enforcement issues on the ground level, as they see fit, until federal reform is achieved.
Although Wyandotte County's ordinance may have differed from other Kansas communities that passed sanctuary policies in that it also distributed municipal IDs, Ruiz says these cards allowed undocumented residents "to move around the city without fear of retribution."
With the new law in place, Ruiz fears those residents will be forced to move back into the "shadows."
---
Two other recent examples of recent laws, proposals in the Midwest
IOWA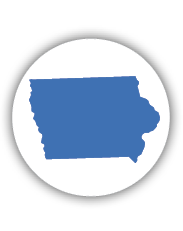 Passed in 2018, Iowa's SF 481 orders local law enforcement to fully comply with federal immigration detainer requests, and it bars municipalities from adopting policies that restrict cooperation with immigration authorities. Violation of the law can result in a loss of state funding. Also under SF 481, the state prohibits local ordinances that discourage police from asking about the immigration status of a person who has been detained or arrested. However, officers cannot inquire about the immigration status of a person who is reporting a crime.
MINNESOTA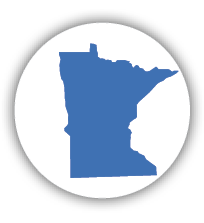 Bills introduced last year (HF 1919 and SF 2118) sought to make Minnesota a "sanctuary state." State and local government employees would have been prohibited from honoring immigration detainers, making arrests solely for immigration purposes, sharing government database information with immigration authorities, or assisting in civil immigration enforcement operations. The measures included exceptions to allow communication with federal immigration authorities about a person's criminal record.