An assault weapons ban in Illinois and a constitutional change in Iowa highlight opposing views on 2nd Amendment, future of state gun laws
---
---
Early in 2023, Illinois became the first Midwestern state to pass legislation banning the sale and possession of assault weapons for most people.
Days after the bill signing, a cavalcade of lawsuits and restraining orders were filed in state and federal courts claiming the new law violates Second Amendment protections and conflicts with a ruling last year by the U.S. Supreme Court.
That case, New York State Rifle & Pistol Association v. Bruen, has raised new questions about whether certain state-level gun regulations — including assault-weapons bans such as Illinois' — will withstand court scrutiny.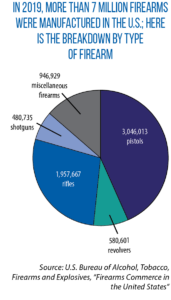 In the Bruen majority opinion, Justice Clarence Thomas wrote that the Second Amendment protects the carrying of weapons that are "in common use" for self-defense and that this standard should be applied modernly, not just whichever firearms were considered common during the American colonial period.
Since the sale of assault weapons has been mostly unencumbered since the sunset of a federal ban in 2004, gun-rights activists argue such weapons should be considered "common."
"The Bruen ruling clearly established there is no tradition of banning commonly possessed arms, and modern semiauto rifles are owned by millions of [U.S.] citizens," Second Amendment Foundation founder Alan Gottlieb said in a statement.
According to a 2021 national survey of gun owners (referenced in multiple lawsuits against the Illinois ban), rifles are used in defensive incidents 13 percent of the time, whereas handguns are used in self-defense in 66 percent of cases.
How assault weapons are defined in Illinois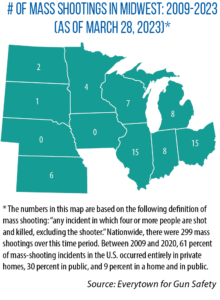 Illinois lawmakers' passage of HB 5471 came six months after a gunman killed seven people with a semiautomatic rifle during an Independence Day parade in Highland Park, an affluent community north of Chicago.
"A semiautomatic rifle is designed for military situations," Illinois Rep. Bob Morgan says. "The bullets themselves are designed to really ricochet within your body. It's meant to destroy your internal organs."
Morgan was at the parade, and in the aftermath of this mass shooting, he worked on crafting the assault-weapons ban with survivors, affected family members, law enforcement, fellow legislators and others.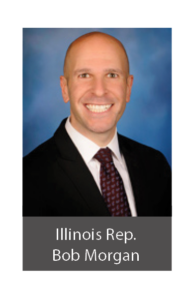 Illinois' new statutory language defines assault weapons, in part, as a semiautomatic shotgun with a fixed magazine (containing more than five rounds) and a semiautomatic rifle and pistol with either detachable magazines or fixed magazines (more than 10 rounds for rifles, more than 15 for pistols) that contain certain firearm attachments — for example, protruding grips for non-trigger hands, telescoping stocks, flash suppressors, barrel shrouds, arm braces, or other attachments that can help a shooter better control recoil or avoid detection.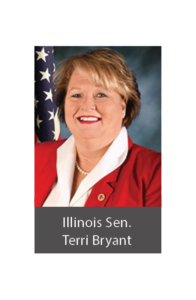 In addition, the law bans attachable switches that increase a semiautomatic firearm's rate of fire.
The inclusion of some of these attachments in the state's new ban has been criticized by some lawmakers for possibly discriminating against certain classes of individuals, including those with physical disabilities or injuries.
"I've had some shoulder surgery [on my] rotator cuff, and I've had three neck surgeries," says Illinois Sen. Terri Bryant, who opposed HB 5471. "It's very hard for me to hold my shotgun up with my left arm like I could before that accident. … My husband was born with a birth defect, his right arm is crooked, and that type of wrist grip does help [him to shoot]."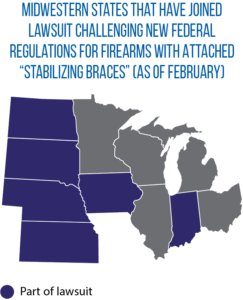 On the federal level, the U.S. Bureau of Alcohol, Tobacco, Firearms and Explosives announced in January that certain firearm stabilizing braces for shoulder use would be subject to stricter regulations, and that firearms with these pistol braces would need to be registered by the end of May.
In response, several state attorneys general (some from the Midwest; see map) filed suit.
Morgan says he is sensitive to making adaptions for people with disabilities, and is open to potential modifications to the Illinois law.
Illinois requires reporting of 'legacy weapons'
According to the Giffords Law Center to Prevent Gun Violence, Illinois joined eight other U.S. states with a general ban on assault weapons. (The center lists Minnesota as one of three states that imposes additional restrictions on these weapons, but not outright bans.)
Similar to the statutory language used in some of these states, under the Illinois measure, current gun owners can keep any existing firearms now on the banned list.
However, by the start of next year, they must report these legacy weapons' serial numbers and other pertinent information to the Illinois State Police.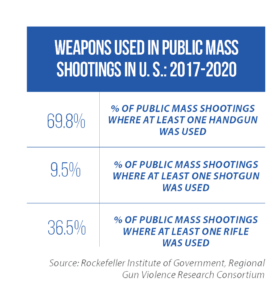 Morgan distinguishes such reporting from a "gun registry." The intent is not to catalog a person's entire firearms collection, he says, but rather to help law enforcement differentiate between weapons that are legitimately owned and those that are not. That includes tracking criminal firearms crossing state lines — a consistent problem that has plagued other states with assault-weapon bans.
"If we don't have a serial number to track that, there's literally no way to enforce it," Morgan says.
This reporting of assault weapons will mean adding an endorsement affidavit to an individual's Firearm Owner's Identification licensing card.
Sen. Bryant believes recent cyberattacks of state databases — including a 2021 breach of the FOID database that accessed the personal information of more than 2,000 gun owners — will deter people from complying with the new law.
"State Police have made a lot of good changes, but I do know that the citizens of Illinois do not trust the state [with private information]," she says.
Statewide vote from 2022 impacts gun policy in Iowa
With the exception of Minnesota, every Midwestern state has constitutional language providing for a right to bear arms.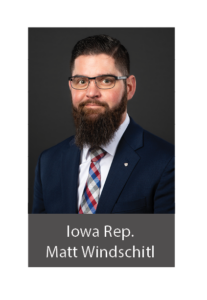 The most recent state to enshrine such a right was Iowa, through voter approval of a 2022 ballot measure. It also included language establishing a "strict scrutiny" standard, the highest level of judicial review.
"It puts the burden of proof on the government so that if you were to come in and change firearm regulations, the state would have to prove that it had a compelling government interest for the interest of the majority of the people," Iowa Rep. Matt Windschitl explains.
In the wake of last year's vote, Windschitl and other legislators took a closer look at Iowa's existing statutes.
"There are still some things in our state law that have restrictions on where Iowans can carry, and how they carry," he notes.
This year's HF 654 and SF 543 aim to remove what Windschitl and others view as arbitrary restrictions that infringe on a person's right to self-protection.