U.S. population growth slowed in past decade; trend was even more pronounced in Midwest
---
---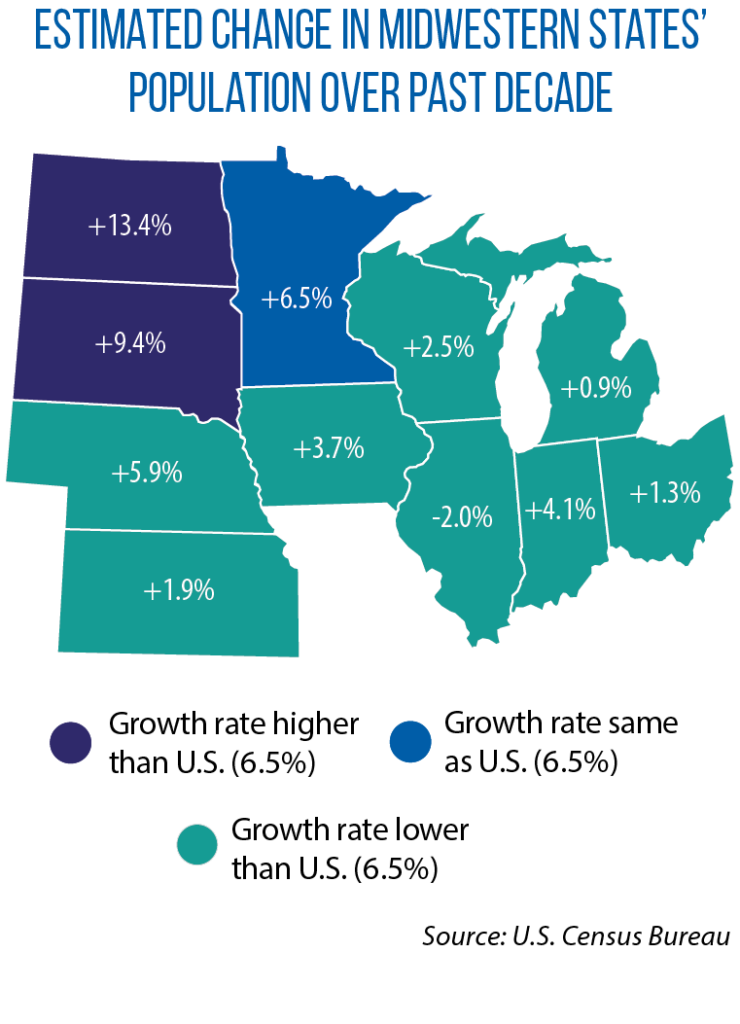 In a decade of historically low population growth nationwide, most states in the Midwest had even smaller increases, with one experiencing a net decline in residents between 2010 and 2020, according to U.S. Census Bureau estimates released in late 2020. Only North Dakota and South Dakota outpaced the U.S. growth rate; a third state in the upper Midwest, Minnesota, has had a population increase on par with the rest of the United States. Conversely, the latest estimates show Illinois as one of six U.S. states losing people between 2010 and 2020.
Three factors cause changes in a state's population: 1) the number of births vs. the number of deaths; 2) domestic migration (movement between states); and 3) international migration. On that first factor, there has been a "natural increase" in population of every Midwestern state, though one notable recent trend across the nation has been a smaller and smaller birth-to-death ratio. Patterns in domestic migration are caused by factors such as quality of life and economic opportunity. For example, much of North Dakota's decennial increase occurred in the first part of the decade, during an oil boom in the western part of that state.
Prior to this past decade, the lowest rate of decennial population growth in U.S. history was 7.3 percent and occurred in the 1930s, according to demographer William Frey, a senior fellow in the Brookings Institution's Metropolitan Policy Program. The new U.S. Census Bureau estimates show this past decade's increase as being below 7 percent.
"It is roughly half the growth rate of the 1990s, a time of rising [international] immigration and millennial-generation births," he wrote in December. Frey adds that the COVID-19 pandemic stunted population growth, with several states — including Illinois, Michigan and Ohio in the Midwest — experiencing a net loss of population over the past two years. Nationwide, the increase between July 2019 and July 2020 is estimated to be 0.35 percent, the lowest annual growth rate since at least 1900, says Frey, noting that the pandemic led to more deaths and restrictions on immigration.