Capital Closeup | Power of clemency
All governors have clemency powers, but process varies in Midwest because of distinct rules, constitutional language
---
---
Though it is not uncommon for governors to have broad clemency powers, Kentucky ex-Gov. Matt Bevin ignited a firestorm and put a spotlight on this long-held tool of the executive branch late last year when he granted pardons or commuted the sentences of hundreds of people — all after he narrowly lost re-election.
It wasn't the number that generated national controversy, but rather some of the specific cases involved — for example, a murderer whose family had raised campaign funds for Bevin, a teacher who had pleaded guilty to possession of child pornography and witness tampering, and a child rapist.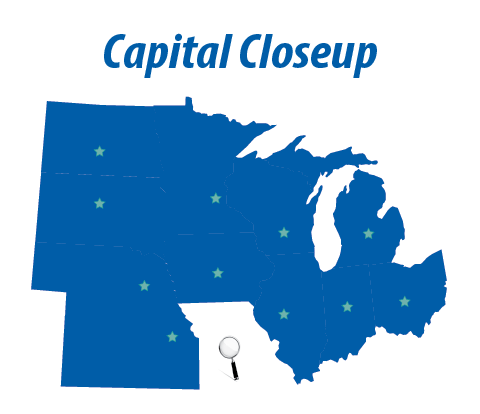 The Kentucky Constitution gives the governor the authority to "commute sentences" and "grant reprieves and pardons." He or she may consult with the state parole board on pardon petitions, but doesn't have to do so, and must tell the Legislature who was pardoned and why.
Across the 11-state Midwest, governors have sole or shared powers of clemency. This authority most often comes from state constitutions, with additional statutory language sometimes providing rules and procedures for the governors to follow.
Minnesota and Nebraska stand out among states in this region because the power is formally shared by three-member boards made up of the governor and two other state officials: the attorney general and chief justice of the Supreme Court in Minnesota, and the attorney general and secretary of state in Nebraska.
And even in states where the governor has sole authority, the process can vary. In Kansas, Michigan and Ohio, for example, the governor must seek advice from prisoner review or parole boards, but isn't obligated to follow it. In other states, no such mandatory consultation exists (see map).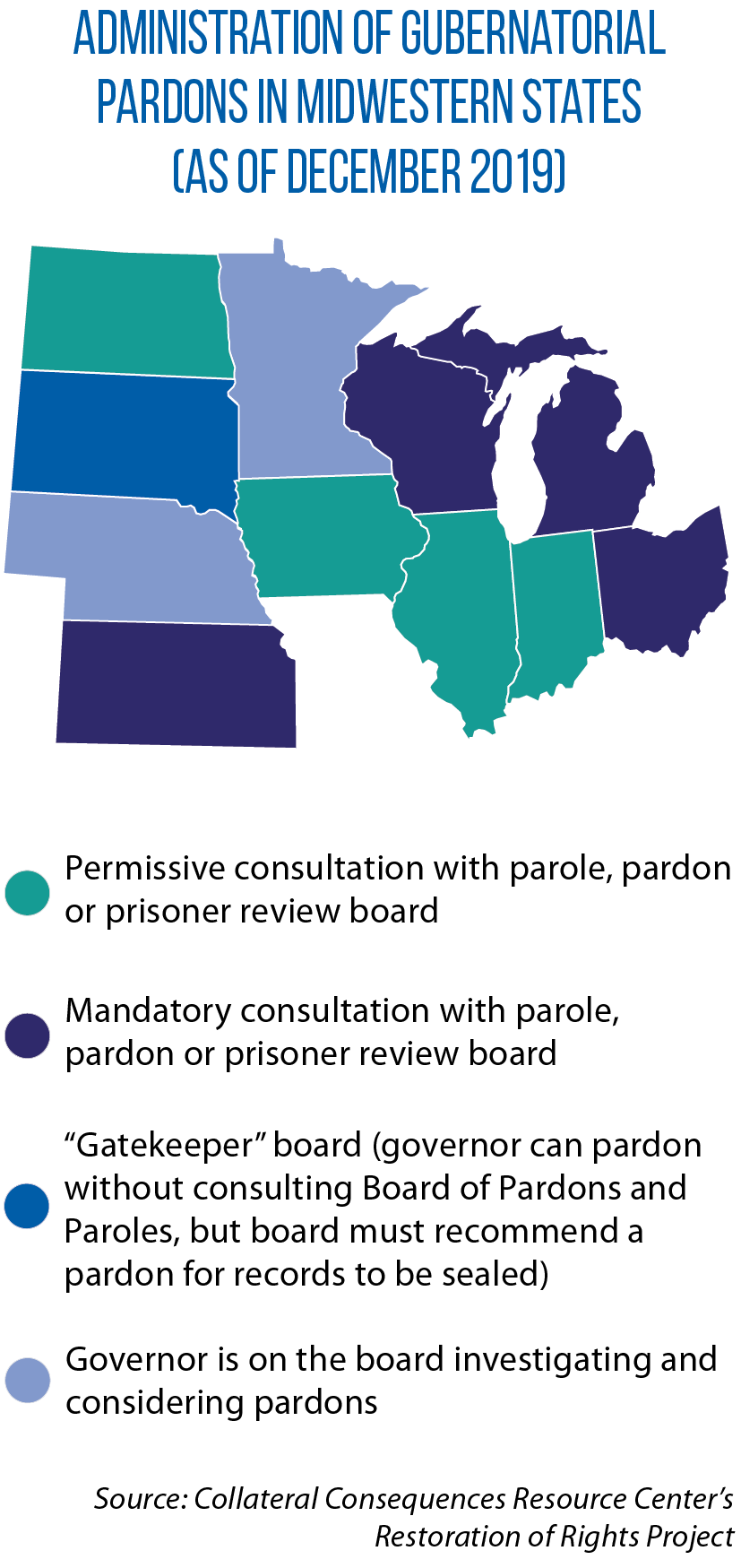 "You really have 50 distinct systems that have different things going on at different times," says Mark Osler, a law professor at the University of St. Thomas in Minnesota.
For example, he says, South Dakota grants more pardons than Minnesota because its Board of Pardons and Paroles considers applications, investigates cases and makes recommendations to the governor, while Minnesota requires the governor, attorney general and chief justice to do all that work.
Governors in Indiana, Iowa, Kansas, Michigan, Minnesota, Ohio and Wisconsin must report their pardon decisions to the legislature.
Recent activity in Midwest
There are different types of gubernatorial clemency. In Kentucky, for example, Bevin's decision to pardon or to commute (lessen) certain sentences drew the ire of prosecutors and the families of crime victims.
But recent developments in two Midwestern states have been much less controversial.
In Illinois, when lawmakers legalized the use of recreational marijuana in 2019, they required the automatic expungement of arrest records for marijuana possession under 30 grams. According to the Chicago Tribune, state police are also sending marijuana conviction records to the Prisoner Review Board to determine which ones should be pardoned. Gov. J.B. Pritzker said he will pardon in all cases recommended for dismissal; late last year, he granted 11,017 pardons.
Meanwhile, Gov. Mike DeWine has launched the "Ohio Governor's Expedited Pardon Project" to speed up the pardon process for qualified ex-offenders. His goal is to process and consider petitions within six months. "There are decent people all over the state who are living in the shadow of a long-past and regretted mistake," DeWine said.
Among the requirements for applicants seeking an expedited pardon: conviction-free for the past 10 years, a post-offense employment history (or a compelling reason for not having one), and a history of community service.
Capital Closeup is an ongoing series of articles focusing on institutional issues in state governments and legislatures.