Question of the Month | June-July 2021 | Regulation of Naturopathic doctors
How have states in the Midwest regulated naturopathic doctors?
---
---
States regulate medical professions almost as a matter of course, but such is not the case for naturopathic doctors, who rely on the use of "natural healing" techniques such as herbal medicines, homeopathy, and changes in lifestyle and/or diet.
According to the American Association of Naturopathic Physicians, its members employ therapeutic methods and substances that encourage individuals' inherent self-healing process. Naturopathic medicine includes modern and traditional, scientific and empirical methods.
Some critics, though, have said naturopathic techniques are at best untested and unproven or are outright quackery.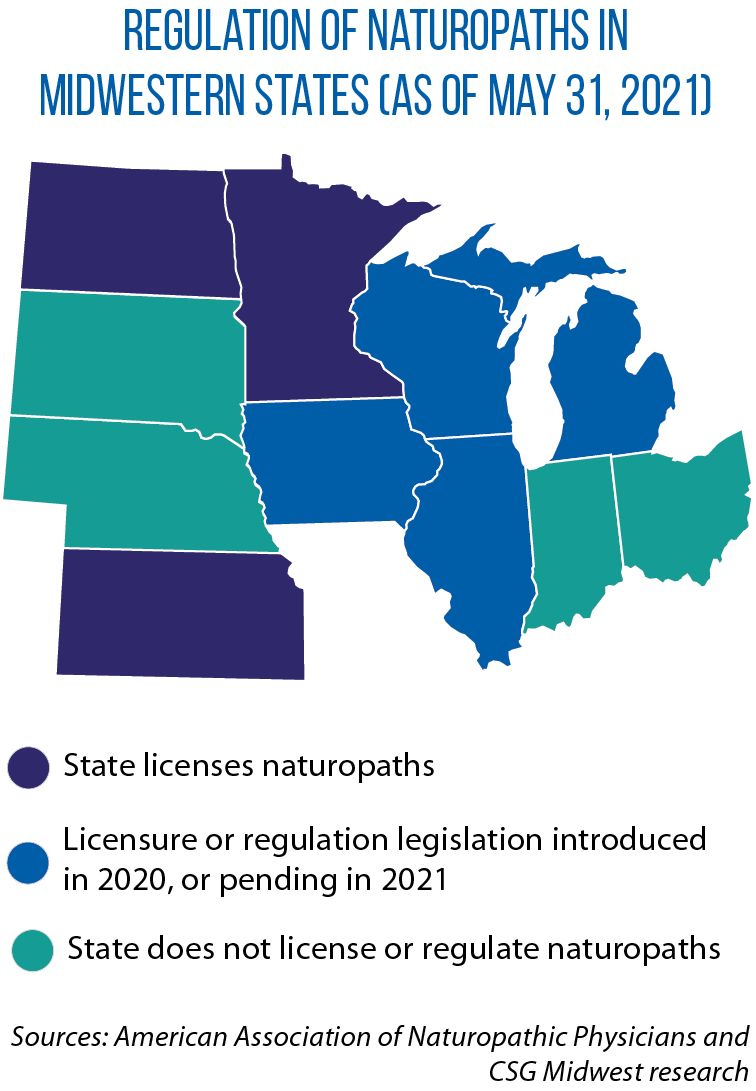 As of March, Kansas, Minnesota and North Dakota were among 19 U.S. states that regulated or offered licensure for naturopathy, according to the association. Naturopathic doctors are licensed and regulated by the State Board of Healing Arts in Kansas, the Board of Medical Practice in Minnesota, and the 10-year-old State Board of Integrative Health Care in North Dakota. (This board also regulates acupuncturists and music therapists in North Dakota.)
While the precise language varies, states' statutory definitions of naturopathy typically describe it as a system of health care that supports and stimulates a patient's "inherent" or "intrinsic" self-healing processes.
Kansas, Minnesota and North Dakota do not allow naturopaths to perform surgery or prescribe medication.
This year, naturopathy-related legislation was introduced in at least three other Midwestern states: Illinois (HB 1801 and SB 1951), Iowa (HF 404) and Wisconsin (SB 98 and AB 86).
The Illinois bills would simply add naturopaths to the list of medical professions already licensed by the state.
Wisconsin's bills take a different path — they would include naturopaths among practitioners of "complementary and alternative health care practices." This would exempt naturopaths from licensure, provided they give patients the following:
• a "plainly worded" written statement detailing information about the practitioner (including training and credentials);
• a notice explaining that the practitioner "is not practicing under a health care-related credential granted by the state"; and
• information about the nature of the service to be provided.
Wisconsin's AB 86 and SB 98 (the latter passed the Senate in April) would require a written and signed acknowledgment from the patient stating that he or she had received this information.
Iowa's HF 404 is similar to the Wisconsin legislation; it did not advance this session.
Naturopathy is also regulated and licensed in Saskatchewan, Alberta, Ontario and Manitoba, according to the Canadian Association of Naturopathic Doctors.
The U.S. Indian Health Service has accepted naturopaths since 2013; in 2018, IHS made them eligible for its qualified student loan repayment program.
Outside the Midwest, naturopathy is banned in South Carolina and Tennessee. A bill pending in Alaska (SB 38) would license naturopaths and allow them to prescribe medication, perform surgery and refer to themselves as naturopathic "physicians" — provisions strongly opposed by the American Medical Association.
Question of the Month highlights an inquiry sent to the CSG Midwest Information Help Line, an information-request service for legislators and other state and provincial officials from the region.