Illinois requiring more coordination to ensure 911 responses meet needs of people in mental health crisis
---
---
One year from now, a mental health crisis and suicide prevention hotline will be in place across the country. The hope is that "988" eventually becomes as known to people in need of assistance as "911."
In Illinois, a first-of-its-kind law aims to ensure that whatever number gets called — 911 or 988 — and wherever the call gets made, the emergency will get the appropriate response.
"We know the way we're doing it isn't working, and that's for the people responding to calls as well as the people who are the subjects of these calls," says Kelly Cassidy, the primary House sponsor of HB 2784.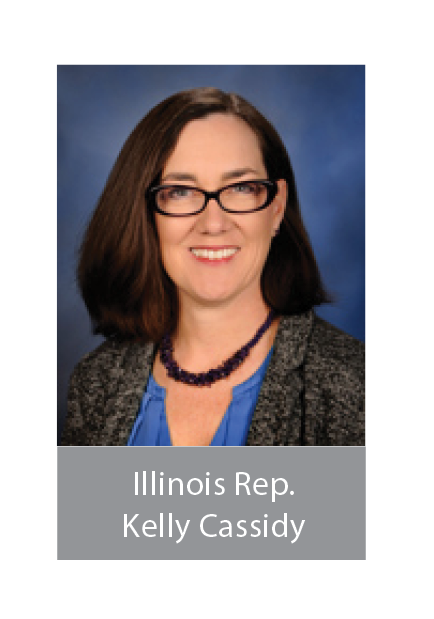 The fix in HB 2784 is to better train dispatchers and responders, and to charge the state's Division of Mental Health with developing a new mobile system of mental and behavioral health services. Local 911 operators will then coordinate emergency responses with the division's new mobile mental-health system and teams.
"Fundamentally, my hope is that all mental health crises are met with the services that are needed," Cassidy says.
Whenever possible, for example, individuals in crisis will be connected to local services, rather than be hospitalized or incarcerated.
The Illinois Division of Mental Health also will train first-responders in de-escalation techniques and best practices for interacting with people in crisis.
Regional and statewide advisory committees will develop protocols as well as collect and analyze data on emergency responses. These regional committees will review procedures every two years.
Even prior to passage of HB 2784, Cassidy says, many emergency response systems in Illinois were discussing how to incorporate 988.
The new three-digit number was authorized by federal law in 2020, one year after a Federal Communications Commission report suggested it as an easy-to-remember shortcut to the extant 10-digit National Suicide Prevention
Hotline. All phone providers must be able to connect 988 callers to the hotline by July 16, 2022.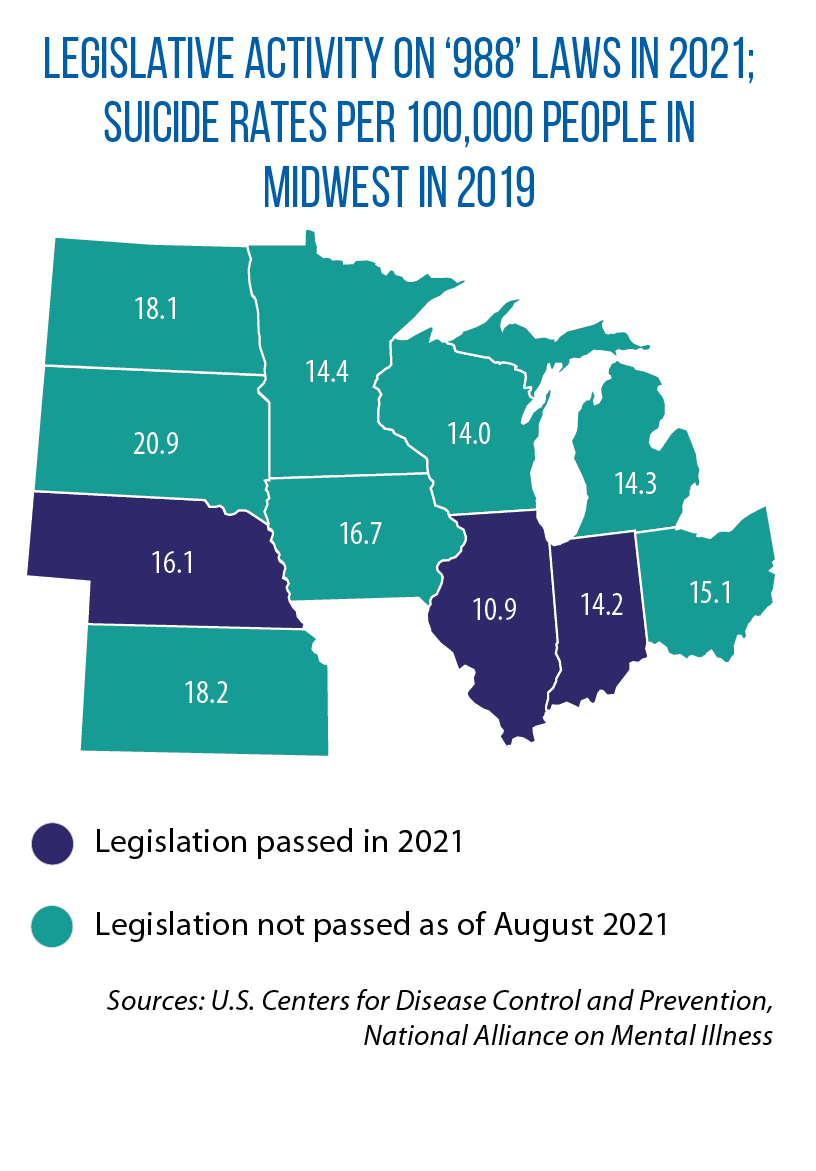 This federal law has triggered activity in several states. For example:
• In Indiana, legislators approved a measure this year (HB 1468) requiring school-issued student ID cards for sixth- through- 12th-graders to include the 988 number.
• Illinois has similar requirements for the student IDs of middle school, high school and college students as the result of a trio of recently enacted bills: HB 597, HB 1778 and SB 2014.
• Nebraska has established a Mental Health Crisis Hotline Task Force (LB 247, signed into law in May). It is responsible for developing policies that ensure every person who calls a local mental health crisis hotline gets connected to a qualified professional. This new task force also will address an issue facing all states: development of a fee structure to cover the costs of the 988 hotline.
As of July, no Midwestern state had passed legislation to adequately fund and implement a local 988 infrastructure, according to The Kennedy Forum.
A May 2021 report from Trust For America's Health, "Pain in the Nation: Alcohol, Drug and Suicide Epidemics," shows that a record-number 156,242 Americans died in 2019 from alcohol/drug overdoses or suicide. That marks a 52 percent increase from 2009.
The COVID-19 pandemic made matters even worse by increasing stress and worsening health inequities, says John Auerbach, the Trust's president and CEO.