Most state legislative districts appear 'safe' of much partisan competition in years ahead
---
---
Over the next decade, a vast majority of races for state legislature in the Midwest will take place in districts that fall out of the "competitive zone," a metric developed by the Princeton Gerrymandering Project as part of its analysis of new redistricting maps.
To fall in this zone, the Democratic and Republican vote share must be between 46.5 percent and 53.5 percent. By the end of 2021, eight of the 11 Midwestern states (all but Kansas, Minnesota and Wisconsin) had finalized their redistricting maps. The percentage of state legislative seats falling within the "competitive zone" range from a high of 20.3 percent in Michigan to a low of 5.7 percent in South Dakota, project researchers found (see table).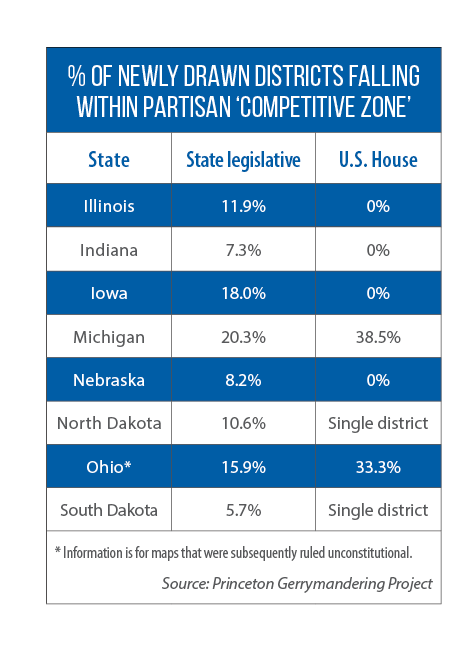 Under the new maps, most U.S. congressional districts in the Midwest also fall out of the competitive zone. The loss of competitive, or "swing," districts in the U.S. House has been studied extensively by political scholars, with gerrymandering often cited as one cause. Another factor is partisan sorting: voters of similar ideologies and/or the same party affiliation increasingly geographically clustered together.
Redistricting is typically controlled by state legislatures, with maps also requiring approval by the governor. One exception in the Midwest in Michigan, where, for the first time, an independent, citizen-led commission drew the new lines. Its maps were given high marks on measures of partisan fairness, but according to the Detroit Free Press, they are being challenged in federal court as a violation of the U.S. Voting Rights Act for disenfranchising Black voters.
As of late 2021, redistricting lawsuits also had been filed against legislative and/or congressional maps in Illinois (for alleged racial discrimination) and Ohio (for alleged racial discrimination and partisan gerrymandering). A federal court upheld Illinois' legislative maps in December. In January, in two separate decisions, the Ohio Supreme Court rejected state legislative and congressional maps for being in conflict with constitutional language barring partisan gerrymandering. That language was added over the past decade via voter-approved constitutional amendments. Iowa and Michigan also bar the drawing of districts in a way that favors a political party or incumbent legislators.