Ohio legalizes family video monitoring of long-term-care residents to deter, document elder abuse
---
---
In 2011, an Ohio man placed a camera in his mother's room at a long-term-care facility and quickly discovered her being physically abused by attendants. That incident resulted in not only criminal convictions for two people involved in the abuse, but a 10-year effort to legalize such monitoring by families.
In December, Ohio became the fourth Midwestern state allowing the placement of video cameras in rooms of long-term-care residents to prevent physical abuse when Gov. Mike DeWine signed "Esther's Law" (SB 58) — named for the victim in that 2011 case, Esther Piskor.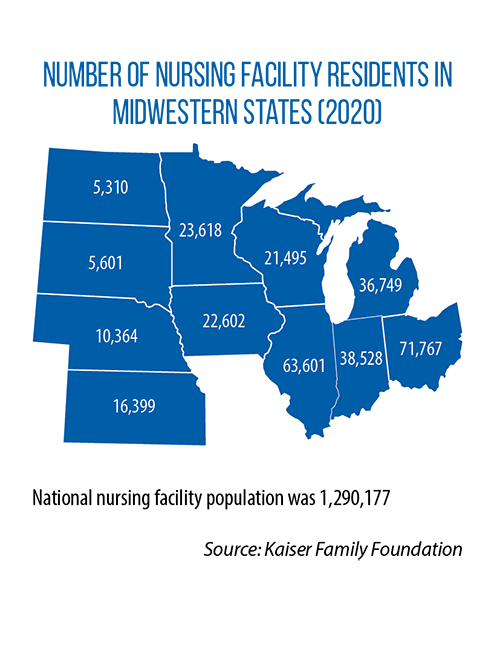 "Every once in a while, we work on a piece of legislation that transcends partisanship and party politics," says the bill's co-sponsor, Ohio Sen. Nickie Antonio, who counts the Piskors among her constituents.
"Everyone recognized this was a bill they could be proud to go home and tell their constituents, 'I helped get this one through.' "
Passed unanimously by the General Assembly, SB 58 is similar to recent laws in Illinois (2016), Kansas (2018) and Minnesota (2020). These measures allow cameras to be placed in a resident's room with his or her permission; authorization of the resident's relatives, legal guardians or attorney; and, if applicable, permission of the roommate.
Ohio's law bars discrimination against a resident who allows a camera to be placed in his or her room and requires long-term care facilities to make a reasonable attempt to accommodate a resident wishing to use electronic monitoring, but whose roommate does not consent.
Illinois' law (HB 2462 from the 2015 legislative session) was a model for SB 58's fundamental language, with changes made to suit Ohio's needs and to avoid unintentional interference with any elder abuse investigations by the state attorney general's office, Antonio says.
Before SB 58, Ohio law didn't address the legality of such monitoring.
"The law was silent, so nursing homes defaulted to, 'You're not allowed,' " she says. "This is a permissive bill. It doesn't require anyone to do anything."
Louisiana, Missouri, Oklahoma, New Mexico, Texas and Washington also allow cameras to be placed in residents' rooms. Maryland has issued guidelines for use of these cameras, and the New Jersey attorney general's office will loan camera equipment to families wishing to monitor their relatives' care, according to the National Center on Elder Abuse.
Sam Brooks, program and policy manager for The National Consumer Voice for Quality Long-Term Care, says effective camera permission laws should require a roommate's consent and bar nursing facilities from using video surveillance to monitor residents.
Families should also work to ensure that a roommate is not visible on camera and — if a loved one is unable to consent — consider the resident's privacy interests, and balance it with the family's interest in ensuring the security of a loved one, he adds.
"Our primary and motivating concerns are consent and privacy," Brooks says. "We also strongly believe that video surveillance should never be considered a replacement for proper nursing care and supervision."