Under new law, Illinois landlords can't discriminate based on tenants' 'sources of income'
---
---
Illinois this spring became the fourth Midwestern state to enact a ban on housing discrimination based on a tenant's sources of income — a move advocates of the bill, including its author, say will make more housing options available to those who need them the most.
Under the federal Fair Housing Act, seven classes are protected from discrimination: race, color, sex, national origin, religion, disability and family status.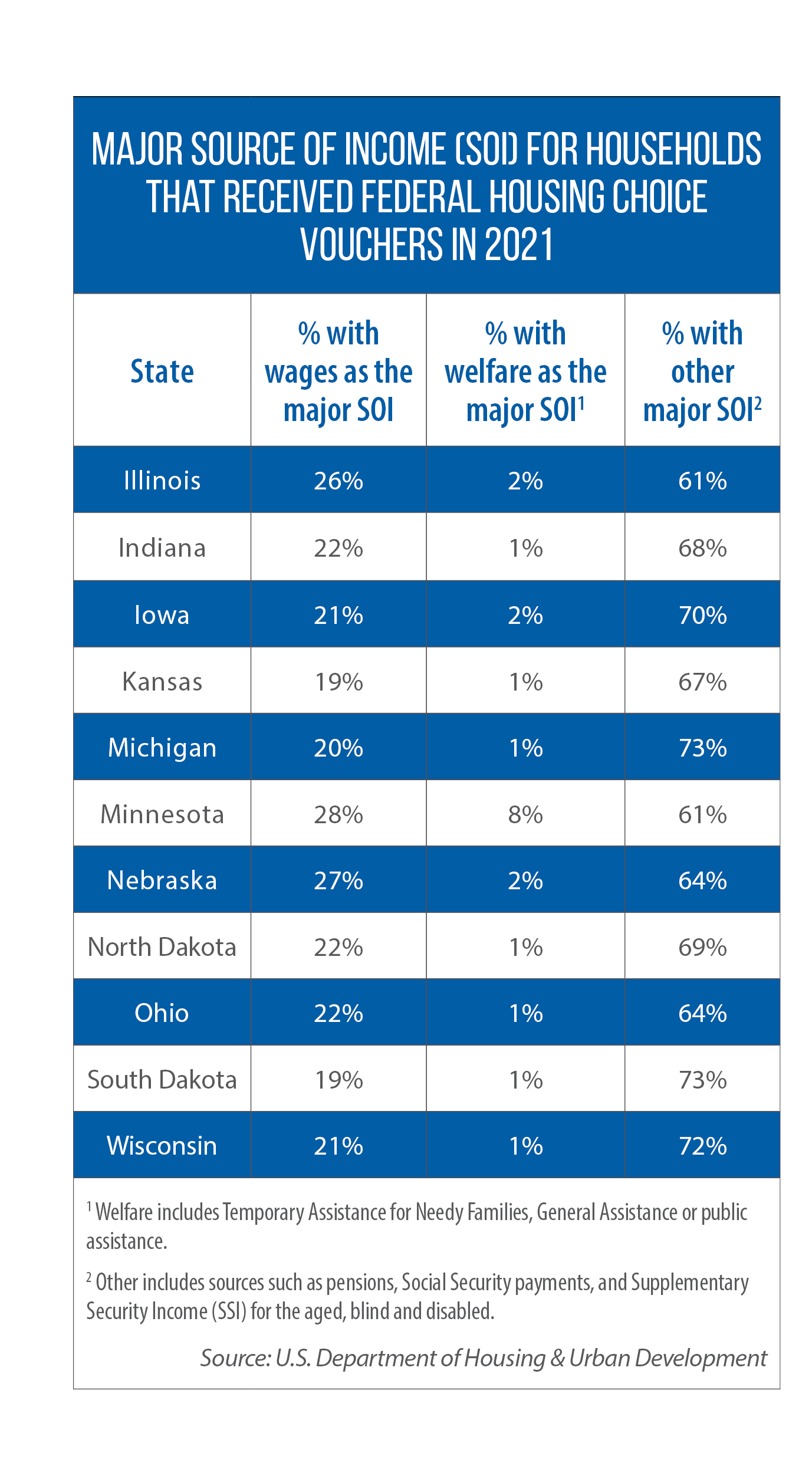 U.S. states and localities can add additional protected groups to this list. One option: include source-of-income (SOI) discrimination bans, which prevent landlords from rejecting prospective tenants because of earnings from non-wage income such as Social Security payments or federal housing ("Section 8") vouchers.
The Illinois law adds SOI language to the existing Human Rights Act. It takes effect next year.
According to the National Multifamily Housing Council, 20 states already had such discrimination bans in place as of earlier this year, including North Dakota, Wisconsin and Minnesota.
Under North Dakota's human rights statute, discrimination in housing and other areas (employment, public accommodation, etc.) is prohibited based on a person's "status with regard … to public assistance."
Judicial rulings have reduced the scope of Minnesota's and Wisconsin's SOI laws:
• In Wisconsin, a statute dating back to 1980 protects individuals from SOI discrimination in the housing market. However, ever since a 1995 U.S. appellate court decision in a case involving this statute, Section 8 vouchers have not constituted income in Wisconsin.
• Minnesota's 1990 law was limited by a 2010 state appellate court ruling (Edwards v. Hopkins Plaza Ltd. Partnership). Because participation in the Section 8 program is voluntary for property owners, the state court ruled, they aren't required to accept the vouchers as a source of income.
'Relentless coalition'
The American Bar Association, which supports SOI laws, noted their importance in the November 2019 edition of its magazine Human Rights, citing past research to suggest families with housing choice vouchers have greater success using them where these legal protections are in place.
Denial of housing often serves as a pretext for prohibited forms of discrimination and disproportionately affects renters of color, women and people with disabilities, the authors wrote.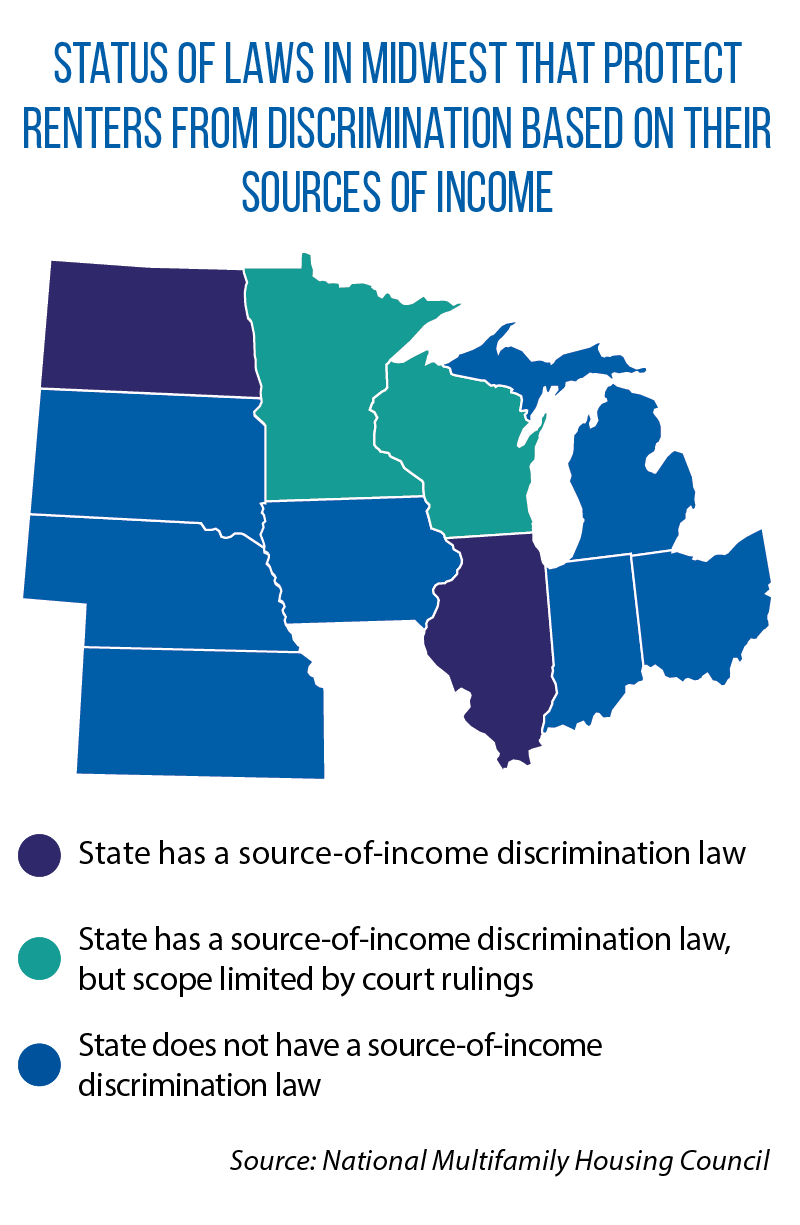 "Source-of-income discrimination contributes to the perpetuation of racially segregated communities and neighborhoods with concentrated poverty," they said.
"One of the most important goals of SOI laws has been to open up higher-opportunity and lower-poverty neighborhoods to families with [housing choice vouchers]."
That was a big reason why Rep. La Shawn Ford sponsored this year's SOI law in Illinois (HB 2775).
"For years, this was something that Illinois has been trying to pass. It's high time that we join the other states [with SOI] laws," he says.
The difference this year, Ford adds, was a large, "relentless" coalition of housing advocates.
"One, we were able to educate and convince people that it's wrong to discriminate against someone based on source of income," Ford says. "And two, we were able to show that source-of-income discrimination has been banned in other states with no backlash to property owners."
Opposition to SOI laws
Not all property owners are happy with SOI laws, however.
The National Multifamily Housing Council, an apartment industry advocacy group, says these measures have the effect of turning a voluntary program (Section 8 vouchers) into a mandatory one.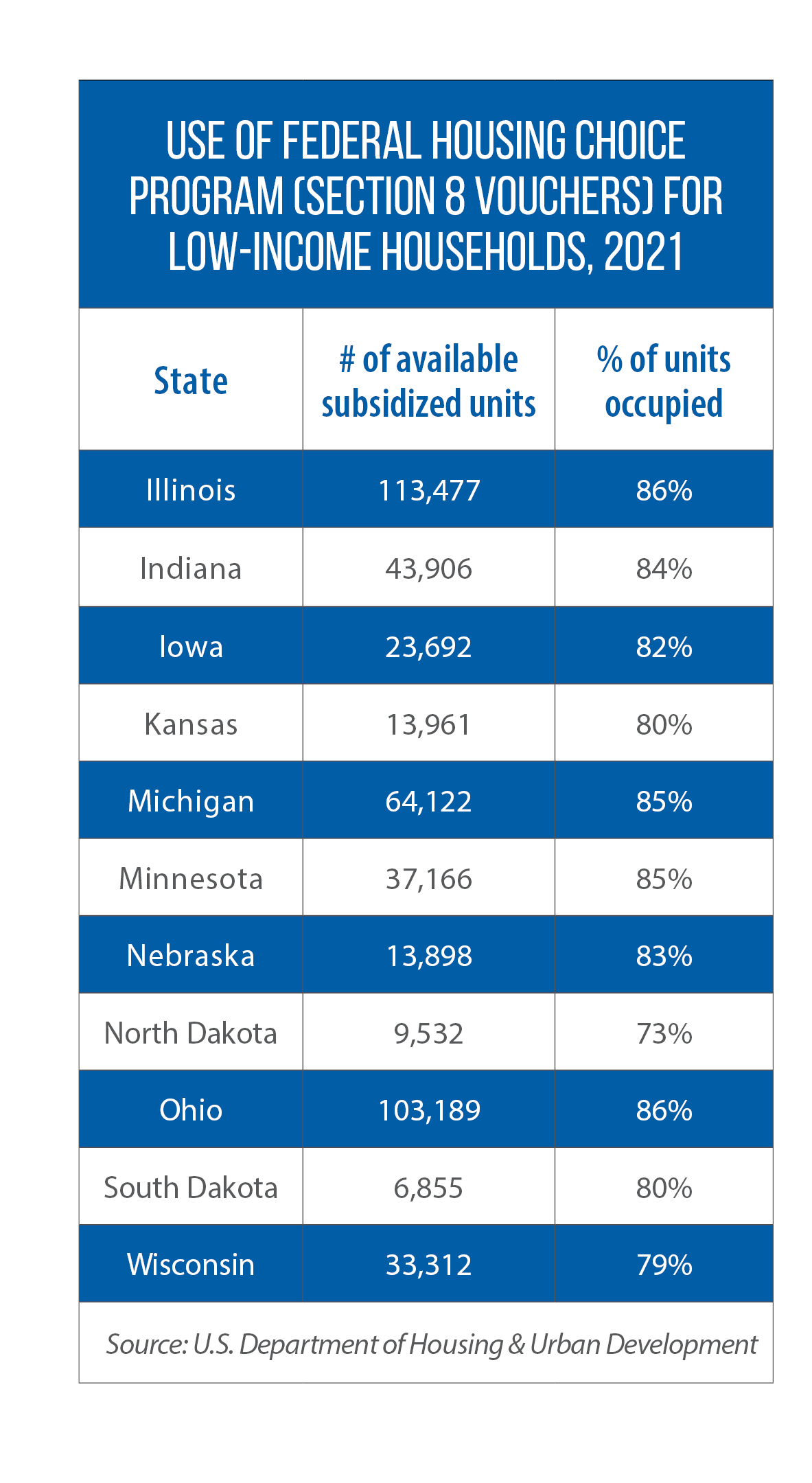 "Congress specifically made participation voluntary because of the regulatory burdens associated with it," according to a 2019 position paper from the group. "While often well-intentioned, such mandates are self-defeating because they greatly diminish private-market investment and reduce the supply of affordable housing."
The council instead suggests policymakers can have a bigger impact by addressing land costs, zoning (and density) policies, red tape and property tax rates — all of which it posits are bigger drivers of housing affordability than consideration of renters' incomes.
Among the council's policy recommendations to help increase the supply of affordable rental housing:
• invest broadly in transit and utility infrastructure, which will attract more housing development;
• make public land more readily available for multi-family housing development, which reduces the cost of such housing;
• streamline the review process for required studies and allow more housing types to be built "by right" (allowable without requiring a zoning variance).
• allow development bonuses (for more units, for example) where applicable for density, design flexibility and reduced parking.
More housing options
Bob Palmer, policy director for the advocacy group Housing Action Illinois, was part of La Ford's "relentless" coalition. He says the primary goal of Illinois' new SOI law is preventative, to not have landlords discriminate in the first place. It won't bar property owners from evaluating prospective tenants on legal criteria and references, he adds.
"We know from talking to fair housing organizations and directly impacted people that people are denied if they have non-wage income," Palmer says.
"We don't think it will happen immediately, but over time, it should expand the choice of housing," he says.
La Ford says the new law already is prompting discussions among landlord and renters' advocate groups as to how to implement it.
"It's going to have an impact even before it takes effect," he says
SOI bills also were introduced in Indiana (HB 1397) and Kansas (HB 2065) in 2022, but did not advance.